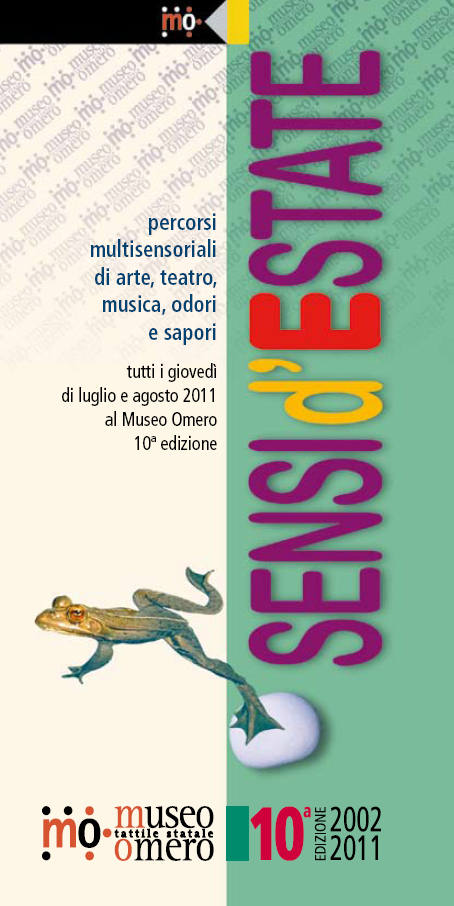 Multisensory paths of art, theatre, music, aromas and flavours.
Every Thursday in July and August, from 8 pm till midnight.
Ancona, Museo Tattile Statale Omero, Via Tiziano 50.
8 pm - Open-air aperitifs and treats
Chef Elis Marchetti takes an original approach to traditional Marches dishes using products offered by local farms:
7 July - Azienda agraria Trionfi Honorati - Caseificio Piandelmedico;
14 July - Cooperativa agricola La Terra e il Cielo di Arcevia;
21 July - Azienda agricola Malacari di Offagna;
28 July - Cooperativa Pescatori di Portonovo;
4 and 11 August - Fattoria Petrini di Monte San Vito;
18 and 25 August - Mastro Fornaio Giuliano Pediconi.
Coordinator: Francesca Petrini of Fattoria Petrini, Monte San Vito.
Booking compulsory. Max: 50 people. Cost: 10 euros. Members of Coop Adriatica: 8 euros.
9.30 pm - Music and theatre
Terrazza Palazzo Leopardi, Regione Marche.
Entry from Museo Omero, Via Tiziano 50.
Artistic director: Deborah Vico.
Free, open-air shows. Limited seat numbers. Bookings only accepted for disabled people. Members of the audience can help fund the activities of the Associazione per il Museo Tattile Statale Omero Onlus. All donations will be gratefully accepted.
7 July - A special concert to celebrate the 100th anniversary of the birth of Nino Rota.
The Nino Rota Ensemble
Tiziana Santarelli, soprano; Giannina Guazzaroni, violin; Federica Torbidoni, flute; Diletta Dell'Amore, oboe and cor anglais; Cecilia Amadori, cello; Deborah Vico, piano.
14 July - Oh ladies ...be good!
Gershwin Quintet
Letizia Ragazzini, soprano sax and flute; Mariella Donnaloia, contralto sax; Isabella Fabbri, tenor sax; Laura Rocchegiani, baritone sax; Maria Giulia Cester, piano.
21 July - Spain and Federico Garcìa Lorca
Mediterranea
Andrea Candeli, guitar; Corrado Ponchiroli, vocals, dance, clapping; Michele Serafini, flute; Chiara Guerra, dance, clapping.
28 July - Terronia
Piera Lombardi
4 August - TEMPO Songs of life from the oral tradition
Gruppo Folk Vincanto
Simone Bompadre, vocals, classical guitar, accordions; Mauro Fabbri, vocals, flutes, clarinet and percussion; Roberto Raponi, vocals; Riccardo Rocchetti, vocals, guitar, percussion; Francesco Savoretti, percussion; Carlo Celsi, violin, vocals.
11 August - Musicultura presents RICORDAR CANTANDO CANZONI E CANZONETTE
by Piero Cesanelli. Words by Piero Cesanelli and Carlo Latini.
La Compagnia Ensemble: Adriano Taborro, guitars, violin, mandolin; Paolo Galassi, bass, guitars, mandolin, slide guitar; Kasta, vocals, guitar, harmonica; Riccardo Andrenacci, percussion; Alessandra Rogante, vocals, guitar; Valentina Guardabassi, vocals; Elisa Ridolfi, vocals; Giulia Mattutini, vocals; Francesco Caprari, vocals; El Chopas, vocals, guitar; Marumba, keyboards; Piero Cesanelli, vocals, guitar, arrangements; Giulia Poeta, Maurizio Marchegiani, narrators; Andrea Pompei, Audio, video, photographic editor.
18 August - Lavoro? ... (Ma) se non vedo l'ora
Ancona branch of the Italian Union of the Blind's Theatrical Group.
Directed by Antonio Lovascio.
With Giulia Pagoni, Stefania Terrè, Barbara Roefaro.
25 August - TARGATO H contro-mono-logo
David Anzalone aka "Zanza"
Directed by Alessandro Castriota who also wrote the music.
11 pm - Tastings
After the shows we invite you to the Museum courtyard to round off the evening with some ice cream made by the prize-winning Paolo Brunelli of the Gelateria "Al Belvedere", Agugliano accompanied by a glass of one of Mario Cecconi of Osimo's beverages.
WALTER VALENTINI - A CELEBRATION
Se usciamo a un sentiero ignoto (o del viaggiar con Walter Valentini) - If we come out from an unknown path (or travelling with Walter Valentini).
Dedicated to Walter Valentini (born in Pergola, 1928), the internationally famous painter, engraver and sculptor, this exhibition features a group of his sculptures in a rather unusual way: three important small sculptures in bronze and two beautiful fireclay panels interact with thirteen works created by students from the Licei Artistici of The Marches and the Accademia di Belle Arti, Macerata. These works have the common theme of the journey, in the sense of reflection and awareness of one's own journey through life. Straight lines and curves, solid forms and shadows, forms in relief and incisions, the rough and the smooth, are elements of the 'grammar' of Valentini's artistic language which he brings together with deep understanding to produce a rhythmical and harmonious syntax, perceptible not only through vision but also through touch.
Information
Summer opening times - July and August: Tuesday to Friday: 9 am - 1pm; 4 pm - 8 pm; Saturday and Sunday: 4 pm - 8 pm. Open until 12 midnight on Thursdays for the duration of Sensi d'estate. Closed: Mondays, 15 August.
Guided visits and learning workshops are available but must be booked. (see individual events for costs). These are free for non- and partially-sighted visitors as well as for disabled visitors, their helpers and children up to the age of 4.