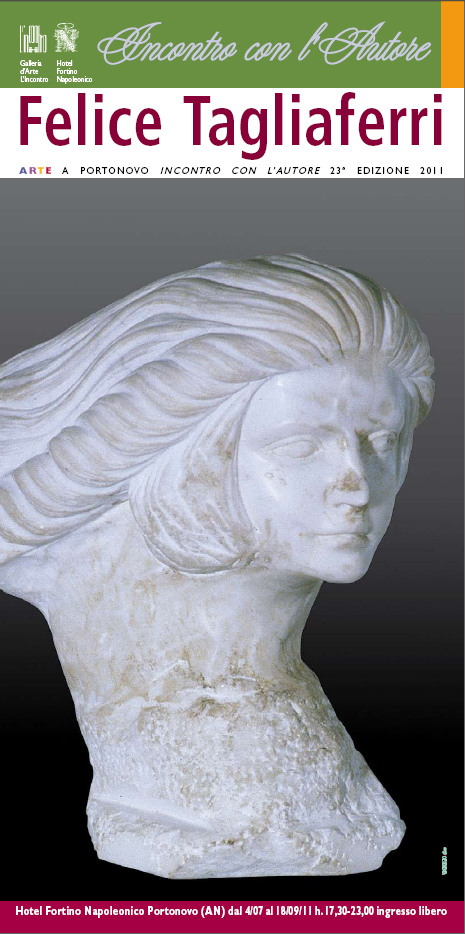 4 July to 18 September 2011.
Hotel Fortino Napoleonico Portonovo (AN).
Inauguration 4 July 2011 at 7 pm.
The 23rd Meet the Artist features works by a unique personality, who bursts on to the scene with his growing notoriety and esteem: a non-sighted sculptor, Felice Tagliaferri instils his profound perception of realty into marble and clay. His sculptures are made to be touched and explored by loving and curious hands, given that their form and meaning come from the guiding and controlling touch of their maker's hands behind the chiselling or modelling of the material.
Tagliaferri has always worked to make art barrier-free, open to tactile enjoyment: this is one of the reasons that he has long been in fruitful contact with the Museo Omero, Ancona. In 2006, he founded a school of the plastic arts, la Chiesa dell'Arte, at Sala Bolognese, which is open to everyone, with or without disability, where touch is not only a sense used for perception but also a means of communication.
Apart from their powerful idealistic component, his works are admirable for the mastery in his inventivity and the finish of the forms, the rendering of the meanings, sentiments and expressions that permeate and animate his creations.
There is much of the human in his art and in the vital force that affirms itself when he gives form to the material but above all, it is the trace of that divine sense which transcends and gives eternity to things that is revealed.
This show at the Fortino Napoleonico, is a timely anticipation of the September exhibition of Felice Tagliaferri's masterpiece, "Cristo rivelato" in Ancona, which coincides with the papal mass at the Congresso Eucaristico Nazionale. It also places the artist's intense sculptures in the natural beauty of Portonovo bay, in the care of its genius loci: the marble hair blown by a wind of passion and the fleeting smiles that grace his female figures come alive here, in the echo of the lapping waves and the pungent perfume of the sea breeze.
The event is organized by the Galleria d'arte L'incontro, Ancona and the Fortino Napoleonico, with the collaboration of the Museo Omero (which has loaned some of Tagliaferri's works from its collection), Effetto Luce, Recanati (illumination), Lucesole srl (transporting the statues) and Unipol Assicurazioni (insurance).
Information
Open: 4 July to 18 September 2011.
5.30 to 11 pm.
Admission: free.