The night of the Museums 2014 Senses in draping – sculptural structures exhibition
Posted in Events on 1 May 2014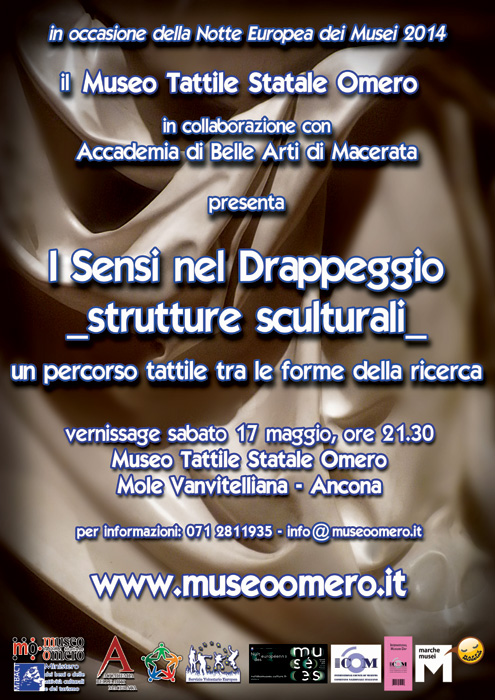 During the Night of the Museums 2014, which idea involves all European Museums, the State Tactile Museum Omero presents the tactile exhibition "Senses in draping - sculptural structures."
These are works on the theme of the plastic drape, created by students of the Academy of Fine Arts in Macerata in the years 2012 - 2013. The materials used are of the most varied. The works will be explored tactilely, to understand the nuances and, most of all, to access the multisensory in Museum Omero.
The initiative is possible because of help of the National Civil Service Volunteers, the European Voluntary Service, the Association for the State Tactile Museum Omero NPO and trainees. The event, created by the French Ministry of Culture and Communication, belongs also to Great Museums Tour 2014, sponsored by the Marche Region with the support of the Museum Systems in the cities of Ancona and Macerata, Italy ICOM and the collaboration of the Ministry of Heritage and cultural Activities - Regional Directorate for cultural Heritage and Landscape of Marche. Grand Tour of Museums takes place during the Festival of Museums of Regione Marche Happy Museum.
Info
May 17; 21.30 - 24.
Free admission.
Where: State Tactile Museum Omero - Mole Vanvitelliana Banchina Giovanni da Chio, 28
Phone 071 28 11 935
Email: info@museoomero.it