"I Sensi dell'Arte | Art Senses 2014 – The creative freedom of blind and partially sighted artists" exhibition
Posted in Exhibitions on 30 March 2014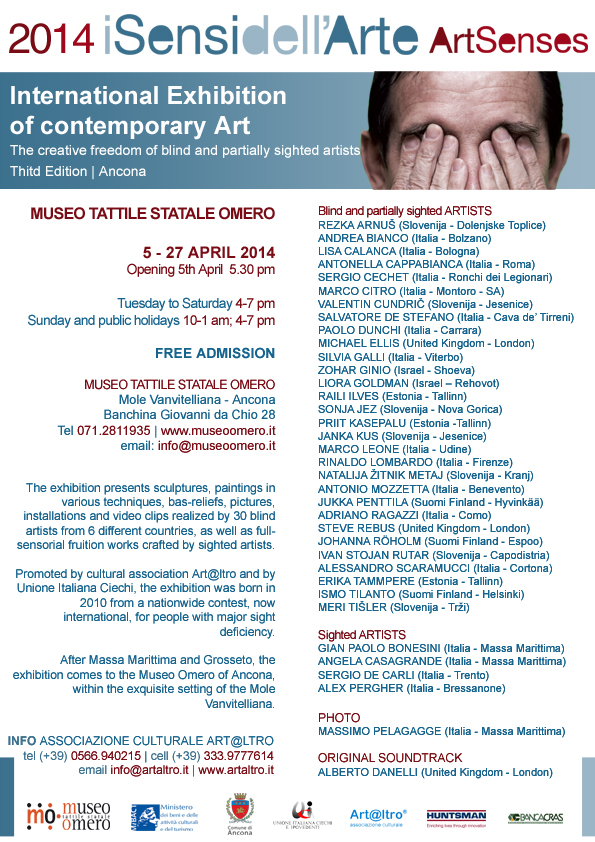 5 - 27 April 2014
Museo Tattile Statale Omero, Ancona
On 5 April at 5:30 pm the "Art Senses", international exhibition of contemporary art, promoted by the Art@altro cultural association and the Grosseto branch of the Italian Union of the Blind and Partially Sighted, was inaugurated at the Omero Tactile Public Museum. The exhibition shows sculptures, paintings made with different techniques, low relief sculptures, photographs, installations and videos created by 30 blind artists, coming from six different countries (Italy, Slovenia, Estonia, Israel, England, Finland). The exhibition also shows works by sighted artists able to produce art that can be enjoyed as a multi-sensory experience. The exhibition was created in 2010 as a result of a contest for artists with a severe visual deficit. At the beginning it was only at national level and then it became international, thanks to the support of the head office of the Italian Union of the Blind and Partially Sighted.
After Massa Marittima and Grosseto, the exhibition is now at the Omero Museum in Ancona, in the gorgeous setting of the Vanvitelli Stately Building (Mole Vanvitelliana). Among the over 60 exhibited works, worth to be mentioned are the sculpture "Fertility" by Israeli artist Zohar Ginio who won the first prize of the contest, "Pesci spade" ("Swords fish") by Rinaldo Lombardo from Florence, "Shadows of windows" by Jukka Penttilä from Finland, the textile installation by Erika Tammpere from Estonia and "Return of swallow" by Rezka Arnuš from Slovenia. In the youth section the award went to "Macchie nello spazio" ("Spots in space") and "L'albero della fantasia" (Imagination tree), made by two very promising boys from Salerno called Salvatore De Stefano and Marco Citro (17 and 13 years old).
During the exhibition the original music "A day with Ana" plays, which is composed by London based musician Alberto Danelli. Moreover, the winning sentences of the 12 words or a tweet contest", i.e. short and intense sentences conveying the meaning of the art senses, are displayed on large banners..
"Art Senses" invites everyone to explore different ways of experiencing creative reality, highlighting actions and emotions which are able to give a meaning to different materials and languages, through an intimate and expressive creation by "different eyes" and the social relation.
Promoted by
ASSOCIAZIONE CULTURALE ART@LTRO
tel (+39) 0566.940215 | cell (+39) 333.9777614
email info@artaltro.it | www.artaltro.it
UNIONE ITALIANA CIECHI di Grosseto
E UNIONE ITALIANA CIECHI Ufficio esteri
Partners:
Comune di Ancona
Bancacras
Huntsman
Info
Free entrance.
Open: Tuesday to Saturday 4-7 pm. Sunday and public holidays 10-1 am; 4-7 pm.
MUSEO TATTILE STATALE OMERO - Mole Vanvitelliana, Banchina Giovanni da Chio 28, Ancona
Tel 071.2811935 - www.museoomero.it - email: info@museoomero.it
Blind and partially sighted ARTISTS:
REZKA ARNUŠ (Slovenija - Dolenjske Toplice)
ANDREA BIANCO (Italia - Bolzano)
LISA CALANCA (Italia - Bologna)
ANTONELLA CAPPABIANCA (Italia - Roma)
SERGIO CECHET (Italia - Ronchi dei Legionari)
MARCO CITRO (Italia - Montoro - SA)
VALENTIN CUNDRIČ (Slovenija - Jesenice)
SALVATORE DE STEFANO (Italia - Cava de' Tirreni)
PAOLO DUNCHI (Italia - Carrara)
MICHAEL ELLIS (United Kingdom - London)
SILVIA GALLI (Italia - Viterbo)
ZOHAR GINIO (Israel - Shoeva)
LIORA GOLDMAN (Israel – Rehovot)
RAILI ILVES (Estonia - Tallinn)
SONJA JEZ (Slovenija - Nova Gorica)
PRIIT KASEPALU (Estonia -Tallinn)
JANKA KUS (Slovenija - Jesenice)
MARCO LEONE (Italia - Udine)
RINALDO LOMBARDO (Italia - Firenze)
NATALIJA ŽITNIK METAJ (Slovenija - Kranj)
ANTONIO MOZZETTA (Italia - Benevento)
JUKKA PENTTILA (Suomi Finland - Hyvinkää)
ADRIANO RAGAZZI (Italia - Como)
STEVE REBUS (United Kingdom - London)
JOHANNA RÖHOLM (Suomi Finland - Espoo)
IVAN STOJAN RUTAR (Slovenija - Capodistria)
ALESSANDRO SCARAMUCCI (Italia - Cortona)
ERIKA TAMMPERE (Estonia - Tallinn)
ISMO TILANTO (Suomi Finland - Helsinki)
MERI TIŠLER (Slovenija - Trži)
Sighted ARTISTS:
GIAN PAOLO BONESINI (Italia - Massa Marittima)
ANGELA CASAGRANDE (Italia - Massa Marittima)
SERGIO DE CARLI (Italia - Trento)
ALEX PERGHER (Italia - Bressanone)
Photo:
MASSIMO PELAGAGGE (Italia - Massa Marittima)
Original soundtrack:
ALBERTO DANELLI (United Kingdom - London)