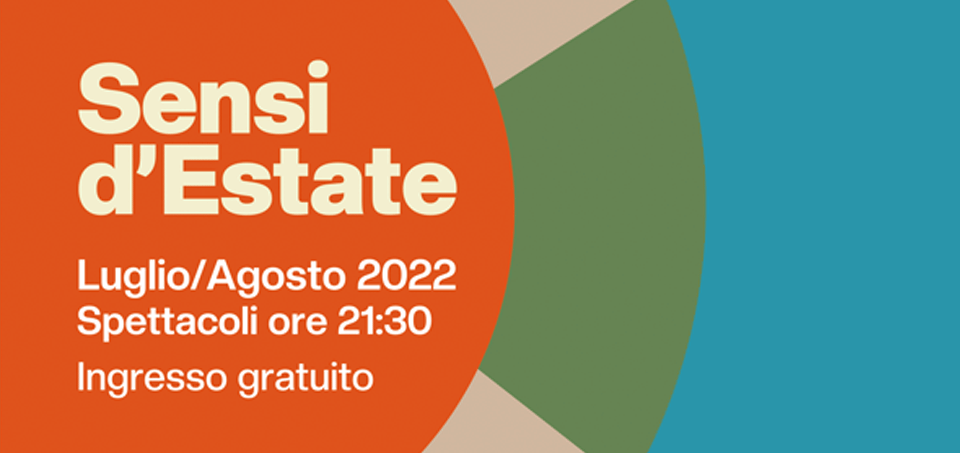 Twenty-first edition 2022 - Multisensory itineraries of Art Theatre Music Perfumes and Flavours.
Monday 25 July and Wednesdays from 27 July to 24 August 2022.
Shows at 9.30 pm in the Corte della Mole Vanvitelliana, Ancona.
Free admission.
Sensi d'Estate turns 21! A long journey for this festival that has flourished together with the Museo Omero. In 2002, Roberto Farroni had the genial idea of staging events where art could be experienced through the union of all five senses. This year's programme features internationally renowned artists and new projects in the splendid setting of the courtyard of the Mole Vanvitelliana in Ancona.
Shows
Monday 25 July at 21:30
Corvino Productions
Renatissimo
The first 100 years of Renato Carosone (1920-2021)
Enzo Decaro Narration and songs
Ànema
Marcello Corvino, violin
Biagio Labanca, guitar
Massimo De Stephanis, double bass
Fabio Tricomi, oud, tambourines and mandolin
Wednesday 27 July at 21:30
La vie en blues
Sara Jane Ghiotti & Gershwin Quinquet
Gershwin Quinquet
Letizia Ragazzini, soprano sax
Mariella Donnaloia, alto sax
Isabella Fabbri, tenor sax
Laura Rocchegiani, baritone sax
Maria Giulia Cester, piano
Wednesday 3 August at 21:30
Diversa mente
Stefania Terrè, actress
Debora Barontini, dancer
Maria Vittoria Tranquilli, piano
Antonio Lovascio, direction
Wednesday 10 August at 21:30
Night of the bellows
First part
Duo Acefalo
Lorenzo Cantori, accordion and voice
Silvano Staffolani, guitar and voice
Second part
Travel Notes
A musical journey through Argentinian tango, traditional Latin American music and jazz
Massimo Tagliata, accordion
Wednesday 17 August at 21:30
Music from the sea
Concert with guitar and string orchestra
Giovanni Seneca and the Orchestra sinfonica G. Rossini
Wednesday 24 August at 21:30
Opera and passion
Marta Torbidoni, soprano
Giuseppe Settanni, tenor
Ensemble Orchestra Sinfonica G. Rossini
Mirca Rosciani, conductor
Art
During the Sensi d'Estate evenings, the Museo Omero's Design Collection will be open from 21:00 to 24:00. Exceptionally, admission will be free on these evenings.
Aperitifs at the MicaMole!
Excellent outdoor aperitifs and snacks will be available from 6pm at the MicaMole! bar in the courtyard of the Mole. The bar is managed by the Cooperativa Sociale "Lavoriamo Insieme" of Loreto.
For bookings, please call 327 544 29 77
Info
The shows are free and take place outdoors, in the courtyard of the Mole Vanvitelliana.
Admission is free. To book places for people with disabilities, please call 342 50 60 364.
As in previous years, our public will be able to support the "Per il Museo Tattile Statale Omero ODV-Onlus" Association.
Sensi d'Estate 2022 is organized by the Museo Tattile Statale Omero in collaboration with the Municipality of Ancona - La Mole Ancona, Opera Società Cooperativa, Associazione "Per il Museo Tattile Statale Omero" ODV-Onlus and with the support of volunteers from the Servizio Civile Universale and Garanzia Giovani.