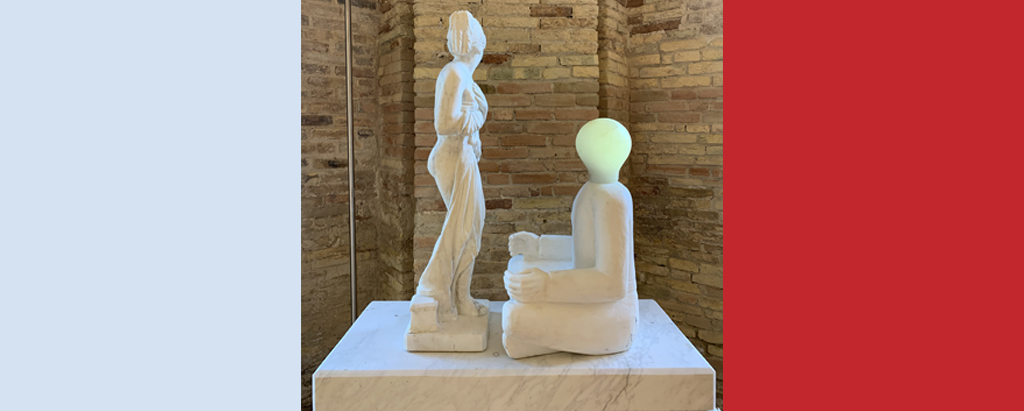 Winner of the "PAC2020 - Plan for contemporary art" public notice.
5 July 2022 at 17:00.
Museo Tattile Statale Omero, Ancona.
On 5 July 2022 at 17:00, we will inaugurate Felice Tagliaferri's latest sculpture. The work, entitled "M'illumino d'immenso", will enhance the Museo Omero's collection, being the winning project of the "PAC2020 - Piano per l'Arte Contemporaneo" public notice, which was promoted by the Direzione Generale Creatività Contemporanea of the Ministry of Culture.
The sculpture, 110 cm high and 80 cm wide, is carved from Carrara marble and alabaster: it represents a man sitting cross-legged on the ground, about to touch a statue of Venus.
Before carving his goddess of beauty and love, Felice Tagliaferri, who has been blind since the age of 14, used touch to fully explore the Museo Omero's own cast of Antonio Canova's "Venere Italica".
The man, who sits at Venus's feet, has a round head, made of alabaster and shaped like a light bulb and which actually contains a LED light.
"M'illumino d'immenso" tells us how the tactile exploration of a work of art illuminates the mind and ignites the pleasures of beauty. It celebrates this new way of accessing art that makes it possible for everyone to experience a multisensory, intimate and engaging aesthetic experience, which reveals and renews the intrinsic qualities of touch while also adding a further quality: accessibility.
The long-standing "Do not touch" barrier that has stopped blind people enjoying the delights of beauty has now been broken down.
In keeping with the Museo Omero's philosophy, this work is intended to be a symbol of a new multisensory museology, where tactility has also become a protagonist. The whole town is invited to attend.
Info
Telephone and whatsapp 335 56 96 985, email didattica@museoomero.it