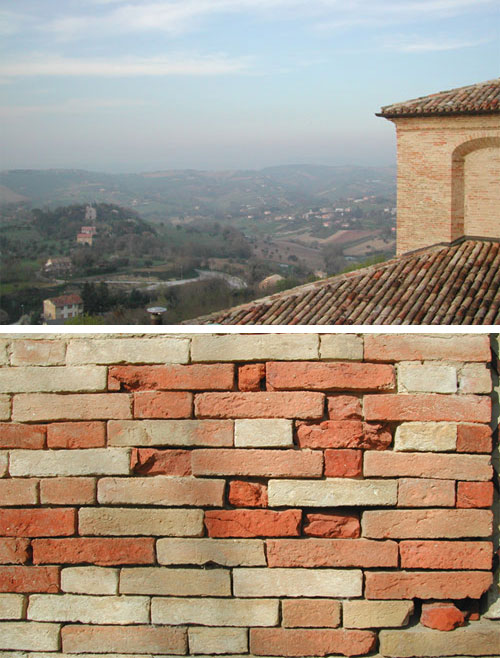 Macerata 6, 9, 18 May 2009
The European Programma LLP-ERASMUS (life- long- learning programme) has approved the project IP (intensive program) conceived by Academy of fine arts of Macerata, titled TC-TC "Terra Cotta- Terra Cruda", colore, texture, superficie.
This project, coordinated and encouraged by Prof.Teresa Marasca, is the first project approved to an Italian Academy of fine arts.
The project has a total duration of 12 months (from 1st September 2008 to 31st august 2009).
In this activity are involved three Parners Institutes:
Salford (United Kingdom)
Cluj-Napoca (Rumania)
University of Macerata (languages's faculty) with teachers and students that are going to put a workshop to Macerata's Academy.
The project
The cultural background of this project is rural landscape - raw earth- and urban landscape –fired earth- in the speciphic geographic locations of the three Institutes involved:
Macerata, Cluj-Napoca and Salford.
The focus of the project is enquiry into colour, texture and surfaces of the landscape. Materials and technologies relevant to natural and local sources help determine the invention of the participants. Raw inquiry is the means by which concvepts and ideas are stimulated and is the primary focus of the collaboration.
The goal is to raise student' awareness of the cultural dimensions of a location and concentrate on the territorial identity of Macerata. The responses to and the aesthetic treatments of the subjects are important to the process of knowledge transfer.
Plan of activities:
-Landscape enquiry (natural and built); its contemporary fascination and stratification of meaning throughout time (various means)
-Manipulation of raw earth (clay); modellinf and searching new hypothesis of shape
-Comprehension of chromatic forms from the terracotta materials of buildings; new chromatic hypothesis
Outputs:
Exhibition of images; Environmentally interactive sculpture (temporary structures); Paper-brochures and Diary of Decay (book of images and drawings); Postcards; Report English-italian;
Tactilepath by Omero Museum; Creation of patterns for a brick factory; Colour chart (local identity); Video.
Museo Tattile Statale Omero
Our Museum has been involved to give his contribution of professionality and experience.
It also collaborates during workshop for the application of a special didactic dedicated to blind and partially-sighted.
Our museum projected and prepared tactile tour for the final exposition.
In particular:
Wednesday 6th May
Andrea Socrati, the responsible of special projects of the Museo Omero is going to give a lecture to the Academy of fine atrs of Macerata about the interpretation of Giacomelli's landscape
Saturday 9th May
Italian and foreign people involving in the European project are going to visit the Museo Omero.
Monday 18th May
There will be the inauguration of the exhibit event "Terra cotta –Terra Cruda" organized with the professional advice of The Museo Omero so that it will accessible by visual disabled.
During this exhibition, it will be exhibit the creatins of the workshop "Tactile interpretation of Giacomelli's landscape".
External Link:
Photos of the workshop "Tactile interpretation of Giacomelli's landscape" leading by Andrea Scorati - 6 th May