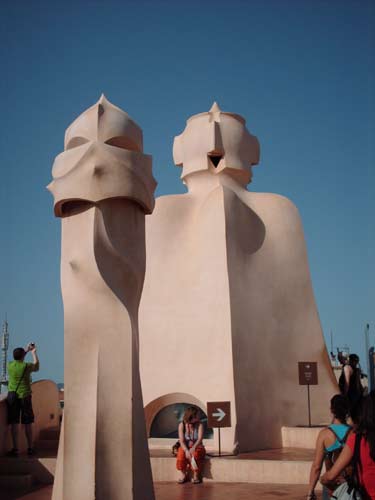 from 18 to 25 October 2008 - Barcelona, Spain.
European Projects and the Museo Omero
Numerous young people from all over Europe have come to the Museo Omero over the last two years, thanks to the "European Commission Youth in Action" programme which was created to increase socialization and integration with people of different nationalities, languages and cultures, through shared experience and cultural exchange. Mirko Montecchiani, Lecturer in Tiflology at the University of Macerata and Youth Leader of the Marches branch of the Italian Union of the Blind and Partially Sighted, has already organized two projects (Building Trust in 2008 and Swimming in the Light in 2007) both of which included our museum.
"Different Views of Culture"
Within the European programme, the Spanish association "Barcelona Volontaria" has organized the "Different Views of Culture" project, headed by Carla Rodríguez which runs from 18 to 25 October. The Italian partner in the project is the Macerata branch of the Italian Union of the Blind and Partially Sighted, in collaboration with the Museo Omero, The other countries taking part are: Hungary, Lithuania, Greece, Slovenia and Estonia.
The Museo Omero, Ancona and its various activities will be presented to the young people (aged 18 to 30) from all these countries. Representing our Museum in Spain will be Mirko Montecchiani along with Alessia Varrichhio and Maria Castellana, two post-graduates who chose the Museum for their specialist training and who have been rewarded by the Management for their hard work. They have the task of informing their contemporaries about the Museum's programme of art education for the visually handicapped and its work on maximizing museum accessibility. At the end of the project, students will be awarded a Youth Pass. This document is valid for finding work in the public sector (competitions, lists etc.).
International relationships
This is another important international event for the Museo Omero, after our participation in the "Hadrian Empire and Conflict" exhibition at the British Museum in London, the "Umano Divino" exhibition at Černá Hora, the forthcoming exhibition in Prague and our close contacts with various Japanese bodies and institutions.