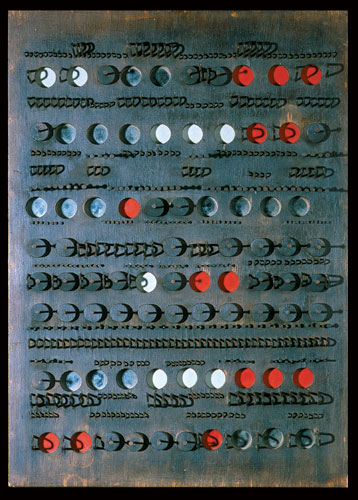 Palazzo del Rettorato, Piazza Roma 21, Ancona.
14 December 2007 - 6 January 2008.
In collaboration with the Museo Tattile Statale Omero.
The exhibition illustrating the artistic career of Roberto Papini will be inaugurated on Friday 14th December at 6pm in the Palazzo del Rettorato, Ancona.
It has been organized by the Centro Ricreativo Universitario di Ancona (CRUA) in collaboration with the Museo Tattile Statale Omero, and is part of "Ancon'Aria", an ongoing series of yearly exhibitions dedicated to artists from Ancona.
This year the featured artist is Roberto Papini, an eclectic painter/sculptor, whose artistic development has been long and fruitful artistic. His works, produced over a large part of the Twentieth century, have employed various styles while staying true to a recognizable personal language and to his lasting passion for an "ars combinatoria" of object rhythms.
According to the exhibition curator Lucilla Niccolini, he is an artist who "has always collected the signs of his language to represent a reality which is both incredibly unexpected and surprising".
The works on show until January 6th at the Palazzo del Rettorato have all been chosen for their significant tactile aspects in line with the Museo Tattile Statale Omero's policy of making art accessible to the visually handicapped. Papini's works are particularly suited to tactile exploration.
Works which are created with a magic touch, as Roberto Farroni, director of the Museo Omero says:" ... where science, magic and mystery come together to be fused into a single unity, the warp and weft of human existence. He is engaged in a profound and dynamic labour of love which breaks through all barriers to reach the sublime, with ideas and things which are simple but not banal, full of magical sensibilty."
The exhibition will therefore be equipped with informative and learning aids for the visually handicapped. There will also be special activities for families and children.
Information
Where: Palazzo del Rettorato, Piazza Roma 21, Ancona.
Open: Every afternoon from 4pm to 7.30pm except 25th December and 1st January.
Admission: Free
Visits and workshops: organized by the Museo Tattile Statale Omero, Ancona.
Info and bookings: Tel. 071 28 11 935; email: info@museoomero.it.