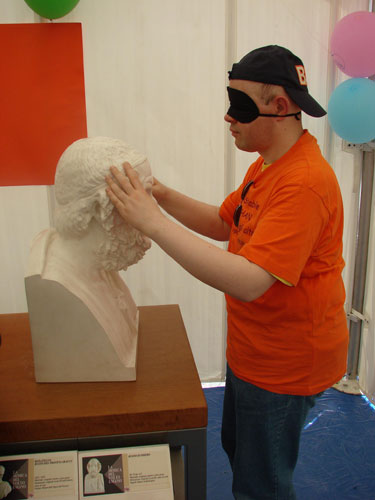 from 14 to 21 March.
Chiostro di Santa Chiara, Naples.
Sala del Crocifisso and Sala Maria Cristina.
The Museo Tattile Statale Omero, in collaboration with UNIVOC, Naples and the Centro dei Servizi per il Volontariato, Naples, has organized the Toccare l'arte "Vedere con le mani" exhibition in the evocative rooms of the Chiostro di Santa Chiara, right in the historic heart of Naples and open from 14 to 21 March 2008.
This is the first time that works by the sculptor Felice Tagliaferri will be shown in Naples. They will be accompanied by selected works from the permanent collection of the Museo Omero, Italy's only tactile museum and internationally recognized centre of excellence of cultural opportunity for the non-sighted.
An exhibition where visitors encounter masterpieces of art through tactile perception, using their hands to explore faces, bodies, gestures and expressions and come to an understanding of volume and perspective.
Among the works from the Museum's collection that will be on show in the spectacular Sala del Crocifisso at Santa Chiara from 14 March, is the excellent architectural model of the Basilica di San Pietro and the cast of the Pietà di Michelangelo (the original is actually situated in St Peter's), placed as if in coversation with the more anguished Pietà Rondanini.
Visitors can also admire other celebrated full figure statues and a series of well known portrait heads with their hands, so that they can learn through tactile exploration how emotion is depicted: from the Head of David to a bust of the Laocoon.
The exhibition also includes five original creations by the non-sighted sculptor Felice Tagliaferri, who uses uses such diverse materials as clay, marble, wood and stone with great ability. He produces works that are first created in his mind and then given form through the craftsmanship of his hands, which are guided by an incredible tactile ability.
The Sala Maria Cristina will host the projection of La Grande Luce DVD which illustrates the Museo Omero, its collection, its mission and its uniqueness. The DVD includes commentary and descriptions for the non-sighted.
A special blindfolded tour lasting approximately one hour is also available.
Visitors will be guided around the exhibits by an expert from the Museo Omero. Afterwards visitors can compare and contrast touch and sight as different ways of perceiving art.
A unique experience that will first awaken your curiosity, then surprise and intrigue you.
Admission: free.
Open: from 14 to 21 March 2008.
Opening times: 9.00 to13.00 and 15.00 to 17.00.
Where: Monastero di Santa Chiara. Via Benedetto Croce, 16, Naples.
Guided tours: every hour from 9.00 to 12.00 and from 15.00 to 16.00. Please book.
Infoline: 0039 347.84 54 58 1.
Visitors can collect a discount voucher for local restaurants or pizzerias taking part in the promotion.
This cultural initiative was created by CSV Napoli promotions.