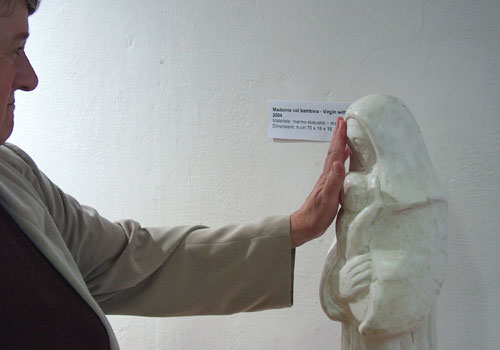 Moravia, Czech Republic.
May to July 2008.
The International Festival of the Czech Republic Union of the Blind.
"Loss of sight is not an obstacle, if you can see with your heart. We are not an organization that decides and acts on behalf of the non-sighted. We are non-sighted citizens who decide and act for ourselves."
Every year the Czech Republic Union of the Blind (SONS) organizes an important International Festival in Moravia: the Art Days of the Blind (DUN). Now in its 13th year, the Festival promotes blind and partially-sighted artists from all over the world. Each year a different country is featured and this year is Italy¹s turn. The Festival, which runs from May to July, travels through various cities in Moravia - Ostrava, Zlin, Vsetin, Kromeriz, Bystrice pod Hostynem, Vizovice, Kyjov, Blansko - bringing itinerant exhibitions, shows and many other events.
The Museo Omero and the Italian non-sighted artists.
Given that the Museo Omero is the only tactile museum in Italy and has always been involved making culture accessible to all, the Czech Republic Union of the Blind invited us to indicate worthy non-sighted Italian artists. The Museo Omero proposed Felice Tagliaferri for scupture, Giuseppe Noferi for painting and Armando Battiston for music. We are delighted that they will be protagonists in the Art Days of the Blind International Festival in the Czech Republic this year.
Felice Tagliaferri is presenting ten scuptures including a sensitive "Maternity" in bronze, a "Madonna and child" in marble and a terracotta "Face of Christ". The exhibition also includes about 120 watercolours by Giuseppe Noferi, a Florentine painter who died young; they are the colours of his blindness translated into painting.
Monday 26 May Presentation at Vsetin
On 26 May the travelling Festival goes to Vsetin where the official inauguration will be held in the presence of an official Museo Omero delegation kindly invited by the SONS (the Czech Republic Union of the Blind). It will include Roberto Farroni,the Director, and Aldo and Daniela Grassini Felice Tagliaferri and Giuseppe Noferi¹s mother and brother will also be present.
Later in the evening, Armando Battiston will hold his first concert. This extraordinary jazz musician appeared last August in the Museo Omero¹s summer series of special events ³Sensi d'estate². Battiston¹s tour will include six concerts in Moravia.