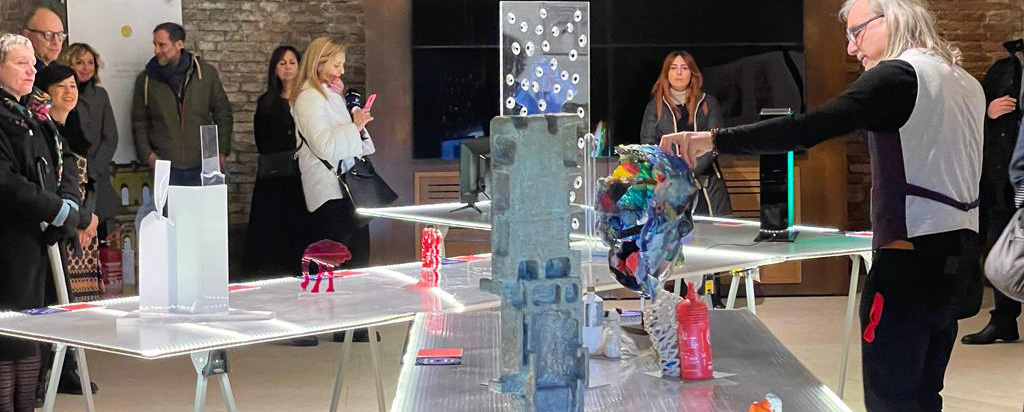 2 to 31 March 2023.
Bastione delle Maddalene, Vicolo Madonnina 12, Verona.
Exhibition inauguration video by Telenovo.
The exhibition, which was created by the Museo Tattile Statale Omero and was on show in our rooms last summer, can be visited Bastione delle Maddalene in Verona until 31 March.
"Plastic culture: art, design, the environment" is a multi-sensory, travelling exhibition conceived by Andrea Socrati. Its design and layout were curated by the museological architect, Fabio Fornasari.
It is divided into three sectors, each of which presents the link between plastic and art, design and the environment respectively.
Its first stop is in Verona, where the organization is headed by Amia Verona S.p.a. with the patronage of the University of Verona which has announced a photographic competition entitled "My plastic destiny".
Accompanying the exhibition are workshops, events and meetings designed to make visitors more aware of the importance of recycling, sustainability and environmental protection in the 2021- 2030 decade, which has been proclaimed the "Ocean decade" by the UNO.
Information and booking
Free admittance.
School bookings: to book workshops and meetings, please email servizioscuole@amiavr.it.
Opening times: Tuesday to Sunday 9:30 – 12:30 and 15:00 - 18:00.
Closed: Mondays.