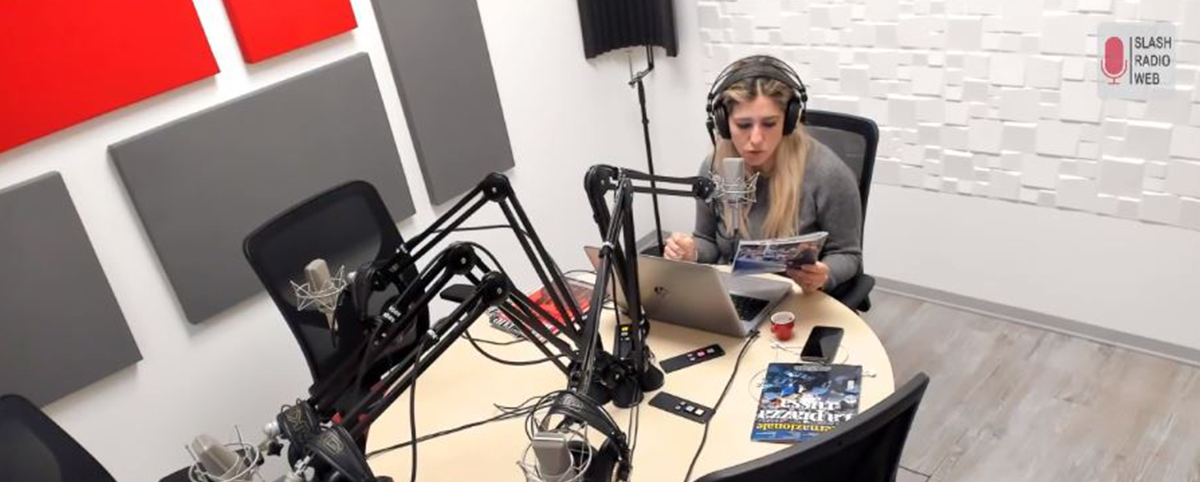 We're ready to go on air again!
After our first experience last spring, we are resuming our meetings about art on Slash Radio Web, the official radio of the Italian Union of the Blind and Visually Impaired.
There will be ten live-web broadcasts of "Touching art on the radio", curated by the staff of the Museo Omero and presented by the journalist Chiara Gargioli.
The aim is to get to know some of the artists whose works feature in the museum collection, in an informal, friendly way. There will be detailed descriptions of the exhibits so as to make the broadcast fully accessible.
Our 40-minute programmes will go on air at 3:20pm, every Thursday from February 4th to April 8th 2021. Live on the Facebook page of Slash Radio Web.
Programme calendar
4 February: Giuliano Vangi in conversation with Aldo Grassini.
11 February: Le divinità non passano mai di moda (The Gods never go out of fashion). Curated by Alessia Varricchio.
18 February: Tensione dinamica (Dynamic tension). Monica Bernacchia interviews the sculptor Tiziana Felicioni.
24 February: Walter Valentini - Superfici e Di-segni (Surfaces and De-signs). Curated by Andrea Socrati.
4 March: Colloquio di senso (Colloquium of meaning) around Pietro Consagra. Annalisa Trasatti interviews Mercedes Autieri.
11 March: Felice Tagliaferri in conversation with Aldo Grassini.
18 March: Alik Cavaliere - l'uomo è natura (- man is nature). Monica Bernacchia interviews Fania Cavaliere.
25 March: The Arnaldo Pomodoro Foundation. Andrea Socrati talks to Carlotta Montebello about its origin and development.
1 April: Bruno Ceccobelli in conversation with Annalisa Trasatti.
8 April: A fil rouge between East and West. Curated by Alessia Varricchio.