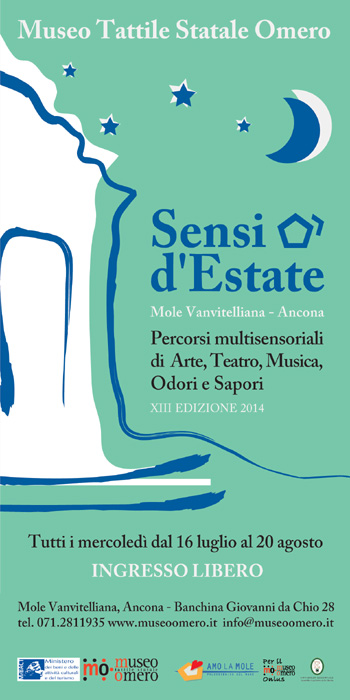 Multisensory paths of art, theatre, music, aromas and flavours
July 16 - August 20
Every Wednesday from 7 pm till midnight.
Museo Tattile Statale Omero - Mole Vanvitelliana, Ancona
Free admission
Sensi d'estate (Summer senses), the Museo Omero's summer cultural festival, is back. 13. Edition.
ART
PERCEPIRE IL SOFFIO (Perceive the breath) by Silvia Fiorentino
Curated by Valerio Dehò
Opening exhibition: 16th July 7 pm with: Valerio Dehò, Silvia Fiorentino, Aldo Grassini.
The exhibition includes over 30 works: two installations, sculptures, paintings, drawings, audio texts.
There is a suspension vital work of Silvia Fiorentino, a form of silence that suggests the word, something that does not have a definition, but it might at any moment as a potential match. Show the body without representing it, blow the word without building a language, suggest a primitive 'art cultivated and developed, to marry the word mark joining material to immaterial: some polarity of the art Fiorentino are these. "Valerio Dehò, curator show.
Events and Shows
The concerts and theatrical performances are held outdoors in the inner courtyard of the Mole Vanvitelliana at 21:30.
Admission is free. Seats are limited: reservations will only be taken for people with disabilities.
JULY 16
ore 21.30 - Music "Tributo a Giulietta Masina nei 20 anni dalla scomparsa"
NINO ROTA ENSEMBLE
JULY 23
ore 19.00 Yoga on display with Barbara Neri, Shaktyoga Club Ancona. Dedicated to "Percepire il soffio" by Silvia Fiorentino.
ore 21.30 Music "Cambio Palco Tour"
TURKISH CAFE'
JULY 30
ore 21.30 Musica "Furia Ludica"
DUO BUCOLICO
AUGUST 6
ore 19.00 Multisensory story in the dark "L'uovo cosmico" di Andrea Sòcrati
ore 21.30 Theatre - Chiamatemi Don Tonino...
LUCA VIOLINI
AUGUST 13
ore 19,00 book presentation Parla piano non ti sento di Anna Maria Zambrini
ore 21.30 Cinema in music UN PIANOFORTE RACCONTA...
SILVANO D'AURIA
AUGUST 20
ore 21.30 Concert SCALINATELLA. The Ensemble Musical Companion
a production of Musicultura, conceived and directed by Piero Cesanelli
Info
Each evening, the public can support the activities of our non-profit organization 'Associazione Per il Museo Tattile Statale Omero Onlus' through a donation.
Sensi d'Estate wishes to thank:
the Consiglio Regionale Marche for their patronage and the following for their cooperation: Comune di Ancona - Amola Mole, Associazione "Per il Museo Tattile Statale Omero".
Perceive the breath of Silvia Fiorentino
16th July - 15th September
Thursday/ Friday 18-22
Every Wednesday Sensi d'Estate time: 18-24
The Homer State Tactile Museum and Italy recycled by Michelangelo Pistoletto
15th June - 15th September
Tuesday/ Friday 18-22
Saturday and Sunday 10-13 and 18-22
Every Wednesday Sensi d'Estate time: 18-24
Guided tours and activities workshop, organized by the Educational Services of the State Tactile Museum Homer. In the morning it is open by appointment for groups. Cost of 3 Euros per person, excluding disabilities, teachers and carers. Reservations required.
Museo Tattile Statale Omero - Mole Vanvitelliana, Banchina Giovanni da Chio, 28, 60121 Ancona, Tel + 39 071.2811935, Fax + 39 071.2818358, Email info@museoomero.it.
Download