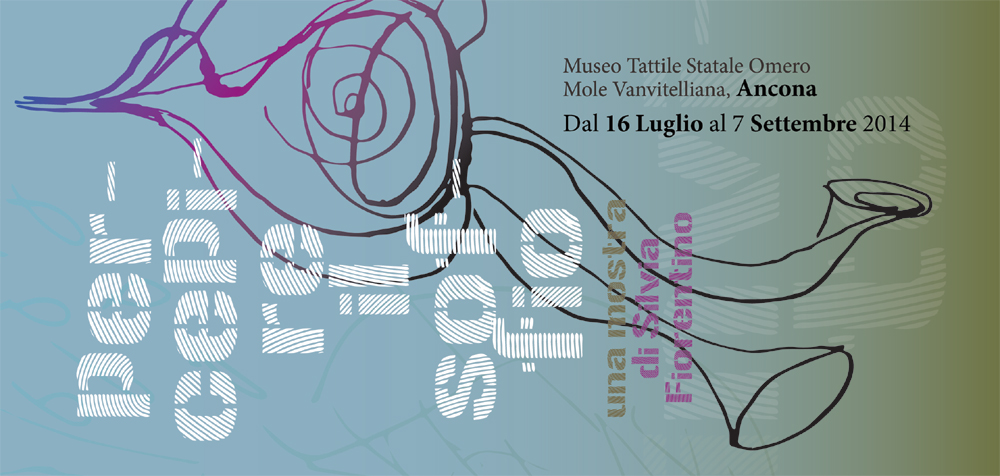 16 July to 7 September 2014
State Tactile Museum Omero - Mole Vanvitelliana, Ancona
Sensi d'Estate 2014
Opening Wednesday, July 16th, 2014 at 19.00.
Speakers: Valerio Dehò, curator; Silvia Florentino artist; Aldo Grassini, President State Tactile Museum Omero.
Free admission.
The exhibition includes over 30 works: two installations, sculptures, paintings, drawings, audio texts.
There is a suspension vital work of Silvia Fiorentino, a form of silence that suggests the word, something that does not have a definition, but it might at any moment as a potential match. Show the body without representing it, blow the word without building a language, suggest a primitive 'art cultivated and developed, to marry the word mark joining material to immaterial: some polarity of the art Fiorentino are these. "Valerio Dehò, curator show.
Promoter: Homer State Tactile Museum
With the support of: Marche Regional Council.
In collaboration with: City of Ancona, Association "For the State Tactile Museum Omero" Onlus
Realization preparation: Alessandro Cagnolati, Silvia Fiorentino.
Lighting: (directing and editing) Manrico Rocchi.
Editing texts: Alessandra Mulas.
Photo: Alessandro Cagnolati.
Supports tiflodidactics: Daniela Bottegoni, Davit Janashia, Massimiliano Trubbiani.
Catalogue: Perceiving the breath and. Homer Museum. Graphic design: Loretta Tavoloni. Number of pages: 40. 4 color printing. Size: 21 x 29.7 cm.
Organizing Committee: Giulia Cester.
Educational services and tours: Manuela Alessandrini, Monica Bernacchia, Cristiana Carlini, Giulia Cester, Francesca Graziani, Annalisa Trasatti, Massimiliano Trubbiani.
Communication and Press Office: Monica Bernacchia - State Tactile Museum Omero
Economy & Culture Gabriella Papini
Thank you for the help to Enrico Trillini Workshop "district Montefiore 66"
Info
Hours:
Thursday, Friday 18-22; Saturday and Sunday 10-13; 18-22; every Wednesday from 16 July to 20 August, the exhibition will be open from 18-24 during the summer cultural festival, "Summer Senses." The morning is open by appointment for groups.
Free admission.
There are guided tours and workshop activities in collaboration with the artist.
Collected by Educational Services of the State Tactile Museum Omero. Reservations required. Cost of 3 Euros per person, excluding disabilities, teachers and carers.
Museo Tattile Statale Omero - Mole Vanvitelliana
Banchina Giovanni da Chio 28
60121 Ancona
tel. 071 28 11935 - fax 071 28 18 458
email: info@museoomero.it