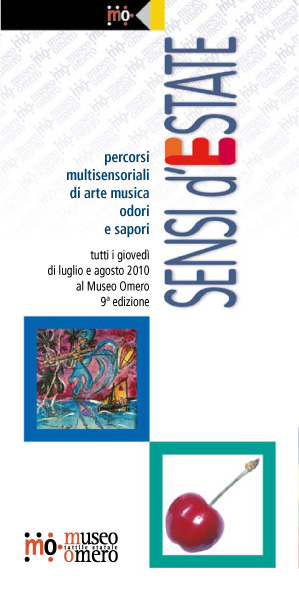 Multisensory paths of art, theatre, music, aromas and flavours
Every Thursday in July and August at 9.30 pm
Museo Omero, Via Tiziano 50, Ancona
Sensi d'Estate, the highly popular summer festival dedicated to music, art and flavours organized annually by the Museo Omero. Nine evenings where you can enjoy excellence in food and wine tasting, concerts, shows and exhibitions. The ninth edition has been made possible thanks to the patronage of the Regione Marche, the Provincia and the Comune of Ancona and the sponsorship of the Banca delle Marche.
Ore 8 pm: Taste Workshop organized by Slow Food
Each Thursday evening in July and August (from 1 July to 26 August), the events will begin with a Taste Workshop organized by Slow Food: local food producers and experts will be present to talk about food and wine with participants who can taste, touch, judge, comment, compare, ask questions in a convivial atmosphere.
Our collaboration with Slow Food - Ancona has been expanded this year with the presence of Fattoria Petrini of Monte San Vito, who make "Omero" olive oil.
Numbers are limited so booking is essential. Workshop starts at 8pm. Cost: 7 Euros.
Ore 9.30 pm: Concerts and shows on the terrace of the adjacent Regione Marche (Palazzo Leopardi)
The open-air concerts and shows start at 9.30 pm on the terrace of the adjacent Regione Marche (Palazzo Leopardi) building. This year they illustrate the Marches through performances of classical and traditional music. On Thursday 1 July the series begins with a Homage to Franco Corelli organized by the "Amici della lirica Franco Corelli" Association with the first projection of a video "Ancona storica e Ancona oggi" (Historic Ancona and Ancona today) by Giulia Gioacchini. The concerts include with evenings dedicated to classical music, with the well-known young pianist Marco Vergini, film sound tracks from Marche in prima fila, a poetry and musical perfomance Artiste in dialogo. On the traditional side we have such established groups as La Macina, Vincanto, Bùsqueda and Domenica Vernassa who pays homage to the last king of Ancona: Umbertì. The final appointment of the season is with jazz as performed by the young Canvasky ensemble of the Accademia Musicale di Ancona.
Ore 11.30 pm: Tasting on the courtyard of the Museo Omero
After the concerts, you can move on to the museum courtyard to enjoy drinks and sorbets provided by Mario Cecconi from Osimo. The wonderful ice cream comes from the "Al Belvedere" gelateria artigianale, Agugliano.
Our collaboration with the neighbouring "Donatello" Junior Secondary School has been continued for a second year so as to complete the "Cielo e Terra" mural that decorates our shared courtyard. Our thanks go to the girls and boys for their work and to Rumori Irno e Figlio srl, Ancona for their sponsorship.
Exhibition of paintings by Gabriele Bartoletti
The exhibition of paintings by Gabriele Bartoletti is open during Sensi d'Estate and indeed all summer. This partially-sighted artist "brings forms, colours and beauty to the hands of those who live in the darkness of night" as Tonino Guerra affirms. Bartoletti is a painter with an extraordinary artistic and personal history. Rendered almost blind by illness, he invented a special technique in order to carry on painting his emotions and images, making them comprehensible even to the non-sighted.
Information
Admission to the events is free. Donations in aid of the activities of the Museo Tattile Statale Omero Onlus Association are welcomed.
There is a limited number of seats at the concerts. Bookings will only be accepted for the disabled.
Museo Tattile Statale Omero, Via Tiziano 50, Ancona.
Email: info@museoomero.it - Telefono 0039 (0) 71 28 11 93 5.
Museum summer opening times: July and August, Tuesdays to Fridays: 9 - 13; 16 - 20; Saturdays and Sundays:16 - 20. Closed: Mondays and 15 August.