20 views of the Basilica di Loreto, an exhibition by Andrea Socrati
Posted in Updates on 20 November 2010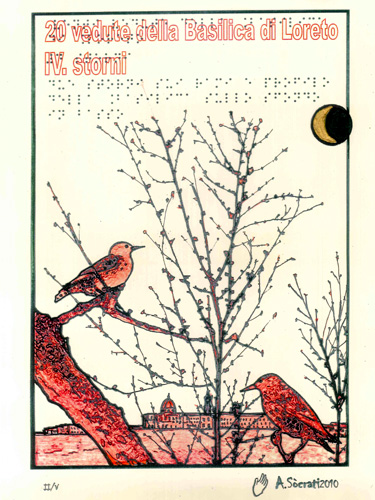 Inauguration Friday 3 December 3.30 pm,
Museo Antico Tesoro del Santuario, Loreto
The exhibition will be open until until 15 february 2011.
Andrea Sòcrati's 20 relief views of the Basilica of Loreto will be inaugurated on Friday 3 December at 3.30 pm at the Museo Antico Tesoro del Santuario. The exhibition enjoys the patronage of the Museo Tattile Statale Omero and the Delegazione Pontificia di Loreto. The Archbishop Monsignor Giovanni Tonucci will be present at the opening.
There are a great number of Views of Loreto (Vedute lauretane), mostly etchings but also paintings, dating from the 16th to the 20th centuries and these works of art are clearly related to these but they are also noticeably different because of the special technique Socrati has employed, taken from the heat-based systems used to create relief drawings for blind people. By uniting the force of sight with tactile values, he has highlighted the aesthetic potential inherent in this technique.
This means that the image can be enjoyed not only through sight but also through tactile exploration, giving non-sighted people a direct approach to the work, which is backed up with a short description in Braille. Sighted people can discover the particular effects offered by relief technique, overcome the 'Don't touch' mentality to discover an intimate approach to the work and enjoy the textural sensations of the content and even of the paper itself.
The exhibition will also feature a little terracotta model of the Basilica. The catalogue includes a preface by Archbishop Monsignor Giovanni Tonucci and a review by Padre Giuseppe Santarelli.
Biographical notes
Andrea Sòcrati was born in Rome on 30 November 1965 and lives in Ancona.
He is an art historian, specialised support teacher in senior secondary schools and head of the Museo Omero's learning programme for visually-handicapped people, which creates special learning and training projects. He promotes inclusive art projects for every type of visitor, where the languages used are drawn from communicative and expressive techniques aimed at senses other than sight, which are used by people with sensory disability, to explore and increase the aesthetic potential.