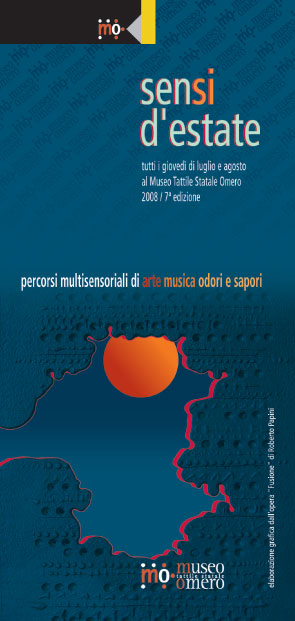 Multisensory paths of art, theatre, music, aromas and flavours
Every Thursady in July and August 9.30 pm.
Ancona, Museo Omero, Via Tiziano 50 - Free entry.
Sensi d'Estate 2008, the Museum's summer cultural programme, has now reached its eighth edition.
The programme, consisting of nine high-quality events, runs from 3 July to 28 August. The Museo Omero welcomes you every Thursday in July and August at 9.30pm. This year the attention is based on contamination between the different aristic forms and languages. This experience will be useful to come up the visitors to know cultures far from our. Each evening there will be an outdoor show, a multi-sensory exhibition inside the museum and tastings in the courtyard.
The shows
It will be held on the panoramic terrace of the Palazzo Leopardi, seat of the Regione Marche, and will start at 9.30pm. They include encounters with artists, dance, poetry and concerts of jazz, classical and modern music, with rhythms and sounds from all over the world.
Selected works of Roberto Papini
This year the exhibition illustrates the artistic career of Roberto Papini, an eclectic painter/sculptor, whose artistic development has been long and fruitful artistic. His works, produced over a large part of the Twentieth century, have employed various styles while staying true to a recognizable personal language and to his lasting passion for an "ars combinatoria" of object rhythms.
Works which are created with a magic touch, as Roberto Farroni, director of the Museo Omero says:" ... where science, magic and mystery come together to be fused into a single unity, the warp and weft of human existence. He is engaged in a profound and dynamic labour of love which breaks through all barriers to reach the sublime, with ideas and things which are simple but not banal, full of magical sensibilty."
The exhibition will therefore be equipped with informative and learning aids for the visually handicapped.
Worhshop: every visitor can produce a personal work through the analysis of Roberto Papini's works.
Tastings
Each evening will conclude in the museum courtyard with the flavours of produce from local farms and vineyards selected by Mario Cecconi "l'Arte del Bere" of Osimo and with wonderful freshly-made icecream from the Gelateria Artigianale Al Belvedere di Agugliano, www.enocioccogelateriabrunelli.it
Sensi d'estate 2008 enjoys the important contribution of Cohabitat and the Banca delle Marche and the patronage of the Regione Marche and the Comune of Ancona.
''L'incontro musicale'' an Association based in Ancona, artistic director Deborah Vico; Gelateria Artigianale Al Belvedere of Agugliano and Mario Cecconi "l'Arte del Bere" of Osimo.
Informations
Multisensory routes through art, music, literature and tastings.
Starts 9.30pm.
Entry from the Museo Tattile Statale Omero, via Tiziano 50, Ancona.
The Terrazza of the Palazzo Leopardi, seat of the Regione Marche.
The shows: meetings with artists, dance, poetry and concerts of jazz, modern and classical music, with rhythms and sounds from all over the world.
The programme
Thursday 3 July
Minha alma brasileira - Selma Hernandes Sestet.
Selma Hernandes, voice-pandeiro;
Leopoldo Calabria, guitar;
Paolo Principi, electronic keybord;
Andrea Agostini, clarinet;
Roberto Gazzani, bass;
Andrea Morandi, drums and percussion.
Thursday 10 luglio
From Beethoven to Beatles - Trio Lennon.
Luca Marziali, violin;
Roberto Molinelli, viola;
Alessandro Culiani, violoncello.
Thursday 17 Luglio
Funk e Pop music show - Mo' Better Funk.
Joy Salinas, voice;
Ricky Burattini, piano and electronic keybord;
Giorgio Bartoloni, drums.
Thursday 24 Luglio
Songs from the world - Popular Melodies from France, Andalusia, America and Naples.
Paola Matarrese, soprano;
Andrea Candeli, guitar;
Michele Serafini, flute.
Thursday 31 Luglio
The Roads of Jazz - Armando Battiston in concert;
Piano and keyboards, accordionist, mouth-organ, flute;
con Andrea Zuliani, drums and percussion.
Thursday 7 Agosto
Music from the new world - Trio Uzza zà.
Ximena Jaime, violin;
Yasue Hokimoto, piano;
Jean Gambini, double bass.
Thursday 14 Agosto
The Sponges.
Lorenzo Ricci, guitar;
Francesco D'Alessio, bass;
Federico Occhiodoro, drums and percussion.
Thursday 21 Agosto
Sculpture on the dark laboratory;
Felice Tagliaferri, sculptor.
Host of the event the singer Morena Burattini.
Thursday 28 Agosto
Exhibition of argentine tango - Astor Trio
Tito Ciccarese, flute;
Raffaele Bertolini, clarinet;
Gianni Fassetta, accordionist;
Argentine tango dancers.