The Premio Rotondi – Salvatori dell'Arte– Sezione Marche 2011 awarded to Roberto Farroni
Posted in Updates on 27 May 2011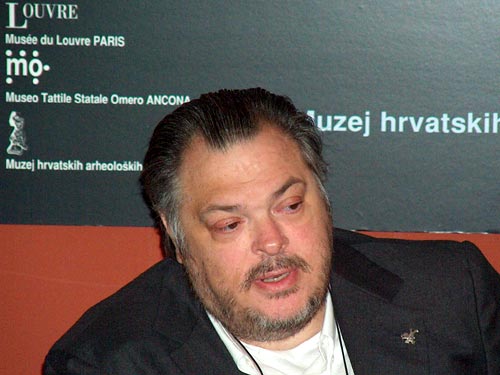 The 2011 Premio Rotondi prizes were awarded in the splendid setting of the Sassocorvaro Auditorium on Saturday 4 June. The winner of the Regional award was the director of the Museo Statale Tattile Omero, Ancona, Roberto Farroni.
This prize is a prestigious acknowledgement of the Museum's continuing programme of activities in the promotion of culture.
The Premio Rotondi was named after the late Pasquale Rotondi, Soprintendente alle Belle Arti, who distinguished himself by saving numerous works of art during the Second World War. It is awarded to figures who have excelled in the art of saving (in its widest sense) art. A special jury selects four Premio Rotondi winners annually: at regional, national, European and world levels.
This year the prize for the Marches region was awarded to Roberto Farroni, Director of the Museo Tattile Statale Omero in Ancona.
As well as acknowledging his hard work and imaginative leadership, the jury wished to honour a very rare museum which was specifically created to promote the integration of visually handicapped people, by selecting tactile observation as its principal means of observation. Visitors touch faces, bodies, gestures and expressions, discover volume and perspective using their hands. The Tactile Museum developed with the aim of filling a large gap in the range of cultural services available to the non-sighted, offering an innovative space where art is perceived through multisensory stimuli and not only through sight.
A series of cultural events accompany the Premio Rotondi, e.g. the Festival of Cultural Tourism and New Technologies held on 6 June at the University of Urbino where the director of the Museo Omero Roberto Farroni, is invited to give a talk.