Work: Vibrations on a theme
Original sculpture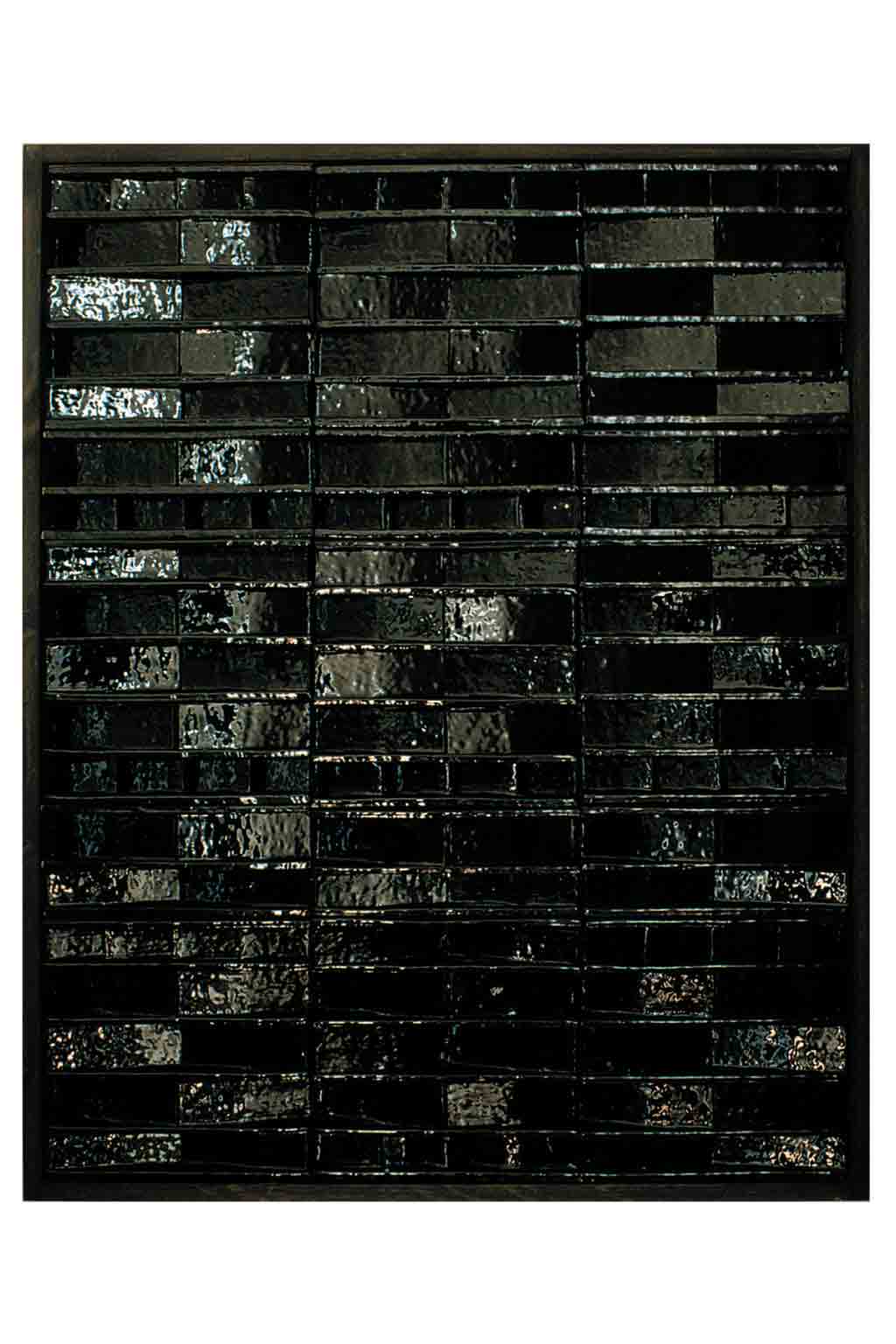 Original
Author

Date

1978

Period

Dimensions

100 cm high, 70 cm wide

Material

majolica

Location
Foto: Maurizio Bolognini. Proprietà: Archivio Museo Tattile Statale Omero.
Description
"Angelo Rosetti, a giant in the world of sculpture and ceramics in our territory and beyond. Visiting his atelier located in the Fabriano countryside, is like diving into a suspended, almost timeless dimension", from the "Discendenza scultorea" exhibition catalogue.
"Vibrations on a theme" is a ceramic work mounted on a 100x70cm vertical rectangular panel with a wooden frame. 4x12cm rectangular glossy black majolica tiles are arranged side by side in horizontal rows. However, the tiles are tilted slightly so as to form projecting and receding triangles. They do not always fit perfectly together, thus creating further irregularities and projections. Every so often, the rows are interspersed by narrower borders of the same material.
The composition is orderly, but also endowed with a certain dynamism, generated by the difference in thickness between the rows of strips and the borders, as well as by the projecting and receding angles formed by the tiles. However, the rhythmical movement is mainly created by light as it reflects off the shiny majolica rectangles, producing the vibration effect referred to in the title.
The surface is smooth to the touch, almost slippery. The edges of the individual tiles and the rows they make up can be clearly perceived.
Angelo Rosetti, a local artist originally from Apiro, prefers to work with traditional natural materials, such as wood, terracotta and brick, which have always accompanied the history of man. Rosetti's artistic activity is closely linked to everyday life, to craftsmanship and manual production, from which he develops his particular creativity. "Vibrations on a theme" is a concrete example of this union between a poor, simple material and the sculptor's artistic and poetic research.