Work: The wrestlers
Copy of sculpture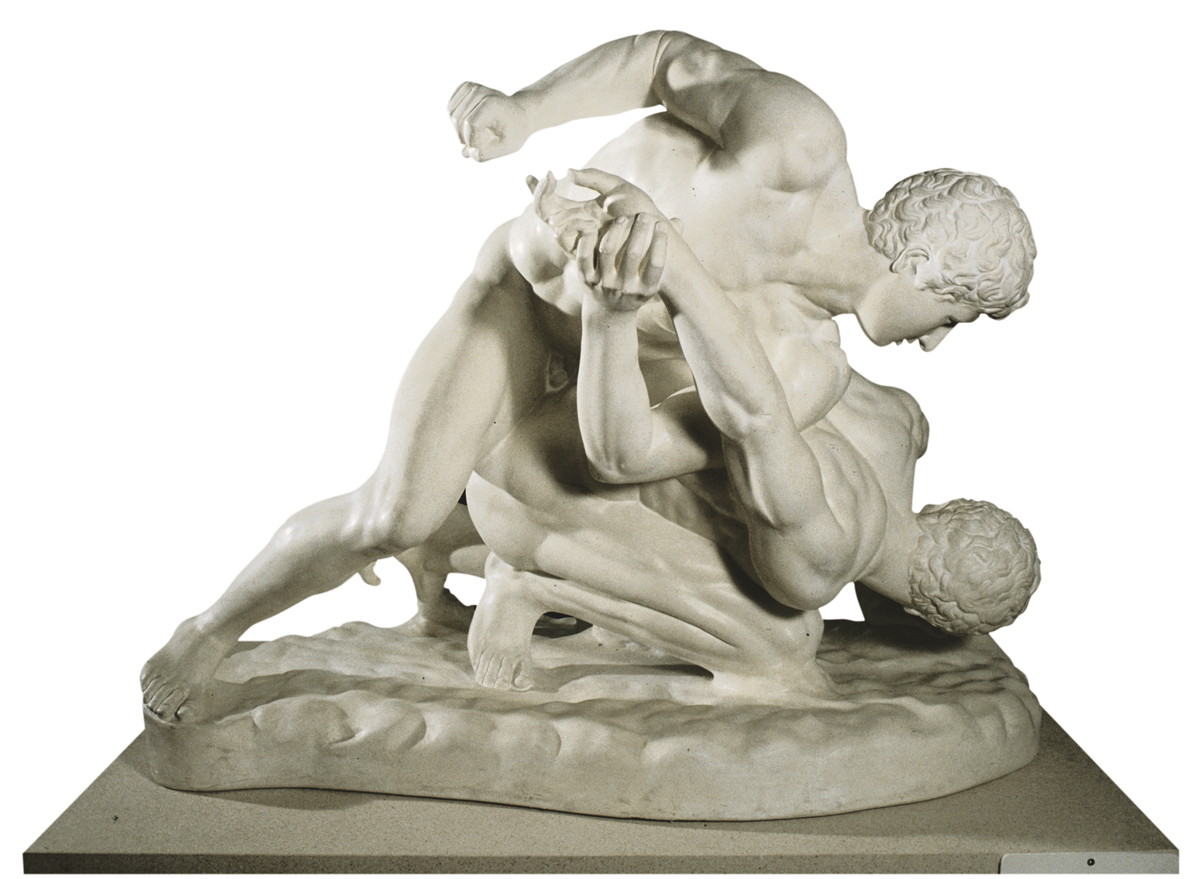 Copy
Dimensions

89 cm high, 117 cm wide, 72 cm deep

Technique

cast from the original

Material

alabaster plaster

Space
Original
Date

I century BC

Period

Dimensions

89 cm high

Material

marble

Location
Photo: Maurizio Bolognini. Museo Tattile Statale Omero Archive.
Description
"Both champions, belted tight, stepped into the ring and grappling each other hard with big burly arms, locked like rafters a master builder bolts together, slanting into a pitched roof to fight the ripping winds. And their backbones creaked as scuffling hands tugged for submission holds and sweat streamed down their spines and clusters of raw welts broke out on ribs and shoulders", Homero, Iliad, book XXIII (Translated by Robert Fagles).
This is how, in the Iliad, Homer describes the third of the eight wrestling contests, held for the funeral celebrations of Patroclus.
The work, about 90 cm high, is an alabaster plaster cast of a true copy that faithfully reproduces the famous marble sculptural group "The Wrestlers" which was made in the 1st century BCE and is conserved at the Uffizi in Florence. This statue was a Roman replica of a lost Greek bronze original from the third century BCE.
Considered unique due to the lack of other historical copies or variants, it represents two naked male human figures, intent on practising the ancient Olympic discipline known as "Pancratio", an ancient form of hand to hand fighting. The two bodies are intertwined: the upper fighter, intent on blocking the other by crushing him and twisting his arm, appears to be winning. His right leg is pushing forwards while his left is intertwined with that of the lower wrestler, who is kneeling and having his right arm twisted while he tries to fight back with his left.
The muscular structure of the two bodies is well defined and prominent, clearly conveying the fighters' exertion in their tight, agitated movements. The modelling is compact and powerful, the composition animated by energetic lines that converge from the outside towards the two heads that make up the central nucleus.
The work has great energy and a sense of movement while maintaining a certain composure and elegance that is free from excess and exaggeration. Studies on the work suggest that neither of the two heads belonged to the original group and that they had therefore been added later. The sculpture has been attributed, over time, to Myron, Cephisodotus and Heliodorus, the last two mentioned by Pliny as being the authors of the "symplegmata" sculptural typology, i.e. a closely intertwined group.