Work: The Woman in the Pipe
Original sculpture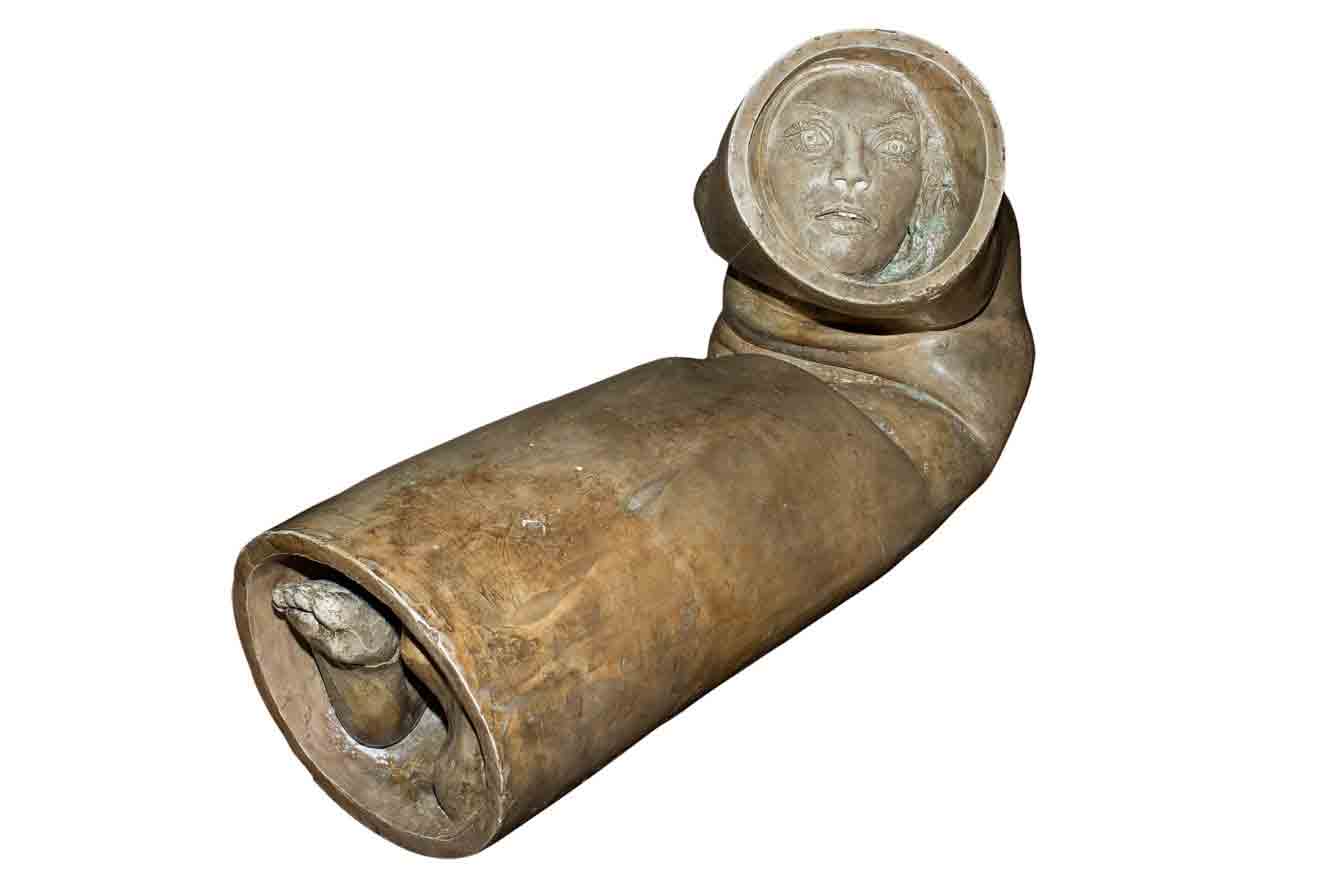 Original
Author

Date

1967/68

Period

Dimensions

64 cm high, 100 cm wide, 45 cm deep

Material

plaster

Location
Photo: Maurizio Bolognini. Museo Tattile Statale Omero Archive.
Description
"Vangi is therefore unmistakable. His sculpture, his sculptures, have an 'identity card' – in their immediately recognisable faces, their character and the energy – in marble or wood – that is held in those bodies", Giorgio Soavi, "Vangi, Six sculptures in Milan".
"Donna nel tubo" (The Woman in the Pipe) at the Museo Omero, in glazed plaster, is the model for the bronze work of the same name on display at the Vangi Museum in Japan.
Made between 1967 and 1968, the sculpture is approximately one metre long. The features of the woman's body are compressed by the cylindrical shape of the tube in which she is encapsulated. Only her face and feet are visible. The face, framed by the end of the tube and a few tufts of hair, is characterized by large, wide-open eyes, typical of the sculptor, a strongly geometric nose, full lips, a half-open mouth which  reveals teeth.
At the other end of the tube you can see the soles of her large feet. Her gaze, below her thick eyelashes, is fixed, as if looking beyond, towards a future still under construction. The cylinder is curved from the bust upwards, the woman is trying to lift herself using the strength of her abdominal muscles; this curvature, which is bending the pipe, is scrupulously realistic and contains a strongly symbolic meaning: Women's struggle for freedom and independence took shape in the sixties.
Contemporary society is the preferred subject of Giuliano Vangi: the human being of our time, considered in relation to his/her existential condition, liveable space, internal and psychic spaces. Vangi's sculpture is pervaded by realism; for this reason it conveys sensations of anguish and compulsion with extraordinary immediacy.