Work: The Winged Victory of Samothrace
Copy of sculpture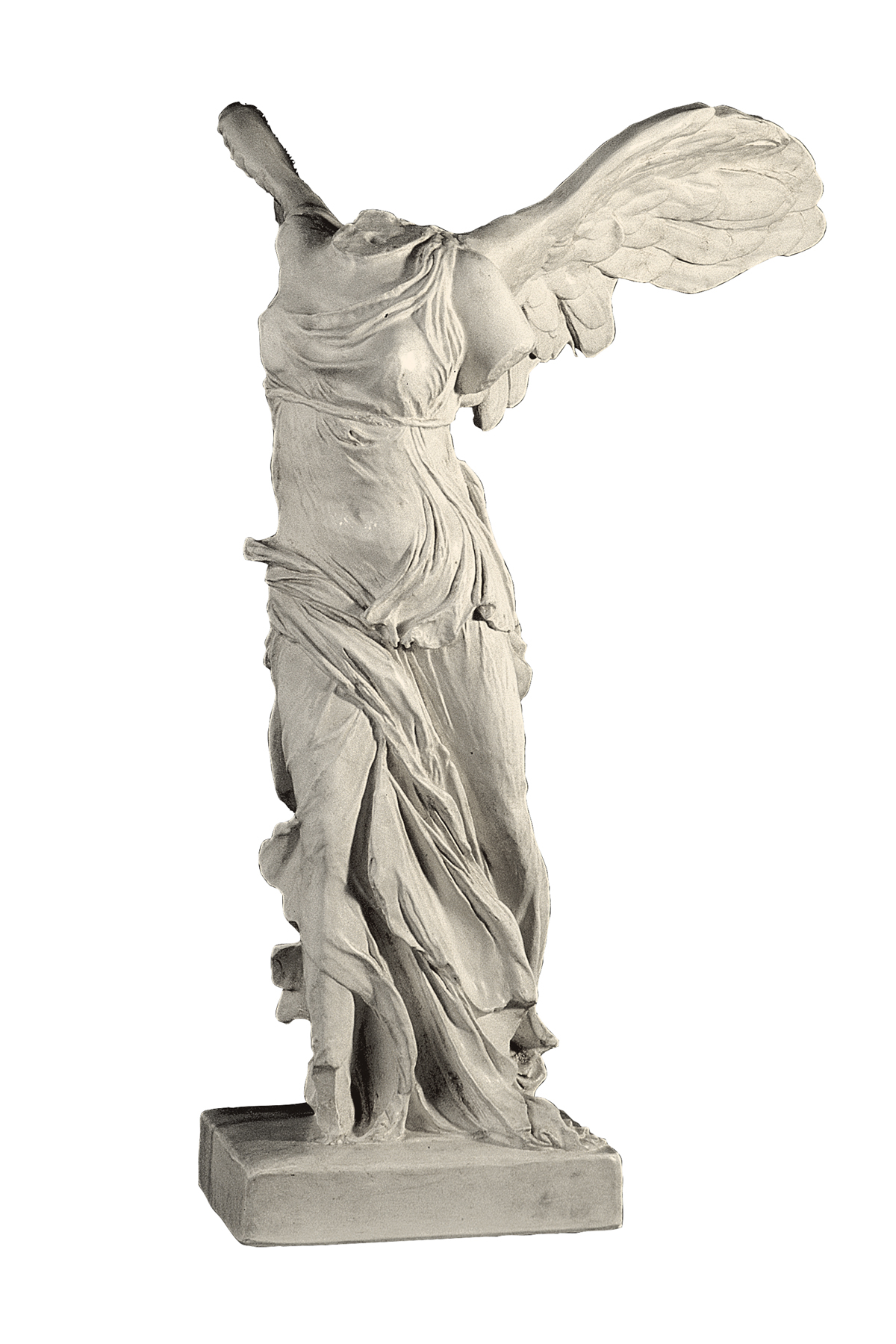 Copy
Dimensions

245 cm high, 250 cm wide, 230 cm deep

Technique

cast from the original

Material

alabaster plaster

Space
Original
Author

Date

200 - 180 BC

Period

Dimensions

245 cm high

Material

marble

Location
Description
"Acephalous, without arms, separated from her hand which is a recent recovery, worn by the Sporadi's gusts, The Winged Victory of Samothrace has become less woman and more wind of sea and air" Marguerite Youncenar "Time the great sculptor"
Nike di Samotracia (Winged Victory of Samothrace) is a sculpture that depicts the winged greek goddess of Victory being about to take flight or to alight on the prow of a ship. The Homer Museum collection displays two variation of the work: the first one is a full-size true cast, (2,80 metres hight); the second one is a reduced  scale cast (1,23 metres hight), of great help during the tactile exploration.
The original statue was carved in marble from Rhodes by the sculptor Pythòkritos of the School of Rhodes in 190 BC, to commemorate the victories of the Rhodes fleet over King Antioch III of Syria. It was originally placed on the bow of a great ship situated on a hill opposite the Sanctuary of the Cabeiroi, on the island of Samothrace.
The  female body  is clothed with a light chiton and  is characterized by great wings, while head and arms have been lost. Despite its incompleteness it is still a work of great appeal.
The erect figure is unloading the weight on the right leg, while the left one is set back as if to find a point of balance or perhaps to propel herself in flight, while the wings, on the contrary, are spread behind her back. Because of the loss of the arms, we can only conjecture what action the goddess was performing: probably she was raising the right arm holding a crown, or a trumpet that she was playing.
The appeal of this Victory comes from her floating dress, whose drapery allows us to perceive the invisible presence of the wind that envelops the goddess, sustaining her flight. The chiton seems to have almost glued to her beautiful body because of the wind, so that the drapery appears transparent in parts, revealing the form of her breast, the belly, the navel. Some hems of the chiton are flapping in the wind, contributing to suggest the presence of a current of air and underlining the powerful sense of lightness and movement that the artwork conveys.
Image Museo Omero photo archive