Work: The man who imitates horses
Original sculpture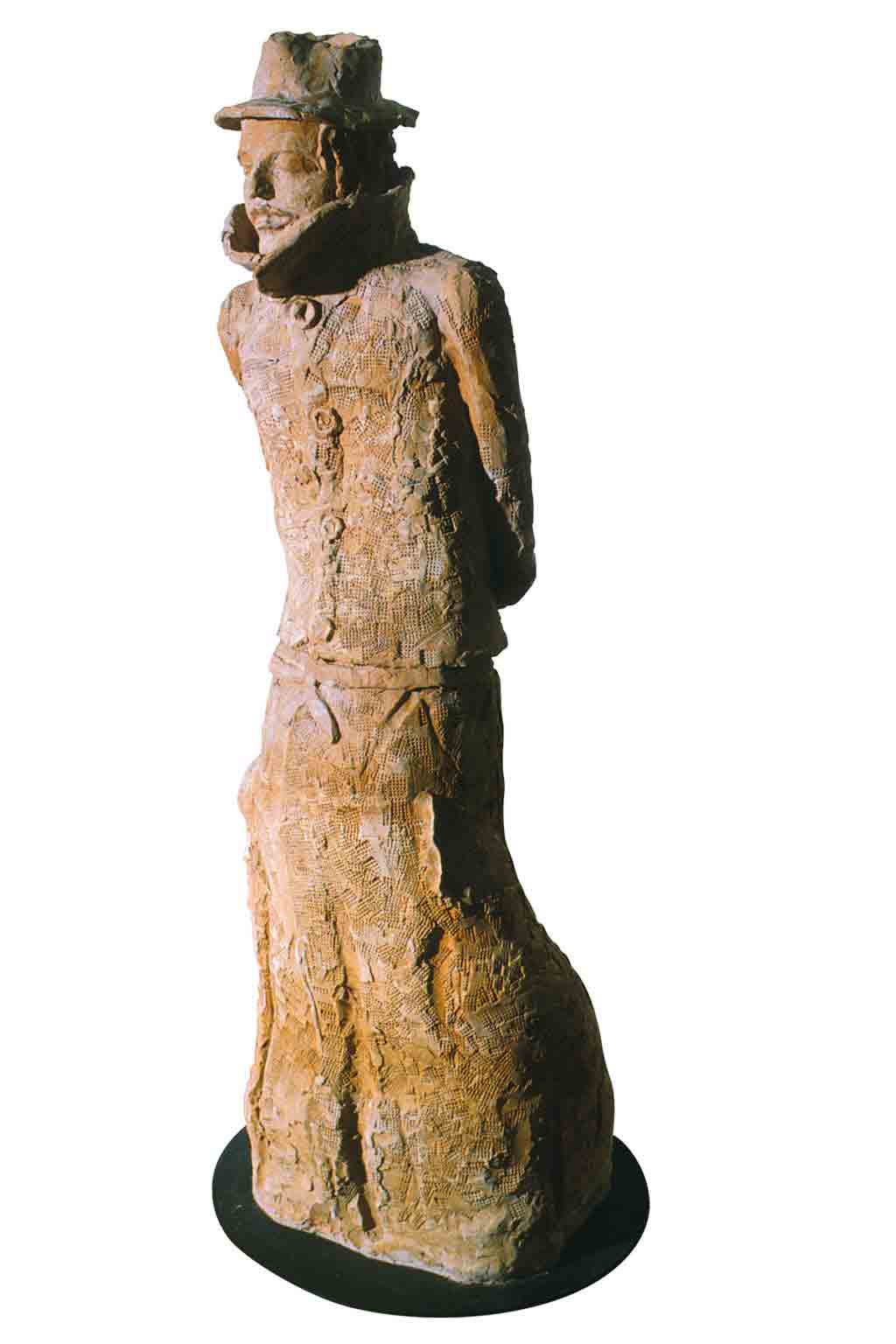 Original
Author

Date

2008

Period

Dimensions

180 cm high, 80 cm wide, 80 cm deep

Material

terra-cotta

Location
Photo: Maurizio Bolognini. Museo Tattile Statale Omero Archive.
Description
"The tactile aspect in sculpting and observation is a fundamental part of my artistic experience, so much so that tactile exploration of each of my works reveals details that cannot be perceived by the use of sight alone", Felice Tagliaferri.
The man who imitates horses is a sculpture that Felice Tagliaferri, a blind artist, modelled in clay in 2008.
The statue, about 180cm high, stands on a very thin circular base and portrays a life-size man, with his hands clasped behind his back, who has fallen asleep standing up. He wears a hat with a round brim and a long, tightly buttoned-up coat, with a belt tied at his waist.
His body is entirely covered by the coat which flares to the hem and even hides his feet. The collar is turned up, covering his neck and part of his chin, revealing only his broad face, with its closed eyes and thick pronounced lips. Flat strips of clay below the brim of his hat represent his hair.
The man is asleep even though he is standing up, as horses are known to do; hence the title of the work.
Tagliaferri has deliberately left perceptible fingerprints and other signs of his hand-modelling on the surface of the work. These are accompanied by small areas of crossed grid-lines, representing the weave of the fabric.
If you explore the top of the hat, you will be able to feel the cavity created by the sculptor in order to fire the clay successfully.
The material feels more or less rough to the touch, depending on the level of finish that the sculptor has given to the various areas of the surface, which is mainly orange in colour, with lighter, greyer, areas.
For Felice Tagliaferri, sculpture is an art that can bring sighted and blind people together because its nature is so manual and tactile, right from the start of the process. Believing that sculpture should be accessible to everyone, Tagliaferri opened a school of plastic arts, "La Chiesa dell'Arte", where he teaches anyone, sighted or blind, who would like to approach this discipline.