Work: Secret room
Original sculpture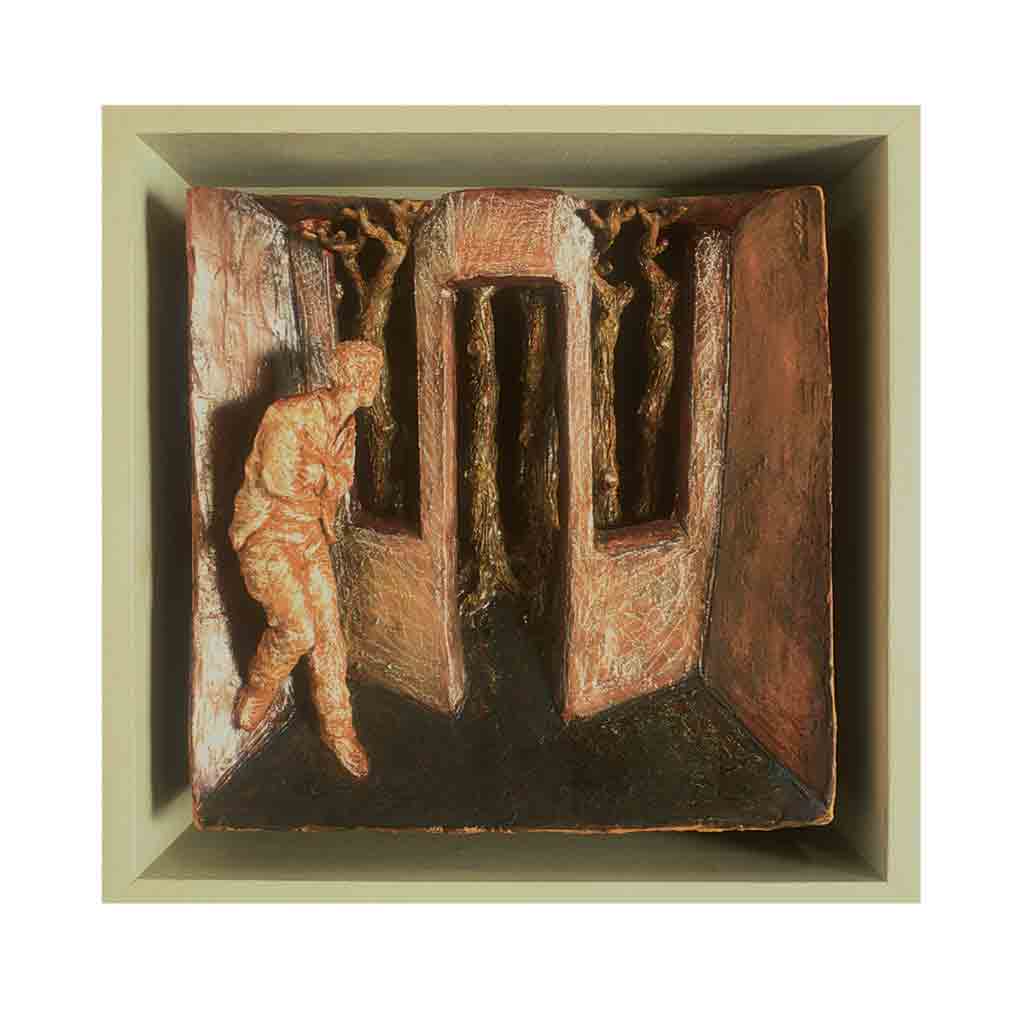 Original
Author

Date

2008

Period

Dimensions

32 cm high, 32 cm wide, 20 cm deep

Material

terra-cotta

Location
Photo: Maurizio Bolognini. Museo Tattile Statale Omero Archive.
Description
"They mix water and earth, the child and the sculptor, absorbed in the bliss of generating a form. Then the sculptor approaches the fire, which consolidates instead of smashing, dries instead of roasting.", Erri de Luca.
Secret room is a terracotta sculpture created by Paolo Annibali in 2008, one of a series of four works, all in the same format, on display at the Museo Omero. The sculptor used a terracotta block (about 30cm square by 18cm deep) and carved a theatrical scene into it. The terracotta panel is set in a grey wooden box frame.
The scene takes place inside a room of which we can see three walls and the floor. The back wall is entirely taken up by three openings: a high central door and two side windows. Just outside them looms a thick forest, indicated by eight tree trunks.
A standing man leans against the left wall of the room. We can clearly perceive his three-dimensionality. His torso leans slightly forward, his right foot rests on the wall, and his arms are crossed over his chest, in a gesture of closure, defence and fear. His face and gaze are turned towards the threatening forest, whose bare branches appear to be coming into the room through the windows.
The theme of natural elements as a threat to mankind appears constantly in these sculptures by Annibali, as does the theme of the threshold, of doors and windows that cannot be closed, leaving man helpless in the face of forces that he cannot control.
The work is glazed entirely in shades of red and brown. The terracotta feels warm and rough to the touch, especially in the unglazed corners and on the tree trunks where the sculptor has engraved thin vertical lines, to represent the bark.
Annibali clearly has a particular affinity with clay. It is a material with an age-old tradition, having always been linked to the work of man, as well as to that of the sculptor: "terracotta", he says, "evokes not so much Greek sculpture, as the fragility of Etruscan sculpture, where the vulnerability of existence was governed by an obscure sense of chance".