Work: Rocca Costanza, ceramic
Architectural model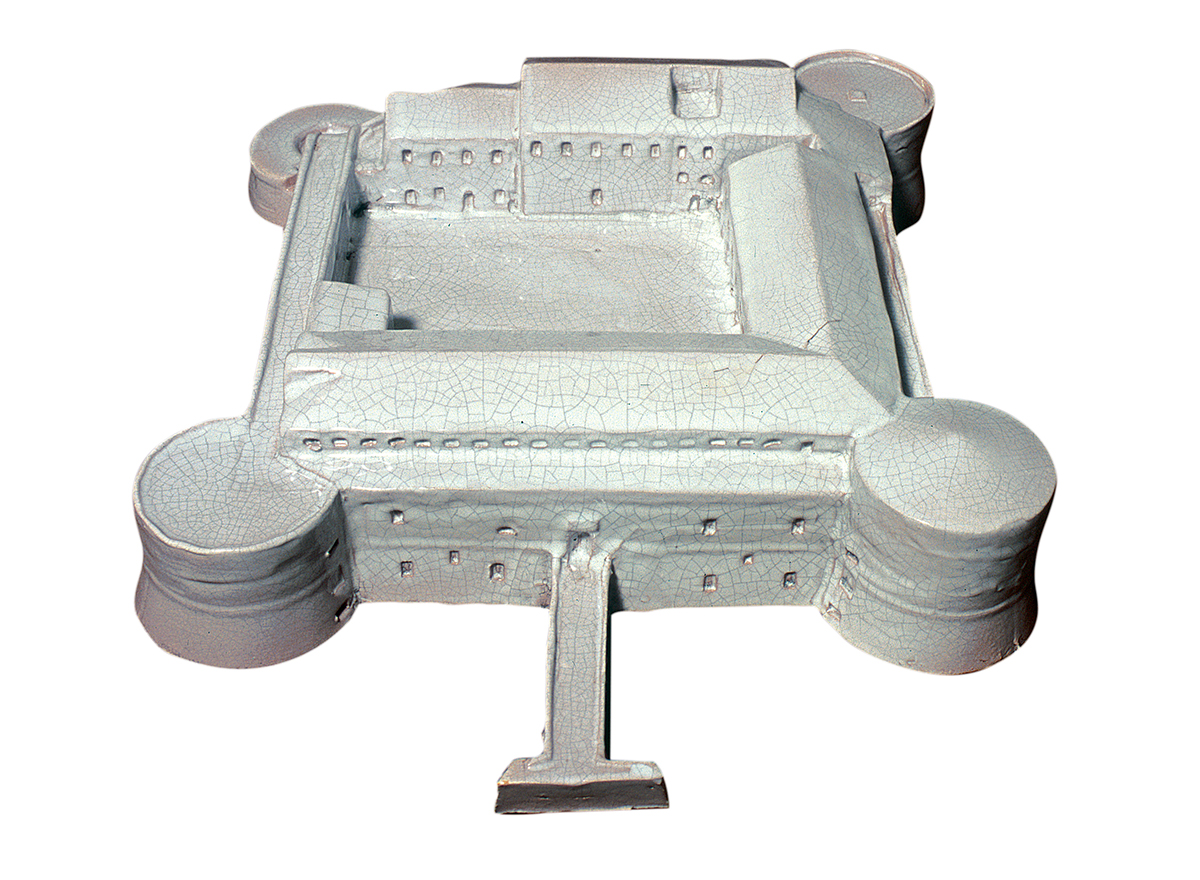 Architectural model
Dimensions

10 cm high, 47 cm long, 36 cm wide; scale 1:500

Technique

modelling, glazing

Material

ceramic

Space
Original
Author

Date

1474 - 1483

Period

Location
Photo: Maurizio Bolognini. Museo Tattile Statale Omero Archive.
Description
"Then began the ingenuity of men, frightened by the ferocity of the attacks, to dedicate itself to methods of defence, making the lands fortified with embankments with ditches with scarps with shelters with bastions", Francesco Guicciardini, Storia d'Italia.
Thus writes Francesco Guicciardini about the development of military architecture and the Rocca Costanza was built for exclusively military reasons. This imposing fortification in the city of Pesaro owes its name to Costanzo Sforza, a military man and Signore of the city from 1473.
The ceramic model of the fortress on display at the Museo Omero, was made by the Istituto Statale d'Arte "Mengaroni" State Art Institute of Pesaro as part of the "Art within Art" project.
47cm long, it reproduces the Rocca in its essential forms without its surroundings: four mighty cylindrical towers rise at the four corners of a rectangle and are connected to each other by curtain walls i.e. walls that surround and protect the inner courtyard. Numerous loopholes and windows are visible along the walls. A bridge extends forwards from the entrance doorway. At the real Rocca in Pesaro, there is a steel model of the fortress to help visitors comprehend the overall structure of the building.
The Fortress presents all the characteristic elements of 15th century military architecture. It was designed to defend a city on a plain and is similar in type to the Rocca Roveresca in Senigallia and the Rocca di Rivaldino in Forlì. It was also the private residence of the Sforza family. The fortress has a certain elegance, which can be seen in the regularity and geometry of its construction.
The project, begun in 1474 by Giorgio Marchesi of Settignano, was continued by the famous Dalmatian architect, Luciano Laurana, whose presence in Pesaro is attested by various documents relating to the purchase of building materials for the fortress and dating from 1476 to 1479. Immediately after the death of Laurana, in 1479, the work was taken over by Cherubino di Giovanni of Milan who completed the construction in 1483.
Over the centuries, the building was significantly modified and restored several times. It passed from the hands of the Sforzas to the Della Rovere family and later became part of the domain of the Papal States. Its use changed too: initially a military fortress, it later accommodated papal troops and then was used as a prison from 1864 to 1989.