Work: Italy recycled
Original sculpture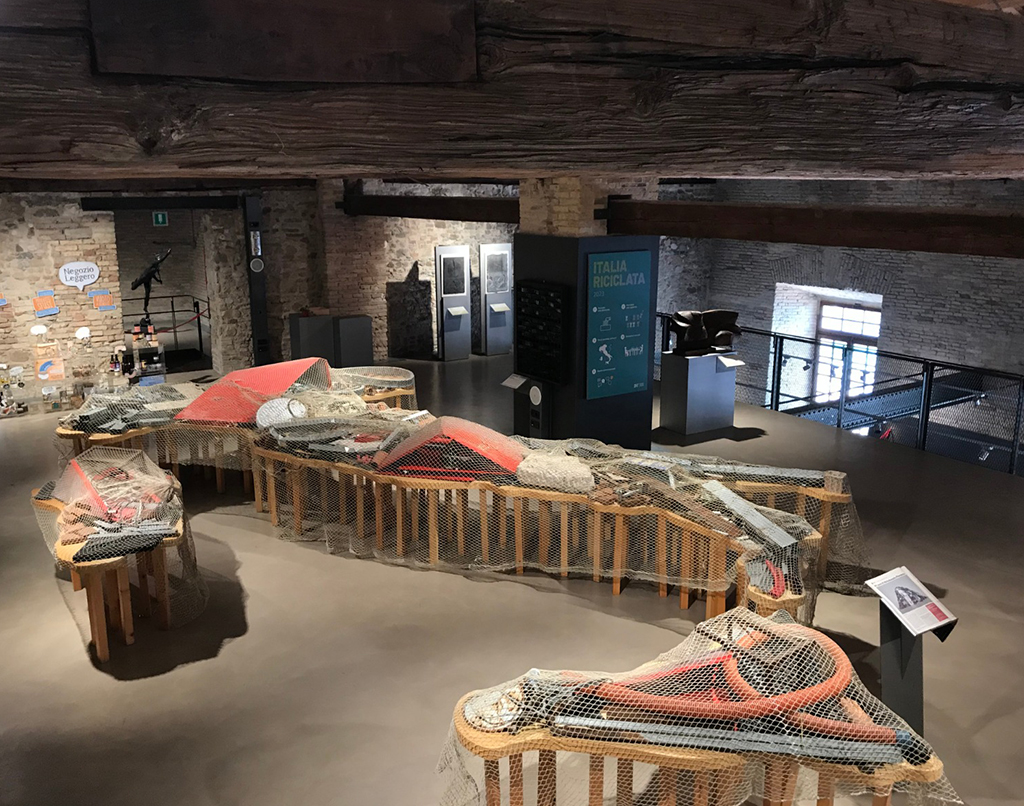 Original
Author

Date

2013

Period

Dimensions

8 metres wide

Material

wooden template and recycled materials

Location
Photo: Maurizio Bolognini. Museo Tattile Statale Omero Archive.
Description
"I think our future is to take back everything we have abandoned, discarded in the past, reconsider it, bring it back to the present and from this present create the future", Michelangelo Pistoletto.
Recycled Italy is a work by Michelangelo Pistoletto, which he donated to the Museo Omero in 2013. It is on temporary loan to an exhibition at the Municipality of Senigallia's Palazzo del Duca.
The artist first presented the installation at the 2012 Venice International Architecture Biennale. It consists of a wooden map of Italy, about 8m long. During the Biennale it was placed on the ground, but it is now supported by rectangular legs, representing Italian cities. The map is covered with objects, such as fragments of sheet-metal, bricks, pieces of plastic, parts of metal frames, industrial waste, various discarded materials that the artist collected while the Biennale was being set up.
In Venice, the founders of the Museo Omero were able to touch the work and meet Pistoletto who was later invited by the museum to be the featured artist in the 2013 Biennale Arteinsieme. For that occasion, he recreated the installation at the Mole Vanvitelliana, with two alterations: he raised it to make tactile exploration easier and covered the objects placed on the map with a large fishing net from the nearby fish market, as a tribute to the city of Ancona.
Walking around the work, our hands can appreciate the diversity of the materials used – net, plastic, iron, wood.
In his "Recycled Italy", Pistoletto, a protagonist of the Arte Povera movement, invites us to respect nature and ourselves. His art, through the use of recycling, shows us how to give new life and new meaning to "the discarded", to scrap, to used throwaway objects that no longer seem to have any value.
The work, on loan to an exhibition at the Spazio Visionaria (the former hostelry of the Palazzo del Duca) in Senigallia, can be visited from 4 to 7 pm, from Thursday to Sunday. Admittance is free.