Work: Irina
Original sculpture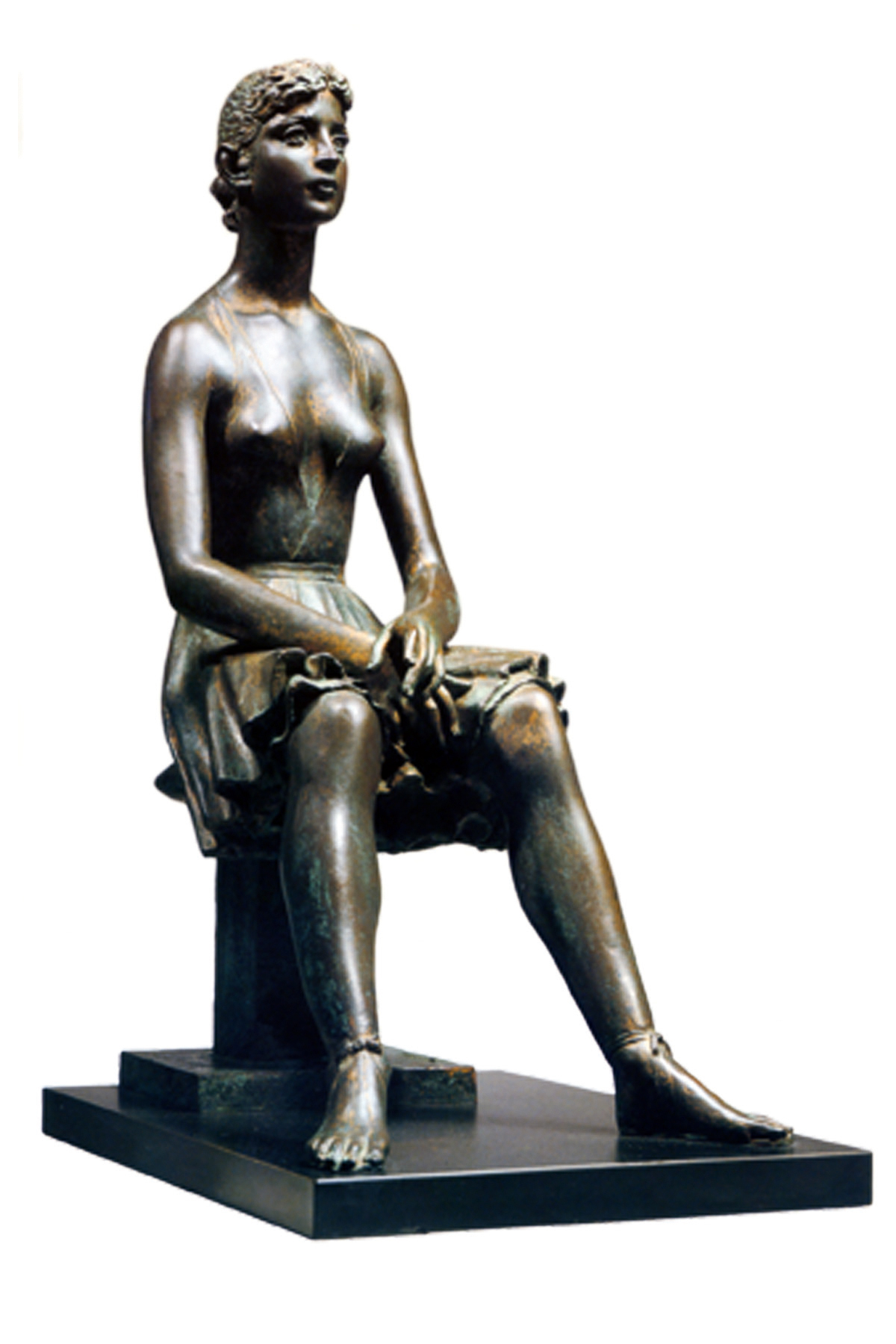 Original
Author

Date

1982

Period

Dimensions

67,5 cm high, 30 cm wide, 45 cm deep

Material

bronze

Location
Photo: Maurizio Bolognini. Museo Tattile Statale Omero Archive.
Description
"In this way the blood flows
when, on tiptoe, you are about to enter
the panic scene that shocks you with light".
These lines are from the poem Dancer by Francesco Messina, sculptor and poet.
Dancers recur throughout the sculptor's oeuvre and the bronze "Irina" on show at the Museo Omero, is a fine example of this theme.
The dancer is seated on a stool, with her back straight, her feet and legs slightly apart, her hands crossed and resting on her thighs. Two fingers of her left hand are raised as if she is keeping time while waiting to be called back to perform. Her face is small with delicate features and thick eyelashes; she looks straight ahead with an alert expression. Her hair is gathered into a loose ponytail.
The sculptor has taken great care in describing the edges and folds of the young woman's tutu; the bodice that covers her breast is as thin as a veil, barely perceptible to the touch, while her skirt is more substantial where the thickness of the folds that rest on her thighs is clearly perceptible. On her feet she has sandals tied at the ankle with laces so fine they are almost impalpable.
The girl is caught in a moment of rest, but her posture and the movement of her fingers reveal her full attention to the music, as she waits for her moment to perform.
The bronze of the human figure is perfectly smooth to the touch whereas the stool feels much rougher.
A sensitive connoisseur of contemporary trends in figurative art, as well as a friend of the greatest Italian writers and sculptors of the 20th century, Messina always remained faithful to the Greek ideal of the harmony of forms, without ever renouncing the figure, its strength, its elementary fascination.
"What Francesco Messina particularly seeks in his sculpture is to achieve the beauty of the plastic aspect through perfected and finished forms; fineness of modelling, character resulting from precise observation and long elaboration; all combined with elegance and good taste; these two factors are indispensable for every true artist … Through his hard work, the essentiality of his forms, the plastic acuteness in every part of the sculpture, Francesco Messina's statues are delightful creations to look at, to touch, to sniff; in fact they also smell nice…" Giorgio de Chirico, 1983.