Work: Idea number 21
Original sculpture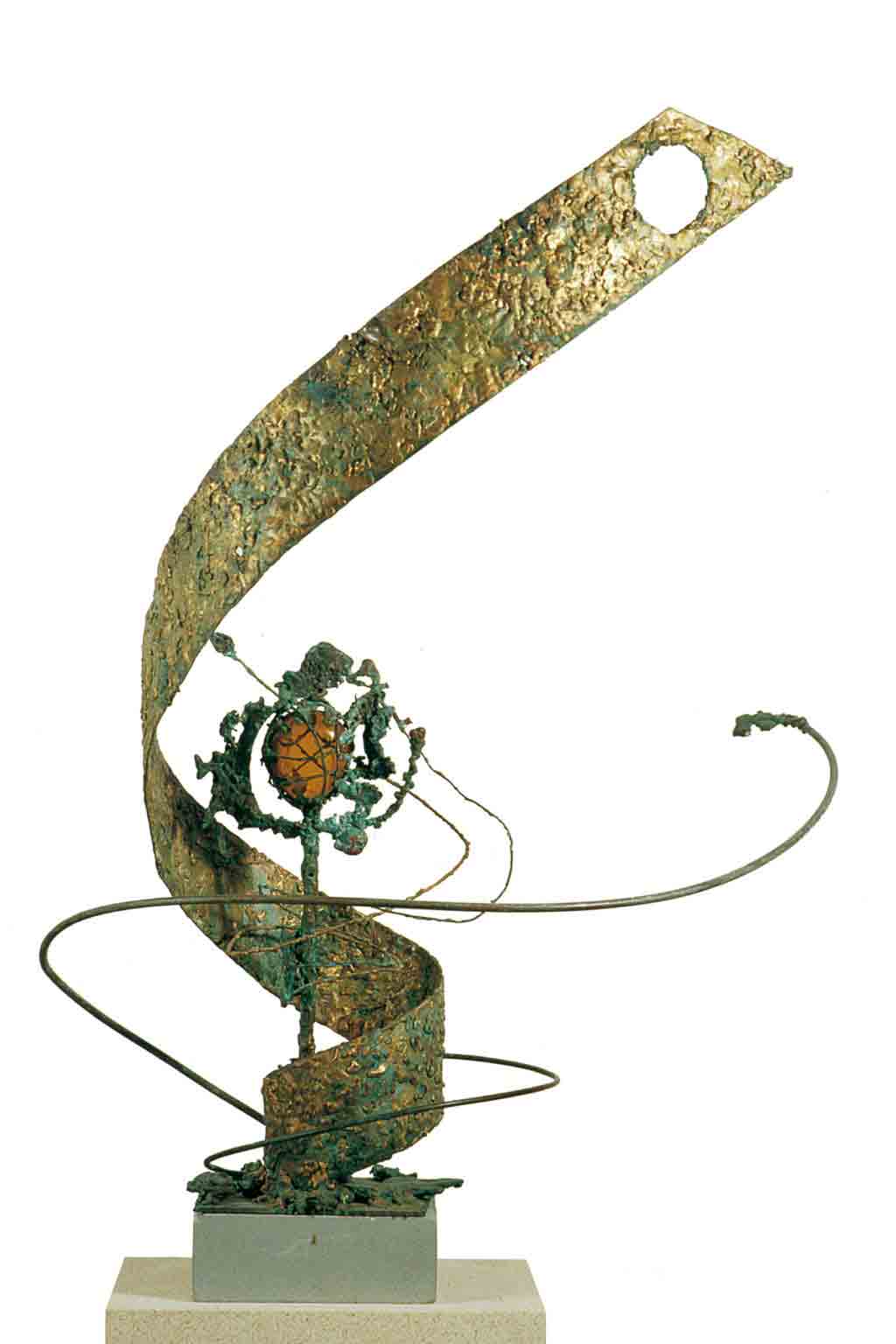 Original
Author

Date

1974

Period

Dimensions

120 cm high

Material

bronze, glass

Location
Photo: Maurizio Bolognini. Museo Tattile Statale Omero Archive.
Description
"Hiroshima had made us understand that everything was energy", Edgardo Mannucci.
The tragedy of the atomic bomb that was dropped on Hiroshima deeply affected Edgardo Mannucci and his artistic production: in his works, dynamism, strength and energy emanate from the materials.
Made of bronze and glass in 1974, "Idea number 21" is an ensemble of horizontal and vertical movements that interact with the surrounding space, bringing it into the work itself. The base is a stone cuboid with a smaller metal one on top from which spring all the lines of force that characterize the sculpture.
The centre of the work is a vertical shaft about 60 cm high topped by an ovoid of yellow glass, smooth and hard, embedded in a metal mesh: the luminous heart of the work. All the thrusts and lines of force move around this fulcrum. A metal band, about 12 cm wide, rises from the base, enveloping the central stem in an expanding spiral that projects itself into the surrounding space as it rises. This effect is reinforced by the large hole at the upper end. The 120cm long band gives verticality to the work while its horizontality is defined by a second compositional line where a thin, light metal rod is "Turning and turning in the widening gyre" (Yeats' prophetic poem The Second Coming, 1919). Its ample embrace includes both the wide band and the thin metallic filaments with their blobby tips that twine around the central stem.
The surface of the metal feels lumpy, rough, dusty to the touch. It seems to have welcomed and preserved the irregularities and all the re-workings of the artist, who also used spot welding to arrive at new forms.
Edgardo Mannucci, a sculptor from the Marche region, was among the most authoritative exponents of the European Informale Plastica movement. In the late 1940s, freed from the constraints of the human figure, he turned his attention to the infinite possibilities of matter.
This work belongs to a series of creations that the sculptor called "Opere e Idee" (Works and Ideas), where unpredictable structures and continuously changing lines and thrusts appear, taking shape in the surrounding space as if they emanate from energy-generating nuclei. His favourite material is metal, harsh, wrinkled, lumpy which acquires movement, lightness and delicacy under his hands.
The energy imprisoned in matter breaks free, transforming itself into motion, the raw materials are reduced to pure, infinite ideas.