Work: Horse and Groom
Original sculpture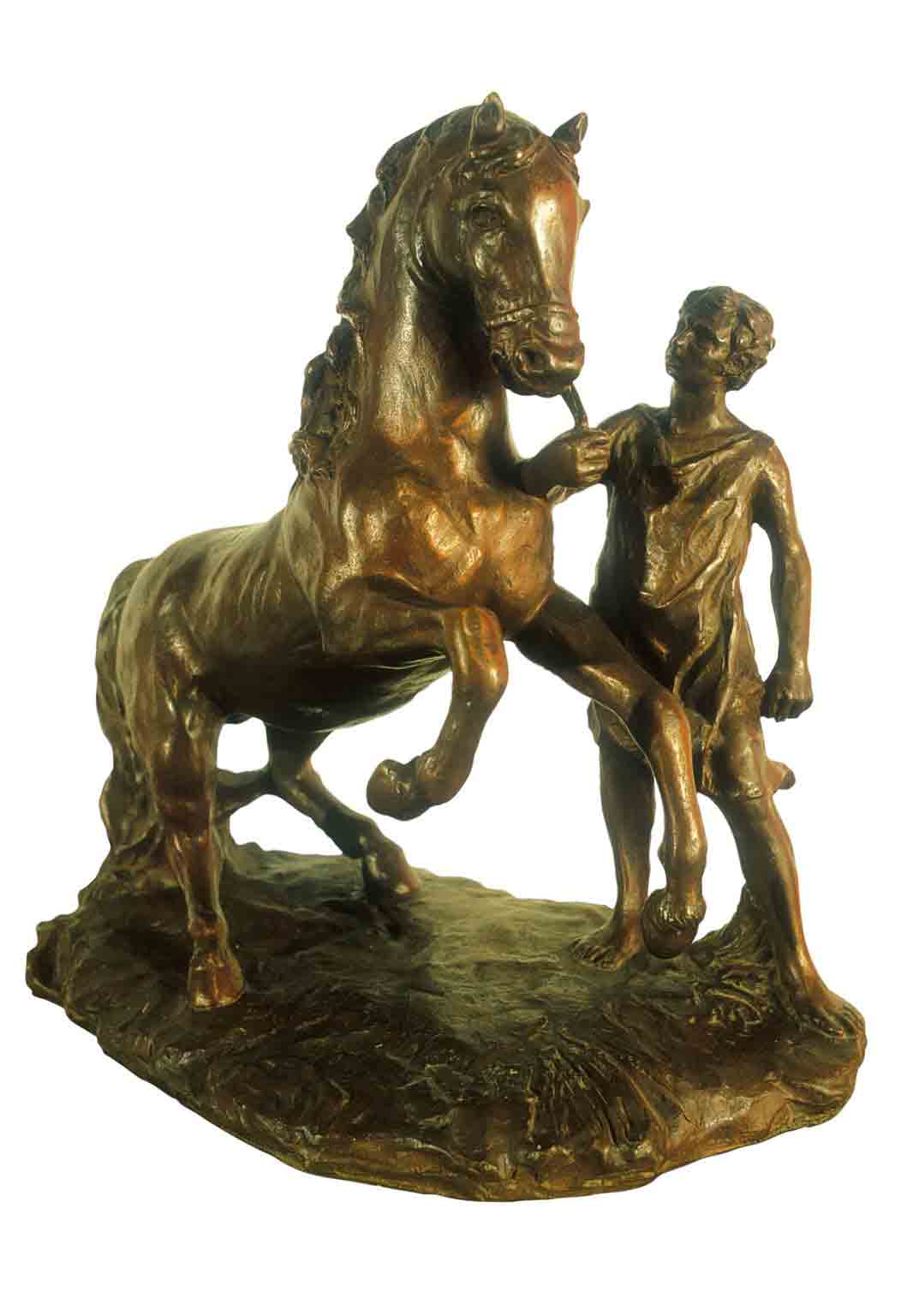 Original
Author

Date

1940 / 1986

Period

Dimensions

32 cm high, 32 cm wide, 19 cm deep

Material

bronze

Location
Foto: Maurizio Bolognini. Proprietà: Archivio Museo Tattile Statale Omero.
Description
"I'm very fond of animals as I consider them unprotected, helpless beings. That is why I love them. Every victim, every being who is oppressed by the arrogance of others enjoys all my love." Giorgio De Chirico
Horse and Groom is a small bronze sculpture, 32 cm high, made by Giorgio De Chirico in 1940.
The horse is rearing, with its weight on its hind legs, and the groom, on its left, tries to restrain the animal by the reins. The groom is a young man wearing only a short simple tunic. Standing resolutely with legs apart, he holds the horse's reins firmly in his right hand, while his left hand rests on his hips. His head is turned and he looks upwards at the horse's head, trying to meets its eyes and pacify it with his gaze. This tender intimate gesture tempers the masterful nature of his unyielding grip. The statue portrays the relationship between man and horse: a bond so unique that it creates an emotional unity.
Horses, which De Chirico considered the most pictorial of animals, are often featured in his works where they pulsate and are full of life. They are also evocations of Thessaly as De Chirico was born in that region of Greece, which was famous in antiquity for horse-rearing.
Photo: Maurizio Bolognini. Museo Tattile Statale Omero Archive.