Work: Girl and horse
Original sculpture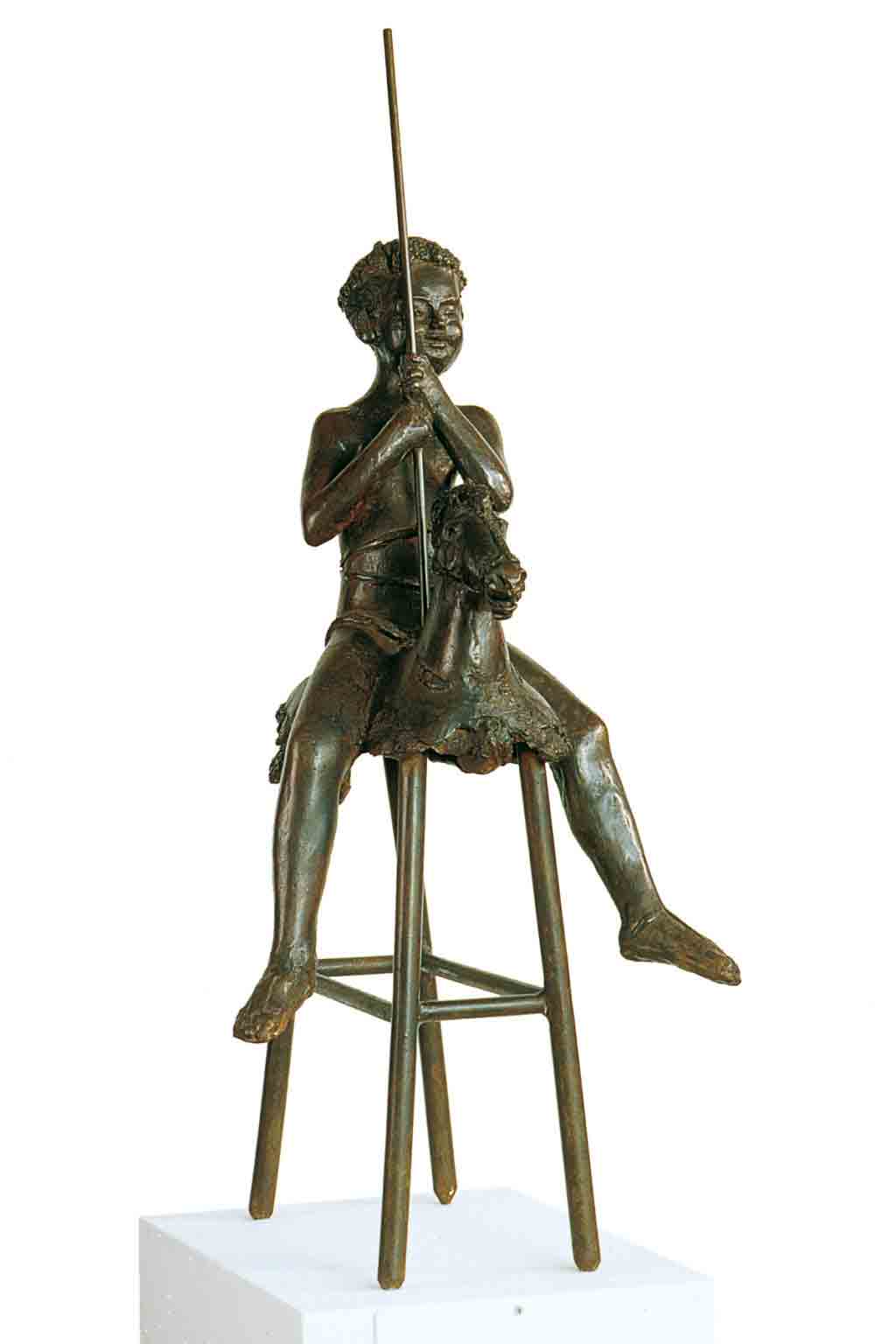 Original
Author

Date

1992

Period

Dimensions

88 cm high

Material

bronze

Location
Photo: Maurizio Bolognini. Museo Tattile Statale Omero Archive.
Description
"Imagination is the means for visualizing, for rendering visible that which imagination, invention and creativity think", Bruno Munari.
This bronze statue portrays a girl playing on a fake horse and was created by Pierre Carron in 1992. The child sits astride the animal, holding a long thin rod which rises vertically from the horse's back. It reaches well above the girl's head, making the entire work 88 cm high.
Her chubby-cheeked face, looking ahead with a hint of a smile, has a lively expression; she is happy in her imaginary world.
Her finely delineated hair is curly and gathered at the top of her head, leaving her neck and shoulders uncovered. The girl is wearing a vest and very tight shorts and has sandals on her feet.
The horse is bridled and is looking straight ahead. Most of its body has been replaced by a tall slender-legged stool. The artificial, amusing function of the horse is immediately evident: it brings to mind a carousel, a rocking horse.
Touching the work reveals a surface marked by all the irregularities produced during the modelling phase of the material: it is never completely smooth and the degree of finish is deliberately left almost at the level of a sketch, thus helping to produce the effect of movement, of a work teeming with life.
A little girl caught up in her own reality, in her fantasy world of games and imagination: who knows what adventure she and her proud steed are experiencing? The theme of girls portrayed while playing, sleeping or reading is strongly present in the art of Pierre Carron, who creates works with a formal approach and plastic solidity that recall the finesse of late Gothic and Renaissance sculpture.