Work: Gears
Original sculpture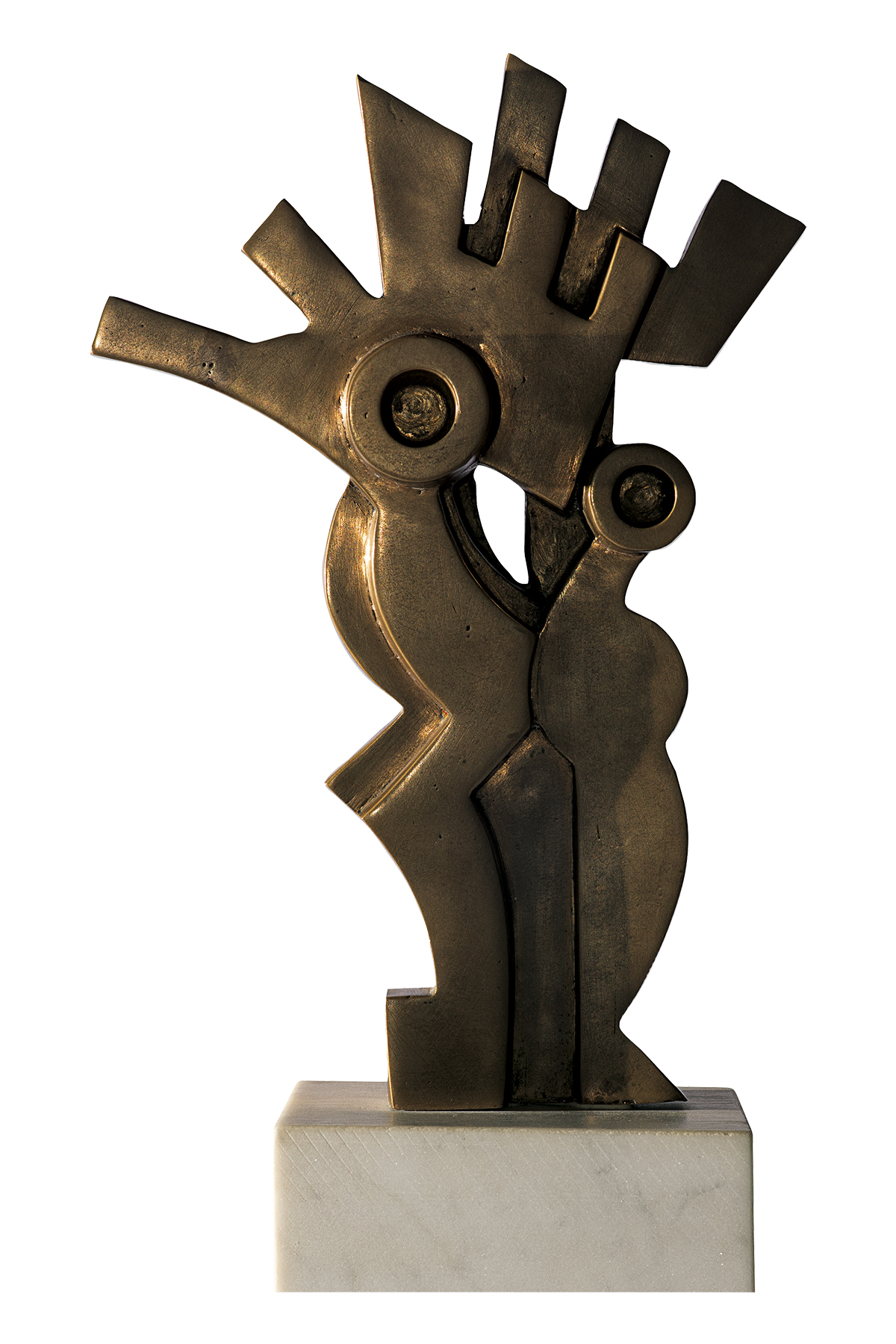 Original
Author

Date

1988

Period

Dimensions

29 cm high, 20 cm wide, 9,5 cm deep

Material

bronze

Location
Photo: Maurizio Bolognini. Museo Tattile Statale Omero Archive.
Description
"Today the reappearance of a
form is almost legend.
Today the rebirth of a
form can
bring to the vertex the
becoming of a pure
original thought
arrived on the tired earth."
Umberto Mastroianni
"Gears", a work included in the Museo Omero's Bello e Accessible travelling section, is a small bronze sculpture (29cm high) created by Umberto Mastroianni in 1988.
Set into a white marble cuboid, the sculpture is a composition of abstract shapes constructed on curved and broken lines. Forms with vertical momentum rise from the base, with projecting, rounded curves on the right side, and more angular, receding ones on the left. These shapes lead the eye and hand towards two circles with hollow centres, one on the right and one on the left. Above these circles, which resemble two rings, are two large "toothed crowns". Above the larger, left ring, (4cm in diameter), the crown opens out into five teeth of various sizes, not unlike the battlements of medieval military architecture, while above the right ring (3cm in diameter) is a smaller but higher crown with three teeth. The bronze surface is shiny and polished, smooth and pleasant to the touch. The artist's signature is engraved on the back, along the vertical form that rises from the base of the sculpture.
A set of shapes that could suggest the appearance of a zoomorphic being, an abstract animal, with an open beak, crest and eye. The general effect is certainly of great dynamism and, as the title suggests, it reminds us of cogwheels, of a mechanism in motion. This work is part of a long series of studies on the machine and its dynamism, which Mastroianni placed at the centre of his artistic and aesthetic research.
"Ingranaggio" comes from his penultimate creative phase: after the period in the 60s and 70s when his art was characterized by violent explosions and disruptive plasticity, gears began to make an appearance in his creations. Integrated mechanisms with original geometrical shapes infused with a sense of irony, which frequently led him to suggest the existence of a fantastic world of mechanized animals.
For further information: Fondazione Umberto Mastroianni.