Work: Event
Original sculpture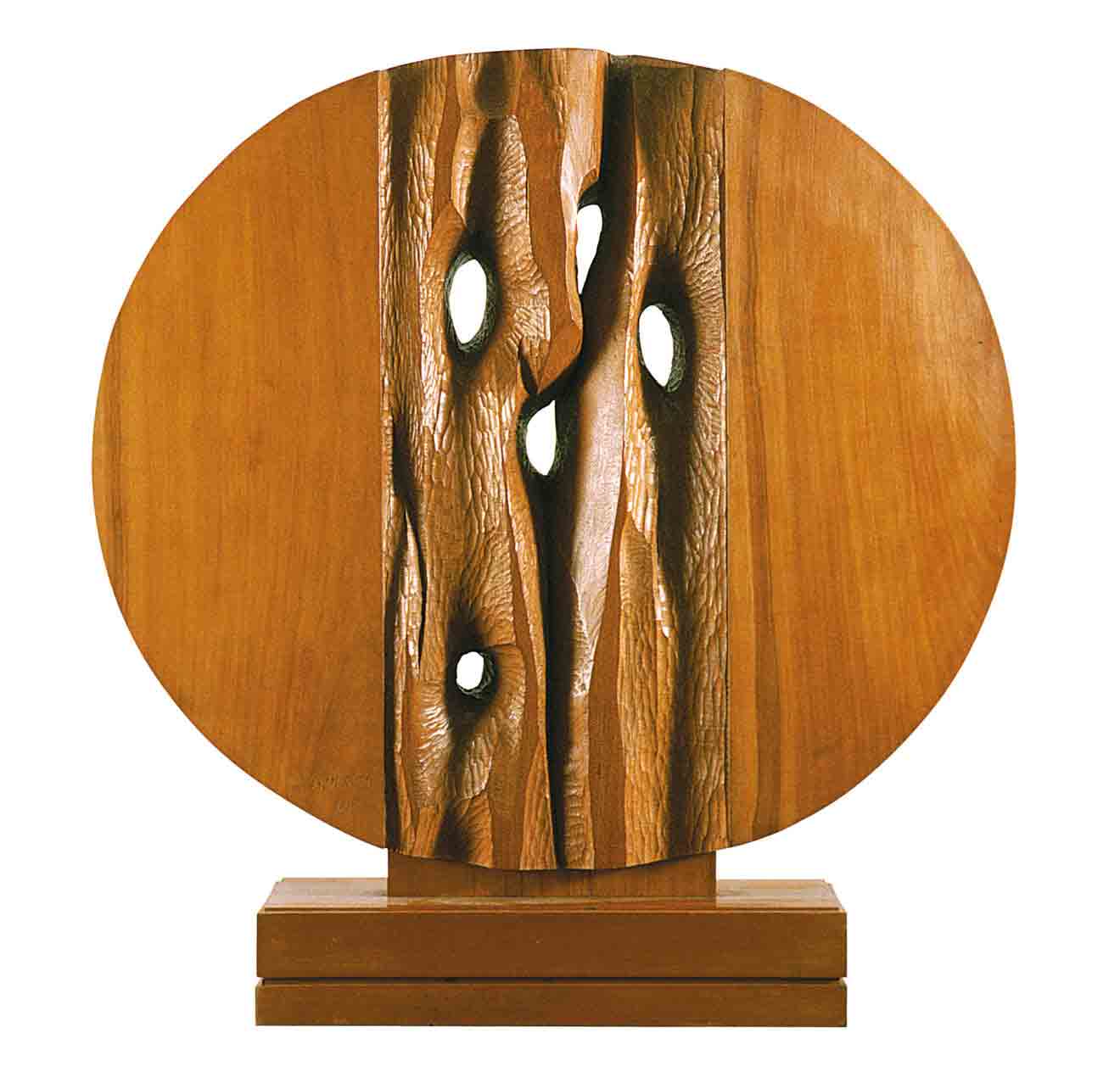 Original
Author

Date

1968

Period

Dimensions

102 cm high, 98 cm wide, 15 cm deep

Material

walnut wood

Location
Photo: Maurizio Bolognini. Museo Tattile Statale Omero Archive.
Description
"They are ideas that come down to bring warmth to mankind, eager to follow the mysterious signs of a fleeting reality", Loreno Sguanci.
"Evento" is an original sculpture, created in 1968, by the sculptor Loreno Sguanci from Pesaro.
This large sculpture, about one metre in diameter, is carved from African walnut and its slightly elliptical shape is divided into three equal parts: two symmetrical lateral areas that are smooth and polished, and a contrasting central part which is irregular, deeply lined, rich in roughness and curvatures.
The sculptor seems to have made a kind of ideal cut in the central part of the circle that allowed the perfectly smooth outer shell to open up and reveal the starkly contrasting centre. Just as the curtains in a theatre open to show the first scene, the two lateral bands have moved outwards to reveal the "heart" of the work and, perhaps, of its material: wood in all its naturalness, gnarled, knotty, sinuous, chipped, pierced, with empty and full areas carved using gouges of various sizes,
The work displays a marked search for contrast: the perfection of the circle is counteracted by the organic, random, non-figurative forms of its content.
"Evento" represents the birth of a new life and in this case, Sguanci is the creator. The use of the circular form clearly alludes to the foetus: a mother's womb encloses the life that the artist discloses, letting new life come bursting out.
Sguanci believed firmly in life, it was one of his highest values as a man. His early artworks from his so-called "organic" period are based on this axiom: life generates other life.