Work: Donatello's David
Copy of sculpture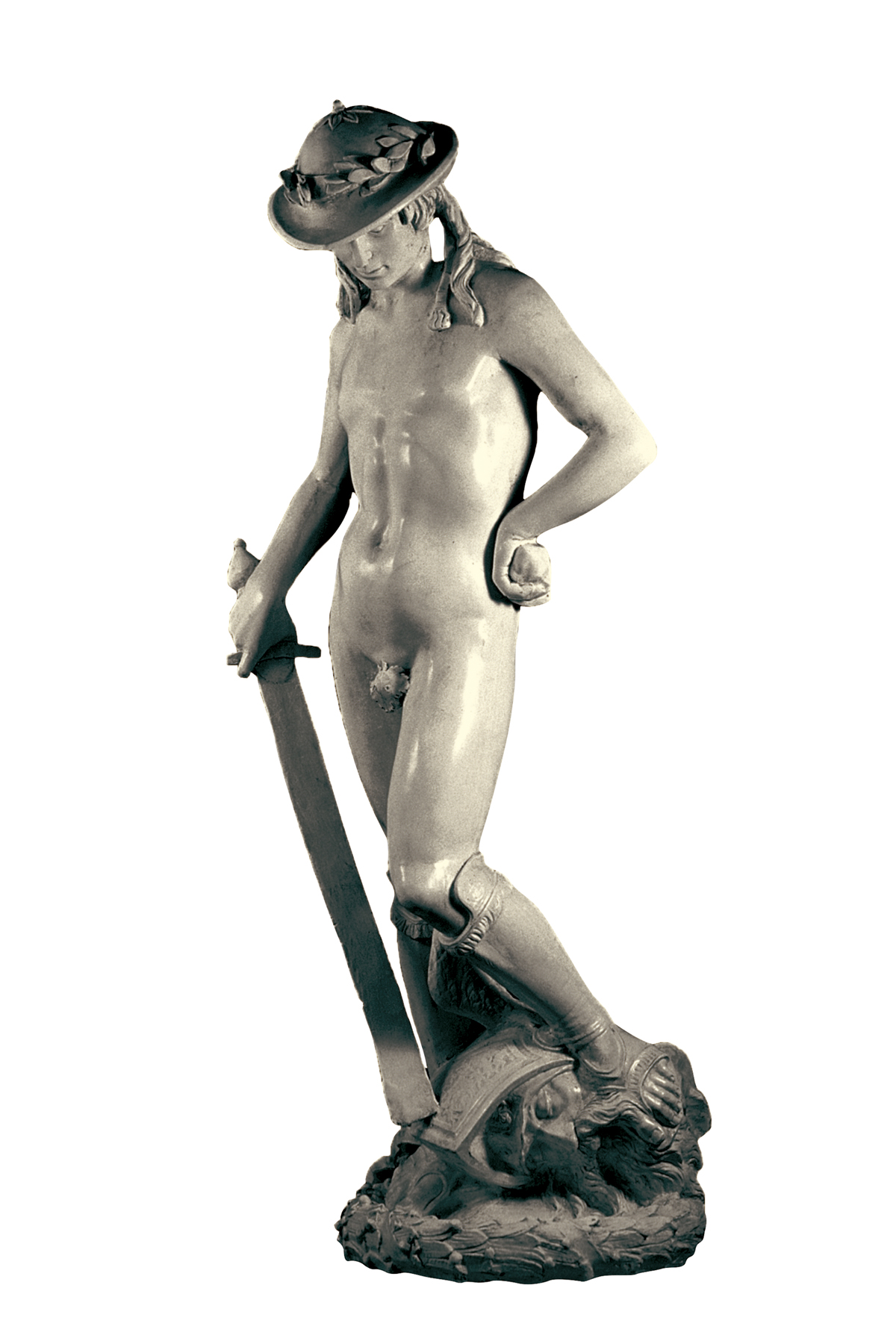 Copy
Dimensions

158 cm high, 61 cm wide, 54 cm deep

Technique

cast from the original

Material

alabaster plaster

Space
Original
Author

Date

1440 about

Period

Dimensions

158 cm high

Material

bronze

Location
Photo: Maurizio Bolognini. Museo Tattile Statale Omero Archive
Description
"A David (…) so natural in his liveliness and softness that it seems impossible to other sculptors that it has not been formed from living material", Giorgio Vasari, "Le vite de' più eccellenti architetti, pittori, et scultori italiani, da Cimabue insino a' tempi nostri" (1568).
The statue that Vasari refers to in this passage is the David of Donatello, a bronze sculpture in the round, made by the artist between 1438 and 1442, a few years before he left Florence for Padua.
The statue shows the boy immediately after killing Goliath. David is standing, naked except for his footwear and "petasos", a wide-brimmed hat adorned with a garland.
His left hand rests on his thigh, holding a stone, his right holds his sword, set at an angle to his straight arm. His left foot is resting on the severed head of Goliath while his straight right leg supports the weight of his body. The muscles are not pronounced and this accentuates the young man's ephebic sensuality. He face is tilted downwards and his gaze is directed at at Goliath's head beneath his foot; his expression is both melancholy and self-satisfied.
The David depicted by Donatello was not conceived as a strong self-confident hero (as Michelangelo will later portray him), but rather as a thoughtful adolescent, with almost feminine features. These characteristics are intended to convey an ideal beauty which is both physical and spiritual.
It is probable that Donatello was inspired by a pre-existing sculpture; the facial expression in particular resembles that of the Antinous of Palazzo Altemps, which portrays the Emperor Hadrian's favourite.
It was probably commissioned to decorate a fountain at the Villa Medici in Careggi. Cosimo de' Medici later placed the David in the courtyard of his Palazzo in Via Larga, Florence. Certain iconographical inconsistencies have caused some art historians to suggest that it might be a depiction of Mercury rather than David: his wide-brimmed hat (petasos) is typical of travellers, and David is not traditionally depicted nude. Some critics refer to the work as "David-Mercury" because of the iconographical ambivalence.