Work: Capitoline She-wolf
Copy of sculpture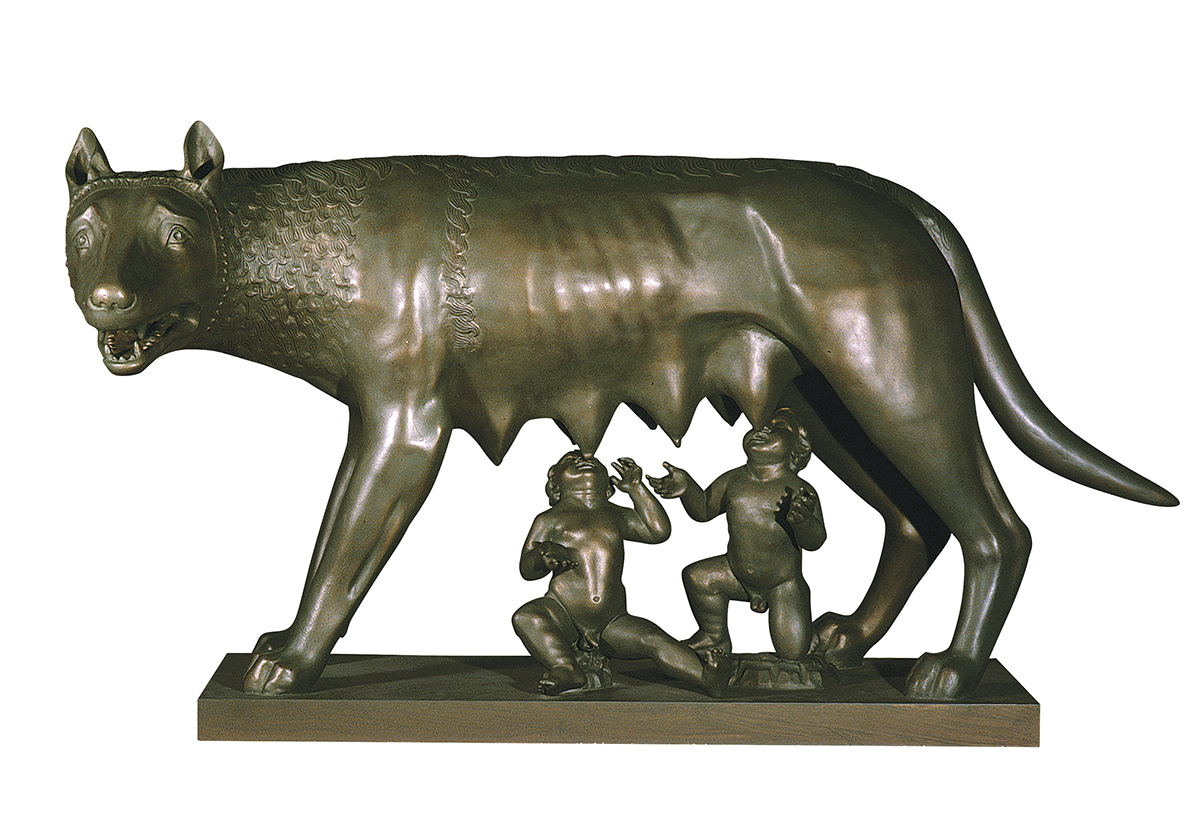 Copy
Dimensions

75 cm high, 114 cm wide

Technique

cast from the original

Material

resin and fibre-glass

Space
Original
Date

V sec. a.C.; new dating: Middle Ages

Period

Dimensions

75 cm high, 114 cm wide

Material

bronze

Location
Photo: Maurizio Bolognini. Museo Tattile Statale Omero Archive.
Description
"The waters, becoming stagnant, left at the riverbank the basket where the babies had been laid, and a she-wolf rushed towards their wails. The guardian of the King's herds, whose name has been handed down as Faustolus, found her breastfeeding them with great meekness", Titus Livy "Ab Urbe Condita" 1, 3-7.
The Museo Omero owns a resin and fibre-glass copy of the "Lupa Capitolina", the bronze sculpture on display at the Musei Capitolini in Rome. The sculpture (75cm high and just over 100cm long) portrays a she-wolf with her head turned to the left, mouth half-open and eyes that seem to be peering into the distance, while she feeds the new-born Romulus and Remus. Her ears are open and pointed, the thinness of her chest is emphasized, her dugs are heavy with milk, her fur depicted as little flame-like tufts.
The twins, also in bronze, are not original, but were added during the Reinaissance and are traditionally attributed to the sculptor Antonio del Pollaiolo.
The myth of a human infant abandoned to the forces of nature and saved by an animal seems to be common to other ancient civilizations and is linked to the idea of regality.
The earliest depictions of this subject are on coins bearing the relief image of the twins being breastfed by the wolf. In the Imperial age, the episodes of the wolf and the encounter between the sleeping Rhea Silvia and Mars were used as emblematic symbols of the legend of the foundation of Rome.
The myth of the miraculous breastfeeding of the legendary founders of Rome, has maintained its intense symbolic value up to the present day and the statue is still one of the symbols of the city.
2006 Update on the date and origins of the artwork
This icon of the foundation of Rome, the Capitoline Wolf, was actually made in the Middle Ages and not in Antiquity, according to research carried out on the bronze-casting technique used to make it. This discovery destroyed the long-held belief that the Wolf was adopted as icon and symbol of the city in the very earliest Roman times.
Adriano La Regina, former superintendent of the Archaeological Heritage of Rome and professor of Etruscology at La Sapienza University, wrote as follows in the Italian newspaper "La Repubblica": "Now, indisputable evidence shows that the She-wolf was not a product of Antiquity". According to La Regina, the analysis carried out by the restorer, Anna Maria Carruba, indicated that the She-Wolf was cast in one single piece. This technique was typically used in Medieval times. Furthermore, radiocarbon analyses of the She-Wolf (2007) confirmed that the sculpture dates from the Middle Ages.