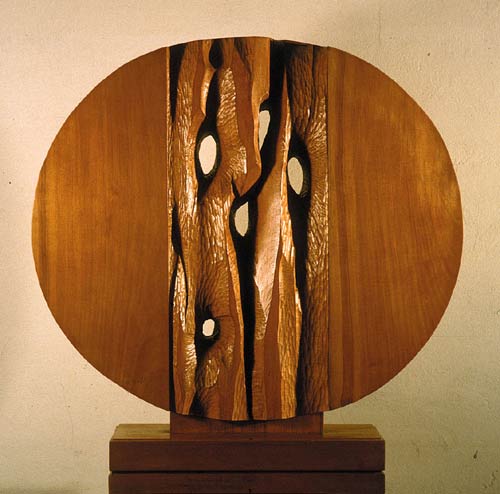 23 April - 26 June 2005
Mole Vanvitelliana, Banchina da Chio, Ancona
Meet the artist: Sunday 8th May at 10am
The "Trame di Legni" exhibition featuring works by Loreno Sguanci will be inaugurated at 5.30pm on 23rd April. This show, which accompanies "The Memory of the Antique. D'après L'Antique" and follows the "Homage to Vittorio Morelli", concludes the series of exhibitions at the Mole dedicated to the continuity of sculpture in the arts.
An excerpt from Leo Strozzieri's review:
Loreno Sguanci's highly rigorous body of work embodies both his interest in Classical-Renaissance culture (it should be borne in mind that he was born in Florence) and his openness to contemporary art which can be seen in its closeness to and, I would even say, its cohabitation with, certain premises of his artistic language which can be traced to geometric abstraction and even kinetic art. Sguanci weaves (the "trame" of the exhibition's title comes from the language of textiles) an apology of geometry, and hence of geometric rigour, which he translates into works of signs of extreme compositional clarity. He employs rustication to create happy combinations of light and shade which are then accentuated by tightly controlled chromatic interventions, thus creating dialogue between the diverse areas of the surface of the wood. Of fundamental importance in Sguanci's work is light, in virtue of which the carved surfaces with their modular layout, amplify the kineticism which can also be read at a tactile level. The fact that this exhibition has been organized by the Museo Omero is therefore all the more significant: Sguanci's domestic sculptures, which are generally projects for monumental works, allow the non-sighted to sense those suggestions of space generated by the dialectic between illusion and reality, which has been recognized by every art critic who has studied his works. He has always been interested in improving the urban fabric and his monumental works (for example his celebrated "Porta a mare" situated at the shore at Pesaro) do not so much occupy a position in space as create a space which is not only physical, but memorial. That is, read at one level they are signs which interact with their urban surroundings, but they can also be seen as custodians of a precious fund of historical memory.
Biography of Loreno Sguanci:
Born in Florence in 1931, Loreno Sguanci has lived in Pesaro since 1952. He graduated from the Istituto Statale d'Arte in Florence and began exhibiting in the early 60s (his first one-man show was held at the "L'obelisco" gallery in Rome in 1962). Since then, he has been a constant presence in the Italian art world with numerous individual exhibitions (altogether he has held over thirty in the most important cities in Italy). He has also taken part in many prestigious group exhibitions, such as the Rome Quadriennale, the Paris Biennale for young artists, Alternative attuali at L'Aquila, the Biennale del Bronzetto at Padova, Volterra '73, the Gubbio Biennale, the Sacred Art Biennials at Pescara, Celano and Fermo as well as the Michetti, Termoli, Penne and Avezzano Award exhibtions. He has also exhibited abroad, taking part in several exhibitions of Italian sculpture (Chicago, Tokyo, Paris, Belgrade, Cairo and Alexandria). He has created numerous works for public spaces and places of worship, such as the famous Porta a mare on the Pesaro coast, the "Grande Pannello" for the Customs building in Ancona, the "Grande Scultura" for the hill at Horice (Czeck Republic), the "Monumento ai Caduti" in Cepagatti (near Perugia) and the "Monumento" in Fermignano (near Urbino). His pursuit of art, which has led him to make use of many different materials (stone, metal, plastic, terracotta and, above all, wood), has always been underpinned by an evident openness to avant-garde culture interwoven with an operating ritual inherited from the excellent discipline of the Italian Renaissance. Fundamental to Sguanci's exploration of the three-dimensional is the logical order he used to structure his works with signs which, furthermore, make the works highly suited for tactile exploration. The surfaces are enriched by his measured application of chromatic touches which have the effect of accentuating a luministic kineticism of almost scientific rigour. The artist has also promoted important cultural events dedicated to the visual arts in the city of Pesaro, such as the memorable exhibitions dedicated to Cavellini, Dottori, Mirko, Franchina, Consagra and Vedova. All the principal art critics have written about his works, from the unforgettable Mario De Micheli and Fortunato Bellonzi to Di Genova, Ginesi, Del Gobbo, Strozzieri.
Opening times: Tuesday - Saturday: 15.30 to 19.30 (morning visits can be arranged for groups of students), Sunday 9.30 to 12.30 and 15.30 to 19.30; closed Monday. Closed on 1st May.
Single ticket includes entry to "The Memory of the Antique. D'après l'Antique": full price 2 Euros; students and groups (of at least 10) 1.50 Euros; family ticket 5 Euros; schools 1 Euro; the disabled and their helpers and children aged 6 or under have free entry. Guided tours can be booked for groups of at least 10 at an additional cost of 1 Euro each. Learning workshops for schools are availbale at an additional cost of 1.50 Euros per pupil, teachers free.
Catalogue: by Leo Strozzieri; Cost: 5 Euros.
For further information: Museo Tattile Statale Omero, tel. 071.2811935, fax 071.2818358, info@museoomero.it.