"TOUCHING BEAUTY Maria Montessori and Bruno Munari" exhibition
Posted in Exhibitions on 10 November 2019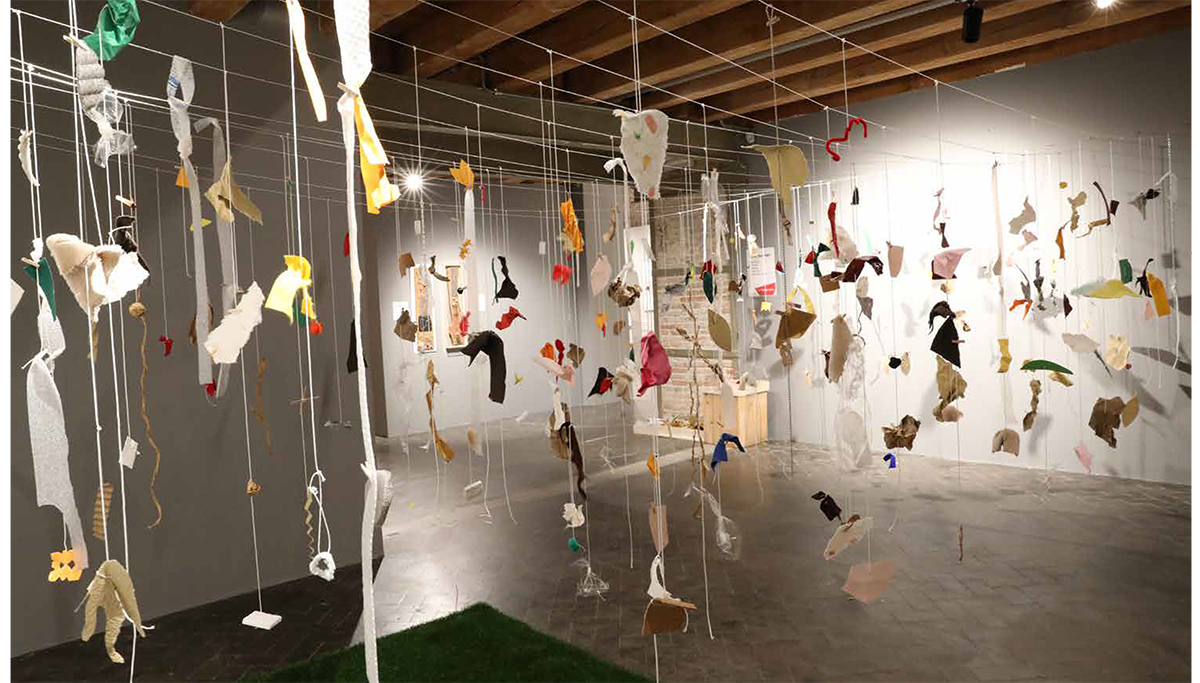 10 November 2019 - 8 March 2020
Sala Vanvitelli, La Mole, Ancona
EXHIBITION CLOSED closed in compliance with the new regulations issued by the Regione Marche on 03/03/2020 for the coronavirus emergency.
Is it possible to perceive, recognize and appreciate beauty through touch too?
This exhibition aims to reflect on the aesthetic value of tactility by engaging with Maria Montessori's thinking and materials, Bruno Munari's ideas and original works.
The leitmotif is touch, which inspires the thematic nuclei that mark the exhibition path: forms, materials, the textures of things, manipulating and building, alphabets and tactile narratives.
The aim of the initiative is to promote a significant experience of tactility, from an artistic and aesthetic point of view, for everyone, without exception.
Exhibition curator: Fabio Fornasari.
Over 100 works by the multi-faceted artist and designer Bruno Munari are on show, including an important nucleus of tactile panels created by Roberto Arioli which were inspired by the "tactile panels" created by Bruno Munari in the 1970s. Munari's editorial works document his entire creative career which began in the 1940s. His work has always been characterized by a particular attention to the themes of multi-sensoriality, especially tactility, and by the artistic use of a large quantity and variety of natural and industrial materials for pedagogical purposes.
We present Maria Montessori's educational model and a wide range of materials, particularly those she used for educating the senses and the hand which she considered to be "the organ of intelligence". The exhibition is also an opportunity to celebrate the 150th anniversary of the birth of Maria Montessori.
The exhibition itinerary is enriched by insights, environments and interactive rooms.
The pathway is enriched by in-depth analysis of individual themes and by interactive environments and rooms, where the visitor is the protagonist in engaging and unusual, tactile and multi-sensory experiences.
The in-depth analyses are intended to introduce both the cultural and experiential principles which guided the two protagonists throughout their professional careers, as well as some applications, developments, feedback and influences, which their work has determined and is currently determining. The exhibition will include a reconstruction of a Montessori classroom and interactive spaces such as "The tactile woods" inspired by Munari's creativity, where the visitor will be the protagonist in engaging and unusual tactile and multi-sensory experiences.
While the exhibition is open, schools and families can join our experts in special educational workshops which are based on the Bruno Munari method and the Montessori model. There will also be workshops and training days for teachers, educators and museum operators.
An international conference with distinguished speakers on the exhibition theme is scheduled for Saturday 25th January 2020 and, in the same month, the catalogue edited by Corraini edizioni will be released.
Also on display is the medal that the Head of State, Sergio Mattarella, awarded to the exhibition as a Premio di Rappresentanza.
Information
Sala Vanvitelli, La Mole, Ancona
Banchina Giovanni da Chio, 28
10 November 2019 - 8 March 2020
tel. Museo Omero 0712811935 - tel. exhibition 071205677 www.museoomero.it -​​www.lamoleancona.it
Opening times Thursday and Friday 16-19
Saturday, Sunday and public holidays 10 - 19
1st January 16-19
Last admission 18.15
Closed: 25th December
Admission Full price: € 5.00.
St Valentine's Day Special: Friday 14 February admission €5 for two.
Free: schools, disabled people and their carers, under 18s, qualified tourist guides, accredited journalists, ICOM members.
Booked Activities (free admission)
Groups (max 25): guided tour € 85.
Schools: guided tour and workshop € 85 per class; guided tour of the Museo Omero and exhibition € 120 per class.
Families: visit and workshop on the first Sunday of the month and on public holidays € 20 per family.
Mobile and whatsapp 335 569 69 85
didattica@museoomero.it
Promoters
Museo Omero
TACTUS. Centre for contemporary arts, multi-sensoriality and interculturality
Municipality of Ancona
In collaboration with
Chiaravalle Montessori Foundation
Bruno Munari Association
With the contribution of
Marche Regional Council
Under the patronage of
Marche Regional Council
Faculty of the Science of Education "Giovanni Maria Bertin" ALMA MATER STUDIORUM - University of Bologna
Opera Nazionale Montessori
Istituto Comprehensivo "Maria Montessori" of Chiaravalle (AN) Municipality of Chiaravalle
Coordination
Aldo Grassini
Scientific Committee
Alfio Albani, Fabio Fornasari, Aldo Grassini, Paolo Marasca, Alberto Munari, Mariangela Scarpini, Andrea Socrati, Silvana Sperati, Annalisa Trasatti.
Design Fabio Fornasari
Organizational secretariat
Maria Giulia Cester
Press and communications office
Monica Bernacchia, Alessia Varricchio
in collaboration with:
Maria Chiara Salvanelli
Toni di grigio
Graphics Damiano Boriani
Typhlo-didactic aids
Daniela Bottegoni
Massimiliano Trubbiani
Technical sponsors
Effettoluce Recanati
Gonzagarredi Montessori
Formula Prato di Mazzoni Massimo s.r.l.
Works have been loaned by:
Roberto Arioli
Maurizio Corraini srl
Matteo De Vecchi
Marco Ferreri
Alberto Rambaldi
Gonzagarredi Montessori Chiaravalle
Fondazione Montessori
We would like to thank Roberto Arioli for his invaluable help.
Reception and educational services
Cooperativa Sociale Opera Onlus:
Manuela Alessandrini, Monica Bernacchia, Damiano Boriani, Anna Chiara Broggi, Patrizia Calderone, Cristiana Carlini, Giulia Cester, Daniela Donninelli, Francesca Giuliodori, Francesca Graziani, Tania Martini, Maria Giulia Mengarelli, Francesca Santi, Greta Sturm, Annalisa Trasatti, Massimiliano Trubbiani, Sonia Varagona, Alessia Varricchio.
In collaboration with
the volunteers from the Voluntary Civilian Service
Associazione Per il Museo Tattile Statale Omero ONLUS
Diana Fior
Lucilla Boschi
Catalogue
Corraini edizioni