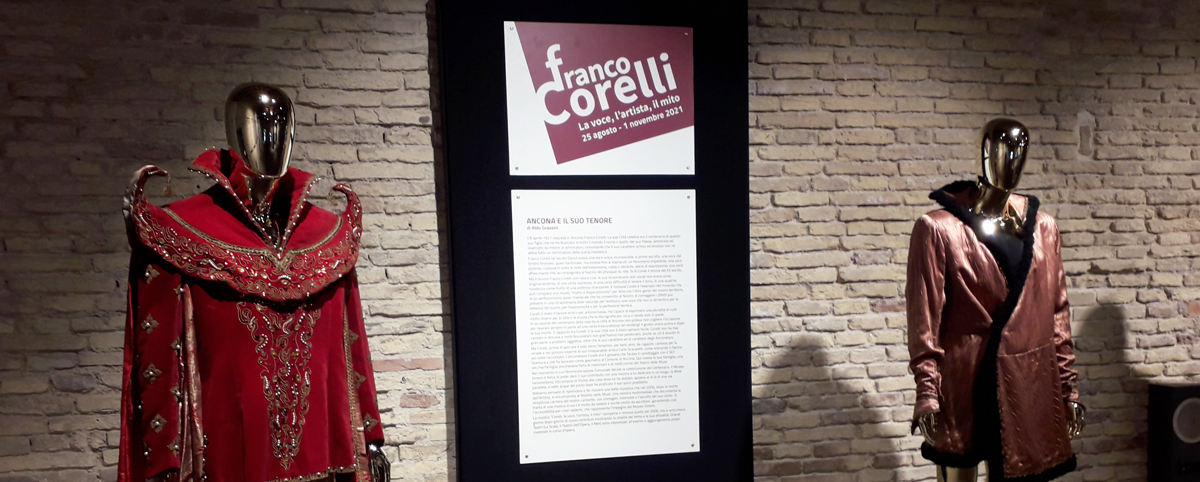 From 25 August - extended to 12 December 2021.
State Tactile Museo Omero, Ancona.
An exhibition to remember the extraordinary career of Ancona's tenor Franco Corelli and listen to his amazing voice again in occasion of the centenary of his birth.
"Unfortunately, we lost track of voices of his caliber but the memory of Corelli in the role of leading actor in the opera remains indelible thanks to the vibrant beauty of the notes combined with the poise and the role of the characters. His career started in 1951 with a "prophetic" debut in Carmen and continued until his last recital in Bohème, which took place in Torre del Lago as part of the traditional Puccini Festival, in 1976." Fabio Brisighelli.
"When the city municipality decided to celebrate the Centenary, the Museo Omero was happy to realize an exhibition dedicated to Corelli in the Mole Vanvitelliana, situated right in front of the house where he lived and surrounded by the waters of the port where he used to practice his favourite sport.
We brought back to life a great event that had been realized at the Teatro delle Muse in 2006, after the artist's death. The multimedial exhibition documents the tenor's outstanding career with images, interviews and recordings of his singing. There is a lot to see but also to hear, thus ensuring accessibility for the blind which is the commitment of Museo Omero." Aldo Grassini.
The exhibition revives and renews the one set up in 2006 at the Teatro delle Muse in Ancona with some enrichments: from 15 October, six stage costumes on loan from the Teatro Opera in Roma, the Teatro La Scala in Milan and the Morichi family are displayed. On this occasion, the end of the exhibition has been extended from 1 November to 12 December 2021.
The exhibition is promoted and organized by the Museo Tattile Statale Omero in collaboration with the Amici della Lirica "Franco Corelli" of Ancona, the Municipality of Ancona - La Mole Ancona, Le Cento Città Marche Association, Opera Società Cooperativa, "Per il Museo Tattile Statale Omero" ODV-ONLUS Association, Servizio Civile Marche - Garanzia Giovani.
Information:
Free admission.
Book and Green Pass are compulsory.
Call +39 335 56 96 985 (mobile and whatsapp) or email us at didattica@museoomero.it.
Opening Times:
August: from Tuesday to Saturday 5:00 pm – 8:00 pm; Sunday 10:00 am – 1:00 pm and 5:00 pm – 8:00 pm.
September – December: from Tuesday to Saturday 4:00 pm – 7:00 pm; Sunday and holidays 10:00 am – 1:00 pm and 4:00 pm – 7:00 pm.