Toccare Gli Angeli Exhibition – Previously unseen marble works by Gioacchino Varlè at Museo Omero
Posted in Updates on 22 November 2009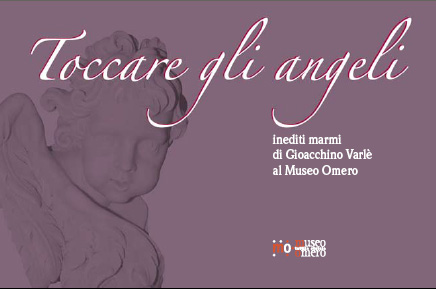 Up to 31 December 2010.
Museo Tattile Statale Omero, Via Tiziano 50, Ancona
Inauguration: Thursday 3 December 2009 at 5.30pm.
To celebrate the International Day for the disabled.
Taking part are Fiorello Gramillano, Mayor of Ancona, Andrea Nobili, Councillor for Culture and Monsignor Edoardo Menichelli, Archbishop of the Archdiocese of Ancona and Osimo.
Presentation of the catalogue: Sunday 13 December 2009 at 5.30pm.
The exhibition will be extended until 31 December 2010.
Works on show
Pair of Cherubs, second half 18th cent., Carrara statue marble, dimensions: h approx 60 x 40 cm.
Pair of Evangelists (Luke and John), late 18th cent., marble; dimensions: John, h 57 x 30 x 25 cm, Luke h 72,5 x 38 x 23 cm.
Restoration by C.B.R. di Romeo Bigini.
Gioacchino Varlè (Rome 1731 - Ancona 1806)
He had an active role in the artistic scene of the city of Ancona in the second half of the eighteenth century.
His activity as a sculptor saw him engaged in producing works in plaster and in marble, as well as creating stucco decorations, mostly for church interiors including those of the religious orders present in the city, but also to embellish public buildings and private dwellings.
Toccare gli angeli
"To touch angels, those luminous divine messengers, is unthinkable and this is also true, in general, for sculptural representations of them, those ineffable creatures that artists have created and who appear to such fine effect on altars and in museums.
Now, a joint project involving the Museo Omero, the Diocesan Museum and the Dominican Fathers of Ancona, has culminated in this exhibition of precious marble works by Gioacchino Varlè (Rome 1731 - Ancona 1806). On show for the first time to the general public and to the visually handicapped for tactile exploration, are two admirable heads of angels, infantile and winged, and the figures of two evangelists, Luke and John. Being somewhat damaged, they were treated to a skilful restoration for the occasion. These works are eloquent traces of that thrilling wave of renewal which swept Ancona in the 1700s: while Luigi Vanvitelli's interventions redrew the urban layout raising it to a previously unseen level, Gioacchino Varlè decorated and modernized all the important pieces of architecture of the City with his marvellous and copious sculptural activity.
After the exhibition, the four works by Varlè will remain on loan so as to be accessible for authentic, inclusive public enjoyment. All of them will probably be housed at the Museo Omero. It is hoped that in this sympathetic positive environment, they will bear witness to the fruitful collaboration between Institutions, in promoting civil and cultural growth of the Community where they operate.
Finally, won't closing your eyes and touching the angels, those carved from spirituality by the mastery of an artist, who has sought the signs of eternity in beauty, be like feeling and seeing angels, those imagined by a man who always looked towards the Next World?". Massimo Di Matteo
Exhibition Design
Displayed in an imaginative and sympathetic environment, designed by the architect Massimo Di Matteo, the works are illuminated by a floating cloud "Nuvola" lamp specially created by Denis Santachiara, in a joint project with Studio Italia Design from Marcon, Venice and Effettoluce from Castelfidardo, Ancona.
This lamp is a decorative object in itself and its undulating motion confers a delightful, poetic contemporary atmosphere that also evokes, with a touch of irony, the celebrative theatrical apparatus in use in the 1700s,.
This first exhibition of these statues includes photographs of many of the numerous works by Varlè present in the urban fabric of Ancona, demonstrating the importance of this artist.
Exhibition Information
Promoting body: Museo Tattile Statale Omero.
Coordination: Roberto Farroni.
Scientific Committee: Maria Giulia Cester, Giuliano de Marinis, Massimo Di Matteo, Nadia Falaschini, Roberto Farroni, Aldo Grassini, Diego Masala, Massimiliano Trubbiani.
With il patronage of: Ministero per i Beni e le Attività Culturali, Ministero dell'Istruzione, dell'Università e della Ricerca, Soprintendenza per i Beni Architettonici e Paesaggistici delle Marche, Regione Marche, Provincia di Ancona, Comune di Ancona.
In collaboration with: Soprintendenza per il Patrimonio Storico, Artistico ed Etnoantropologico delle Marche - Urbino, Arcidiocesi Ancona - Osimo, Museo Diocesano di Ancona, Convento dei Padri Domenicani di Ancona, Studio Italia Design, Effettoluce - Castelfidardo.
Curators of the exhibition, catalogue and texts: Massimo Di Matteo, Nadia Falaschini, Diego Masala.
Exhibition design: Massimo Di Matteo.
Illumination: Effettoluce - Castefidardo.
Restoration: C.B.R. di Romeo Bigini.
Works loaned by: Museo Diocesano di Ancona, Convento dei Padri Domenicani.
Graphics and photos: Visibilio di Maurizio Bolognini.
Aids for the non-sighted : Massimiliano Trubbiani.
Administrative office: Maria Giulia Cester, Massimiliano Trubbiani.
Communications and press office: Economia&Cultura di Gabriella Papini.
Information on guided tours
Telephone 071 28 11 93 5; Fax 071 28 18 35 8; E-mail info@museoomero.it .
Guided tours of the Museum and the exhibition by the Museo Omero Educational Services: Manuela Alessandrini, Monica Bernacchia,Cristiana Carlini, Francesca Graziani, Andrea Socrati, Annalisa Trasatti, Massimiliano Trubbiani.
Cost: 7.00 Euros per person, free for children up to 4 years of age;
3,50 Euros per person in a group (at least 4 with a maximum of 60 people, with a guide for each 20);
All the initiatives are free for the disabled and their helpers.
Times: 3 December 2009 - 31 December 2010.
Tuesday-Saturday: 9 am -1 pm, 3 -7 pm. Sunday: 4 -7.30 pm.
26 December, 6 January, 4 May, 2 June: 16.00-19.30.
Closed: Mondays, 25 and 31 December, 1 January , Easter, 1 May.
Admission free.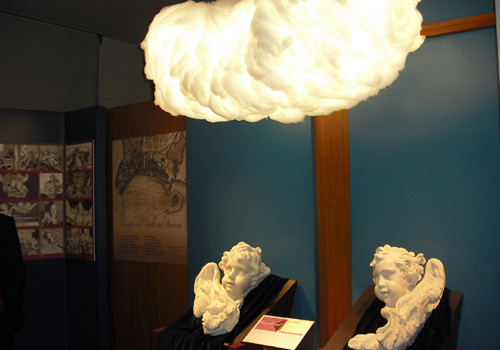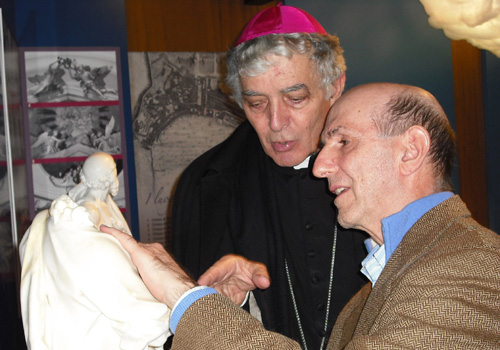 Download