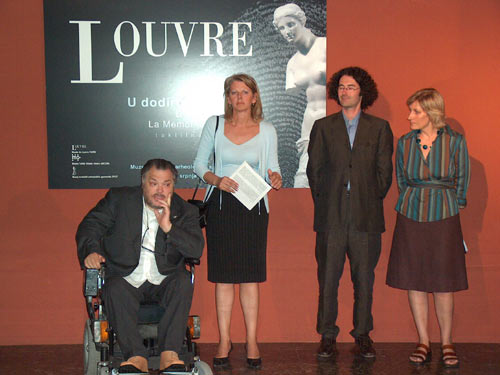 7 July - 15 October 2005
Archaeological Museum, Split
The "D'après l'Antique. The Memory of Antiquity" exhibition, designed by the Museo Omero in collaboration with the Louvre, was inaugurated on Thursday 7 July in Croatia. After its successful run at the Mole Vanvitelliana, the exhibition has been transferred to the famous "Muzej Hrvatskih Arheoloskih Spomenika" Archeological Museum, Split, thus strengthening the continuing excellent cultural relations between the twinned cities. The head of the "Hrvatskih Arheoloskih Spomenika" museum, Ante Milosevic, the local authorities and the governors of Split were present to welcome the exhibition and the head of the Museo Statale Tattile Omero, Roberto Farroni, and CyrilleGouyette of the Louvre. Almost all the works displayed at the Mole Vanvitelliana can now be enjoyed by the residents and the many tourists who come to Split in the summer.
Mr Farroni and Mr Milosevic jointly cut the tape at 8 pm, surrounded by the large crowd of people who had queued to visit the Museum. The exhibition includes casts of well-known statues taken from the original, such as the Venus de Milo, the Spinario (boy removing a thorn from his foot), the Borghese Gladiator and the Winged Victory of Samothrace; the most significant and evocative works of the artistic imagination.
As Roberto Farroni writes in the specially printed catalogue, on show during the opening ceremony, "Culture is the element that can create links between different countries. Culture is an instrument that can break down barriers, even sensory ones. Culture nourishes the growth of man. The collaboration between the Museo Omero and the Louvre has been developing in this direction and has grown to include a third voice from the opposite coast of the Adriatic Sea, thanks to the intervention of the Muzej Hrvatskih Arheoloških Spomenika. There will be further occasions where we will collaborate to promote the idea that tactile exploration not only offers the visually handicapped a real and valuable way to enjoy art, but can also genuinely interest the wider public".
In their speeches, the representatives of the museums of both cities underlined the significance of the involvement in this project of two cities like Ancona and Split which have been twinned for many years and have made this yet another occasion to celebrate their common historical and cultural heritage whose roots go back to distant epochs. The speakers also noted the practical as well as ideal significance of this union between France, Italy and Croatia.