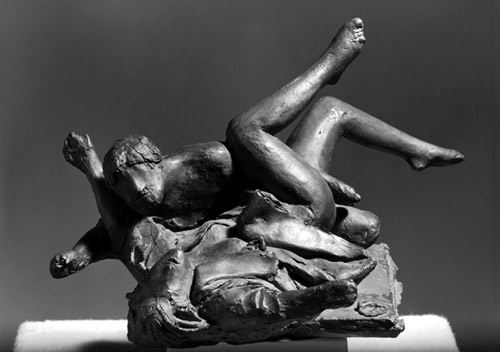 23 July to 6 November 2005,
Mole Vanvitelliana, Banchina da Chio, Ancona.
Opening on Friday 22 July at 6.30 pm at the Mole Vanvitelliana, Ancona, the "Manzù: l'avventura di Ulisse"exhibition, a joint project between our Museum and the Studio Copernico of Milan, is an event of national importance.
Designed by Alberto Fiz, Erich Steingräber and Marco Vallora, the exhibition explores the myth of Ulysses through 50 works that comprehensively illustrate Giacomo Manzù's artistic evolution, from 1940 up to his last works of 1986.
The fact that the exhibition had to be readable through touch made the selection of the scuptures particulary challenging. Both famous and lesser-known works are featured: from the well-known "Cardinals" (created between the 1940s and the 1980s) to the works dedicated to his fascinating wife Inge Schabel. The exhibition enjoys the support of the Ministero per i Beni e le Attività Culturali and Ancona City Council. The Regione Marche and the Provincia di Ancona have provided generous financial contributions.
Admission: full price 5 euros; concessions for pensioners, young adults aged 18 to 25, teachers, associations: 4 euros; groups of over twenty people, children and young people aged 6 to 18: 3 euros; schools, teachers, assistants 2 euros; children under 6 and the disabled: free; family ticket: 10 euros.
Opening times: Tuesday - Thursday from 4pm to 8pm; Friday - Sunday from 10am to 1pm and from 4pm to 11pm; schools can book a visit for any day.
Information and guided tours: Museo Tattile Statale Omero, tel. 071 28 11 93 5, email: info@museoomero.it
Tickets tel. 071 52 56 9. Guided tour: 2 euros for groups of at least twenty people.