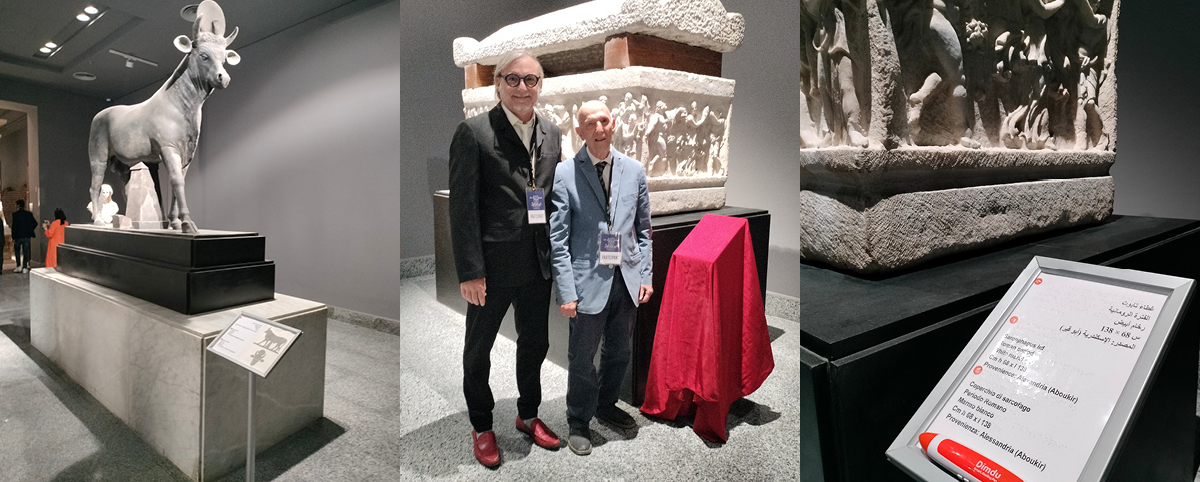 The Greek-Roman Museum of Alexandria, Egypt has finally reopened with an accessible itinerary thanks to the Museo Omero.
The collaboration between Egyptian museum institutions and our museum is ongoing.
Our joint project to make the renowned Cairo Archaeological Museum accessible began five years ago.
After being closed for almost twenty years, the Greek-Roman Museum of Alexandria, Egypt, was reopened on Wednesday 11 October 2023, with a new tactile pathway which we helped design and create.
Among the dignitaries present were the Egyptian Prime Minister, Mostafa Madbouly, accompanied by the Ministers of Tourism and Antiquities, Local Development, and Culture, along with the Governor of Alexandria, the Minister-Counsellor of the Italian Embassy Pietro Vacanti Perco, the Ambassador Riccardo Guariglia, the Secretary-General of the Italian Ministry of Foreign Affairs, and the Coptic Orthodox Patriarch Tawadros II.
Representing the Museo Omero, were the President Aldo Grassini and our accessibility expert Andrea Socrati.
The Project
The Italian Embassy in Cairo, the Egyptian Ministry of Tourism and Antiquities, and the Museo Tattile Statale Omero of Ancona collaborated in creating the "Italy and Egypt for a Barrier-Free Culture Model" project, which has made the Greek-Roman Museum fully accessible, highlighting their shared commitment to an elevated aim.
The Museo Omero, which has been engaged in museum reform for 30 years, provided its expertise.
The General Directorate of Museums in Egypt offered the opportunity to implement it in the museums where it could be most effective. The Italian Embassy played a crucial role in establishing the necessary connections to create a truly valuable collaborative experience.
The reopening of Egypt's second-oldest museum will enable the entire community, including individuals with visual disabilities, to appreciate its masterpieces.
The Accessible Pathway
The accessible pathway, in which the Museo Omero took a leading role, allows tactile exploration of nineteen masterpieces from the Alexandria museum.
This is supplemented by informative captions in Arabic, Italian and English, large text, Braille, relief drawings, and audio-pens for listening to audio content.
The active involvement of teachers and students from Egyptian schools, the Italian "Don Bosco" Institute of Alexandria and the "Edgardo Mannucci" Artistic High School of Ancona has led to the creation of tactile books, experimenting with inclusive educational methodologies for heritage education.
This project underscores the importance of culture being an accessible heritage for all of humanity.
As Professor Aldo Grassini emphasizes: "The determination of the three institutions involved in this project allows us to offer the blind people of Egypt, as well as foreigners visiting the Greek-Roman Museum of Alexandria, an additional opportunity for cultural growth and the spiritual pleasure that only art can provide. It also provides concrete hope for further developments involving elements of Egypt's extraordinary heritage."