Work: Woman at the Window
Original sculpture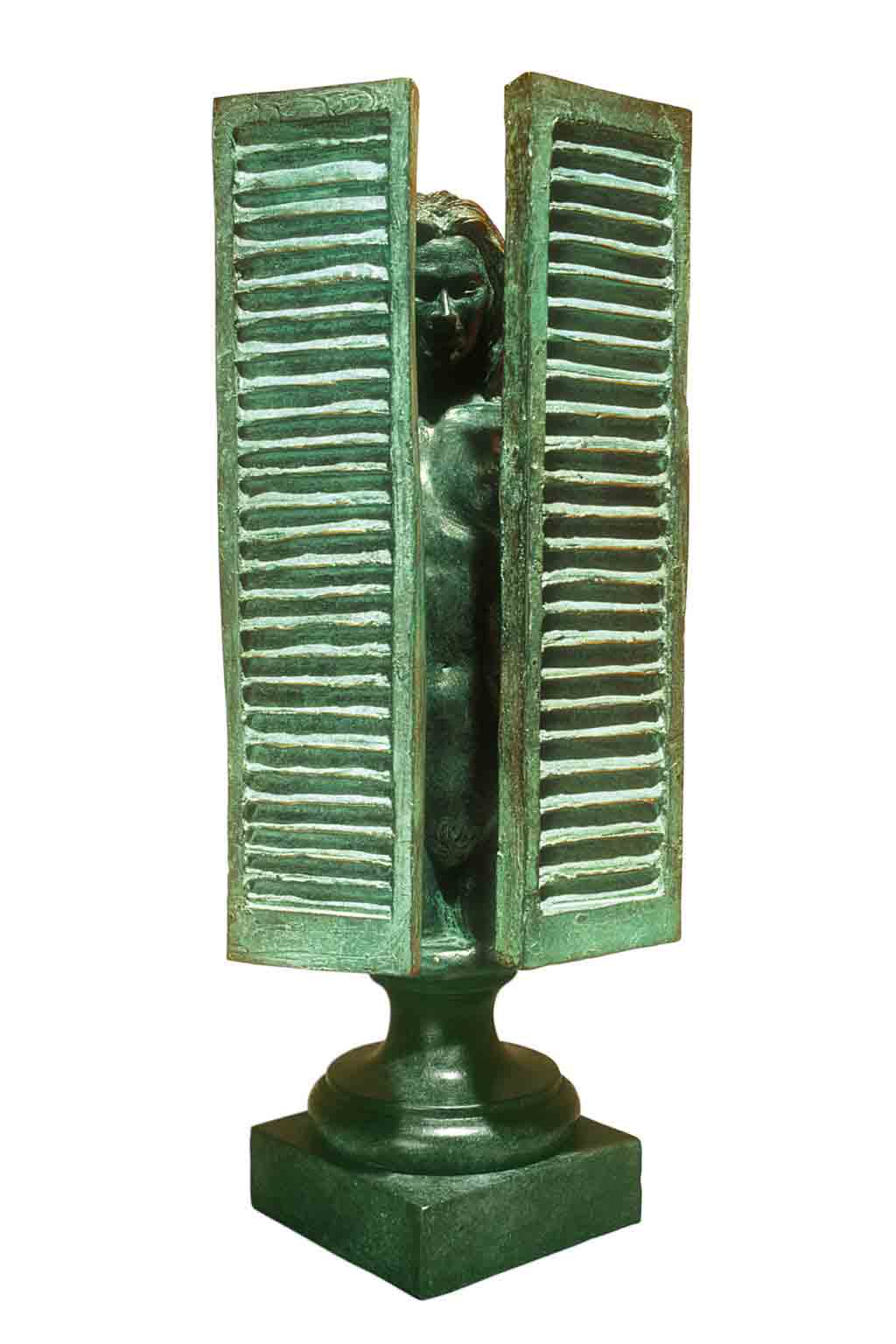 Original
Author

Date

2006

Period

Dimensions

42 cm high, 15 cm wide

Material

bronze

Location
Photo: Maurizio Bolognini. Museo Tattile Statale Omero Archive.
Description
"Annibali tells everyday stories, familiar mechanisms that accompany man as the hours go by. The materials used express the sentiments of an ordinary day, scanning a sense of duty that makes the work a courageous acceptance of one's destiny.",  Flaminio Gualdoni, "Paolo Annibali, Opere".
Woman at the Window is a small patinated-bronze sculpture, about 42cm high, made by Annibali in 2006.
The sculpture portrays a nude woman, who can be glimpsed through the central gap between a pair of shutters. The woman, shown from the thighs up, is set on a base that is shaped like a short, pot-bellied vase.
The visitor's hands can creep into the vertical opening between the shutters until they touch the woman's shapely body: her head, breasts, abdomen, pubis. She has a pointed nose, high cheekbones, deep inquiring eyes, a half-open mouth, and thick dishevelled, shoulder-length hair. The sculptor also finished the back of the figure and carefully depicted the shutters with their horizontal wooden slats.
The metal has acquired a green/black patina and is cold and smooth to the touch.
This sculpture includes the image of the window, an element that appears quite frequently in Annibali's works. The window marks the boundary of an enclosed, but not entirely protected, space as it allows both the woman and the visitor to look between the shutters, putting each in the position of being simultaneously observer and observed. The woman's attitude to being peered at and touched has been left ambiguous.
Unlike the other sculptures by Annibali in the museum's collection, this one is made of bronze. Even though the material is different, the human being continues to be the central theme. Annibali's art hinges on people and the representation of their daily lives, their fears and their loneliness. The woman is alone before the world, from which she seems to want to shield herself.