Work: Vespa
Design object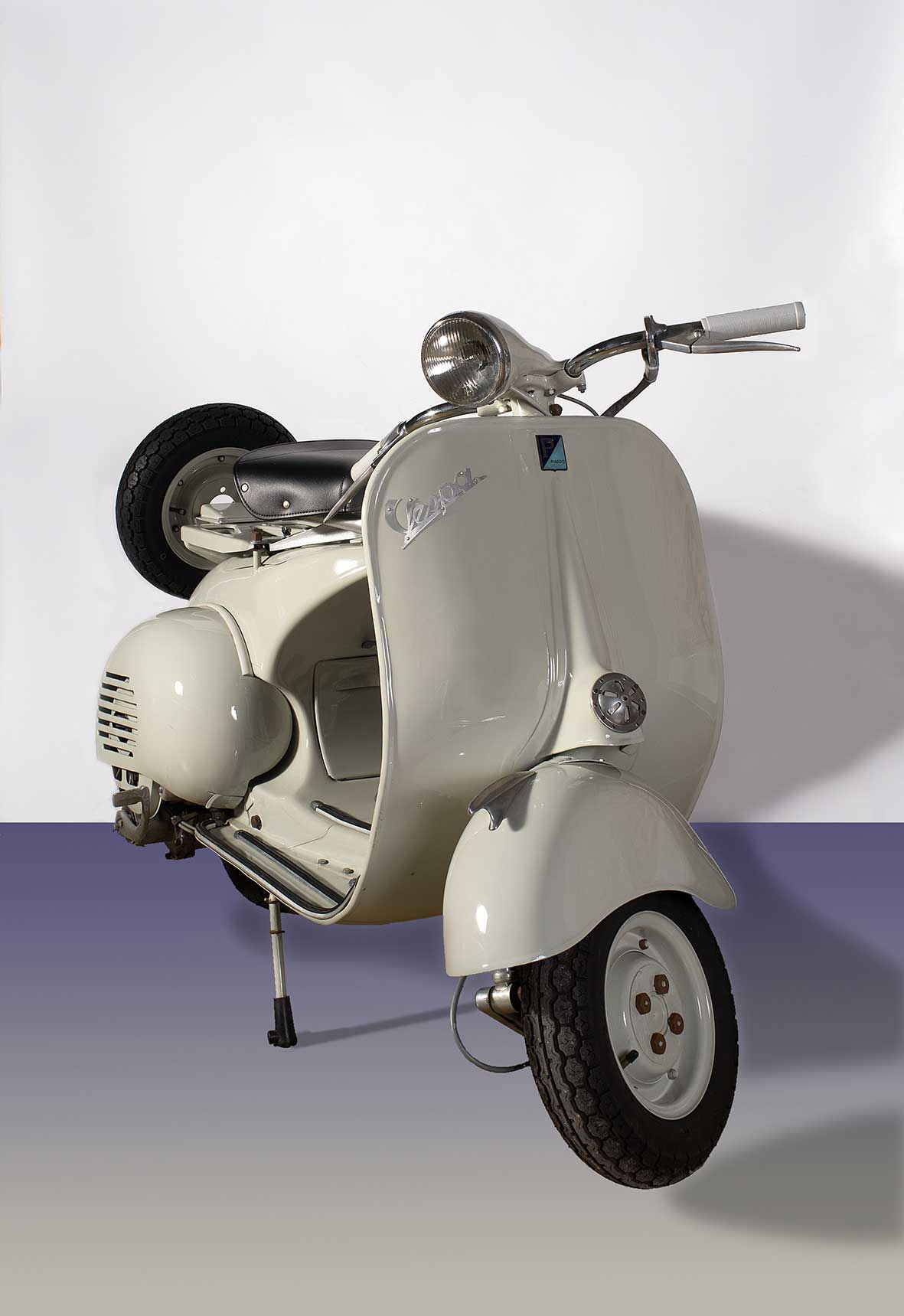 Original
Space

Company

Piaggio

Date

1946

Period

Production

currently in production

Dimensions

80 cm high

Material

painted metal, rubber, electric cables

Section

travel

Awards

Honourable Mention on the 17th Edition of the Compasso d'Oro Award
Photo: Maurizio Bolognini. Museo Tattile Statale Omero Archive.
Description
"This is […] the first experiment for a ground vehicle by Corradino d'Ascanio, the outstanding engineer of the sky; the same man who declared that he had never really been interested in engines." Chiara Alessi.
It's 1946: the Italians chose to leave the monarchy. The Republic promulgated the Constitution. The Vespa (wasp) was also born in 1946, so it has as long a history as the Italian Republic.
There was a wave of enthusiasm after the war as Italy got going again. Ernesto Piaggio had the foresight to give shape to this newfound energy by shifting Piaggio's research from aircraft and boats to motorcycles, which could be used by anyone on the roads that were being rebuilt and reconnecting the country.
Corradino d'Ascanio, the inventor of the first helicopter, worked on the Vespa prototype, taking his inspiration from cars. Clean-cut, elegant bodywork conceals the mechanism under the metal livery while the controls are on the handlebars except for the rear, pedal, brake. Elegance, speed and fun are some of the determinants of the project. The model in our collection is a 1956 white "Struzzo" (ostrich) 150 Vespa (VL3T).
Even though it constituted an absolute novelty that would leave its mark on history, it embodies the company's characteristic profiles. As Chiara Alessi says: "the form, however, retains the aerodynamic traits of Piaggio's glorious past. It will be because of that, or for its famous 'wasp waist', that it bears this name."
Vespa  – duration 0:28
Sonic evocation of the object created by Paolo Ferrario
Further information: Vespa