Work: Untitled (number 6)
Original sculpture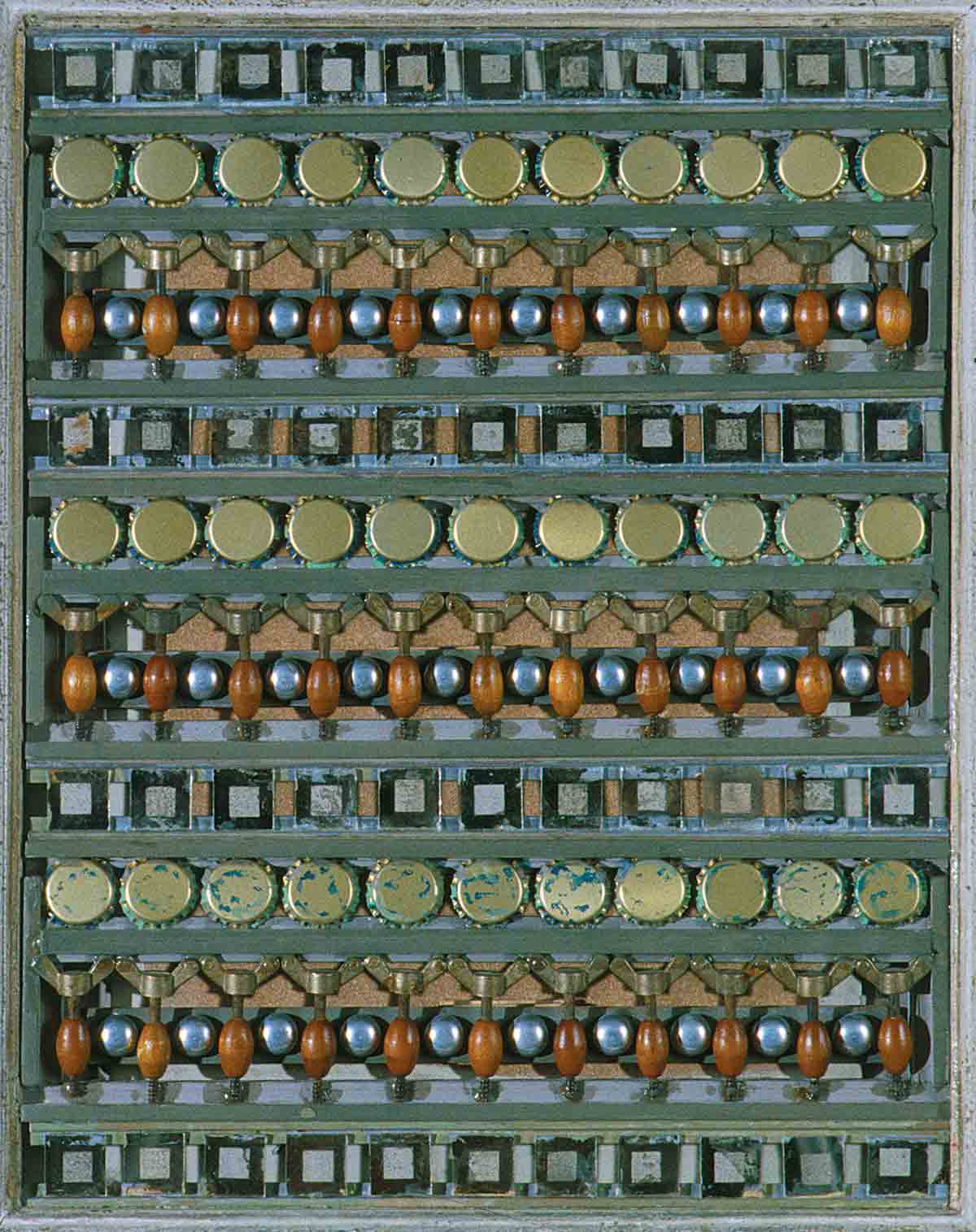 Original
Author

Date

1990-2011

Period

Dimensions

48 cm high, 37,5 cm wide

Material

wood, metal, mirror, plastic

Location
Photo: Maurizio Bolognini. Museo Tattile Statale Omero Archive.
Description
Clearly evident are the alternative creativity, constant irony, intelligent imagination and playfulness, so masterfully expressed by Papini in these works of his…", Massimo di Matteo, Curator of the Metamorfosi del rifiuto – il riciclo dell'arte (Metamorphosis of waste – the recycling of art) exhibition of works by Roberto Papini.
Untitled No.6 by Roberto Papini (Ancona, 1921 – 2019) is a work created on a rectangular panel, 48cm high and 37.5cm wide. It is conserved at the Museo Omero.
This work is a tactile picture from the 'Rhythms of objects' series, a category created by Marilena Pasquali, curator of the "Roberto Papini opere 1952 – 2011" exhibition, for the group of tactile panels that Papini created between 1990 and 2011.
A double, ivory-coloured frame surrounds the cork panel which acts as support for the composition. Here Papini has skilfully assembled a wide range of recycled materials such as wood, metal, small pieces of glass with white-painted squares and guitar tuning keys.
Each of the materials contributes to the lively dynamic rhythm. Three different decorative bands, each composed of diverse objects are alternated. The top band features glass squares and the next closely-spaced metal bottle tops. The third, most elaborate, band features 'corkscrews' (made from tuning keys and brown wooden beads) that alternate with silver beads.
These three modules are repeated in the same order until the bottom where a final row of glass squares completes the work which generates a pleasant and familiar sensation to both sight and touch. Curious hands can glide over the tactile panel which can be read from top to bottom or from right to left and vice versa.
Papini's imagination and hands, gave new life to waste materials which are now able to resonate with the souls of those who see and touch these recycled objects.
Papini has a complete mastery of artistic techniques and materials, having restored classical works.