Work: Untitled (number 4)
Original sculpture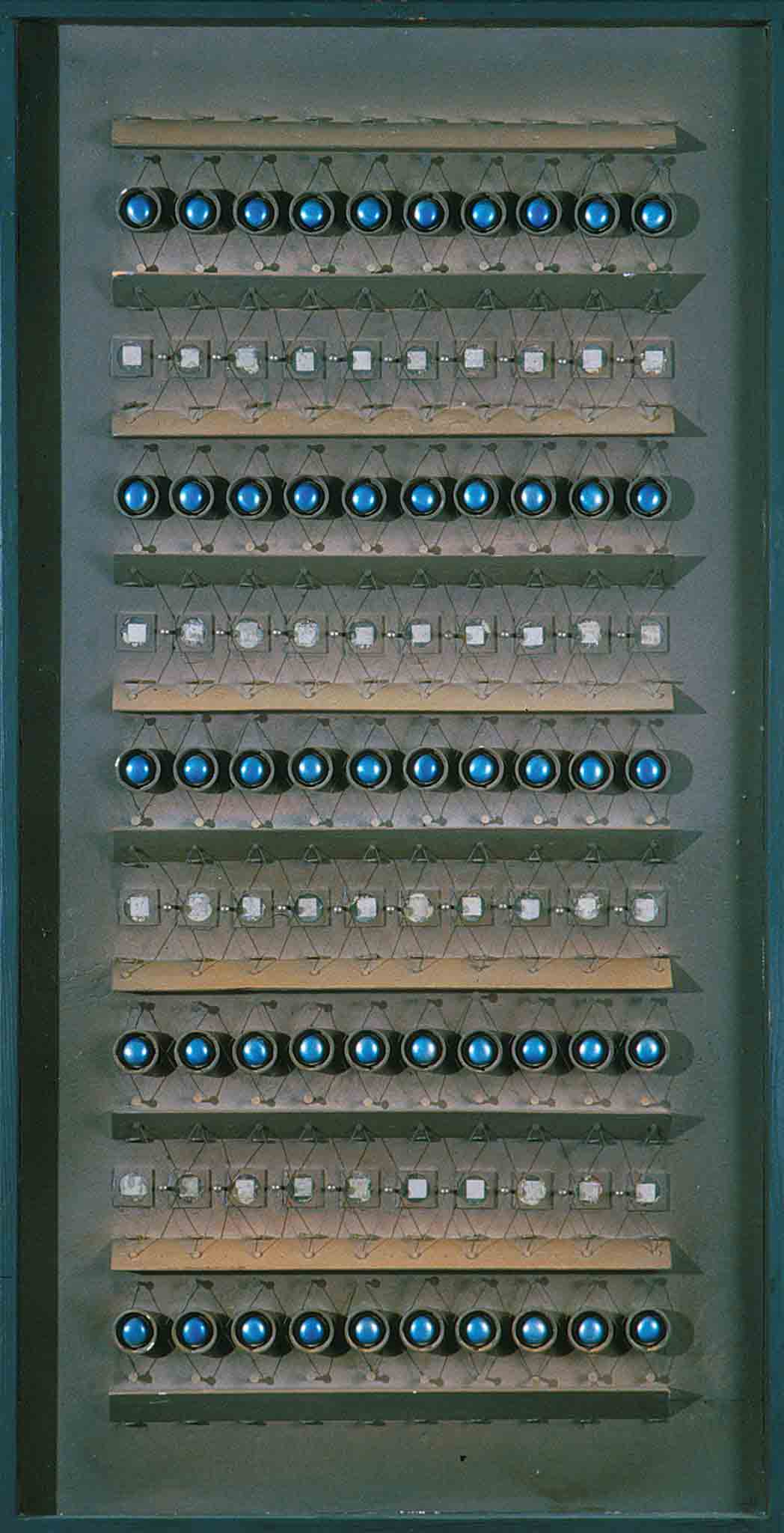 Original
Author

Date

1990-2011

Period

Dimensions

100 cm high, 50 cm wide

Material

wood, cardboard, mirror, plastic, metal

Location
Photo: Maurizio Bolognini. Museo Tattile Statale Omero Archive.
Description
"In the works of Roberto Papini nothing is left to chance, everything is laid down in the memory of mankind. It is enough to look for it. And Papini looks for it with the highest degree of sensory resonance and rational refinement", Robero Farroni, speaking at the "Ancon'aria – Roberto Papini" exhibition in December 2007.
This delightful work is part of a series of untitled works that Roberto Papini created in the 1980s. Later named Untitled No. 4, it is now part of the Museo Omero's collection.
It consists of a decorated panel, 1m high and 50cm wide, and was made using the techniques of painting and assemblage. Papini, an artist from Ancona who died in 2019, created this tactile picture using a wooden base and frame which he painted black (now rather faded). The panel is decorated with mirrors, plastic, wood, cardboard and metal. It is divided into nineteen horizontal elements. Regularly spaced nails, driven into triangular wooden battens, support rows of wire rhombuses. In alternating rows, each rhombus frames a blue plastic sphere, set in a metal ring, or a small mirror glued onto a slightly larger cardboard square.
Like other works of his, this composition is also based on arranging alternate rows of diverse materials in a harmonious decorative manner in order to confer rhythm and musicality to the work. When touching the picture, you can perceive all the details and lose yourself in the perfect interplay of solids and voids. Papini gives new life to small objects and materials that would otherwise have been lost.