Work: Untitled (number 10)
Original sculpture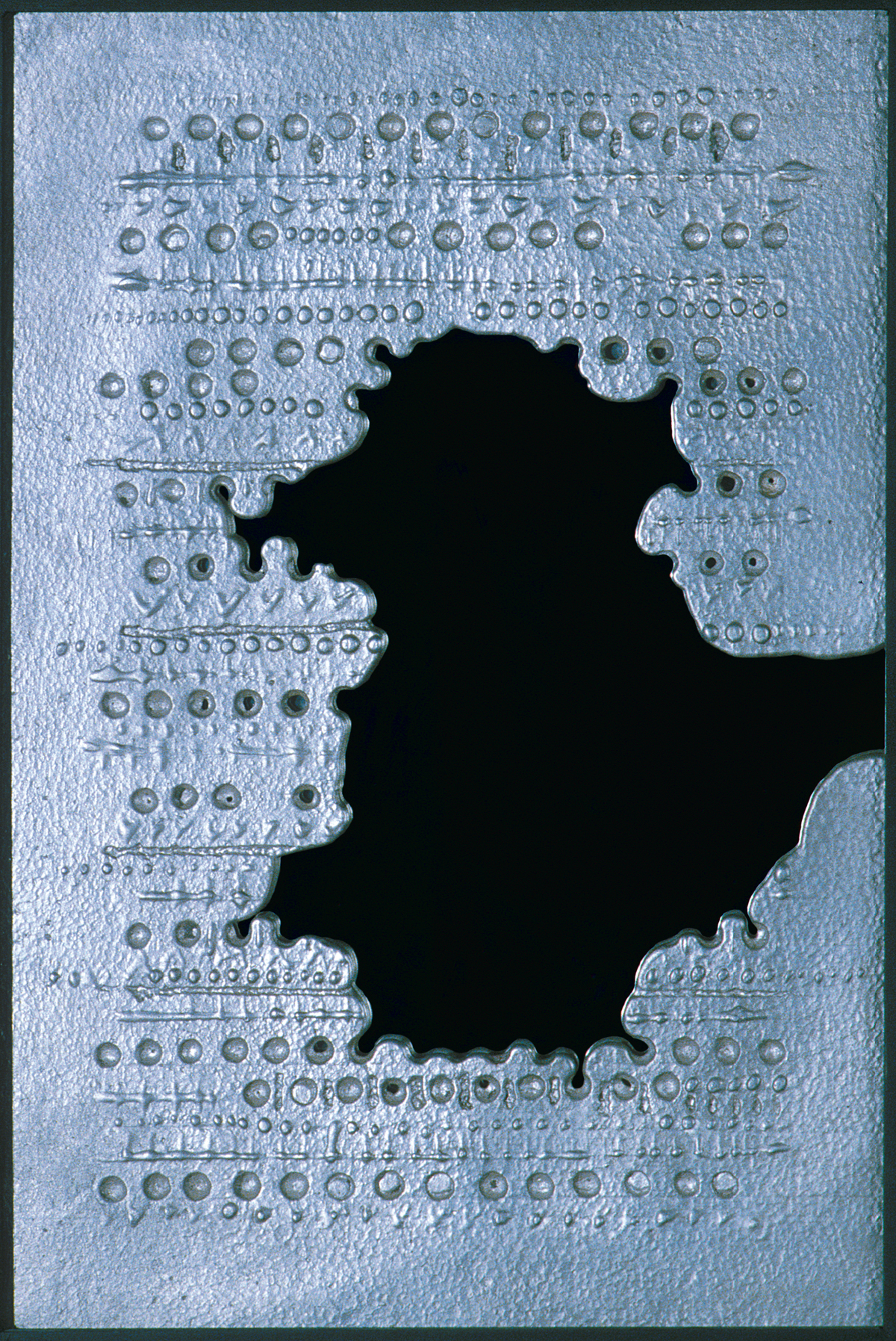 Original
Author

Date

1968-1975

Period

Dimensions

45,5 cm high, 31 cm wide

Material

metal, mirror, wood

Location
Photo: Maurizio Bolognini. Museo Tattile Statale Omero Archive.
Description
"Thus were born the Pentagrams which we might also call Scriptures as their structure is composed of tables of ideograms. However, I feel compelled to emphasize their similarity to musical scores whose signs and rhythms the painter reinterprets and translates into images", Marilena Pasquali, by "Roberto Papini Opere 1952- 2011" exhibition catalogue.
Roberto Papini (Ancona, 1921 – 2019) made this Untitled panel, later named "number 10", between 1968 and 1975. It is now part of the Museum's Travelling Section.
The work is 45.5 cm high and 31 cm wide and is part of the "Pentagrams series". It is composed of a sheet of metal and a mirror. The surface is embellished with various signs, mostly circular dimples about 5 mm deep, arranged along the lines of an imaginary pentagram. The score is interrupted by a large breach, with irregular ragged edges, that extends from the centre to the right side of the work. Behind this gap is a mirror in which you can see your reflection.
Tactile exploration is very interesting because, as your fingers move over the work, you can feel the unique character of the decoration and also unexpectedly find flat emptiness and the sensation of getting lost in the work.
Roberto Papini, an artist who cannot be fitted into any artistic movement or classification, created his "Pentagrams" series between 1968 and 1975. The works were rightfully praised by local critics who recognized this original artist's talent and ability to use graphic signs to evoke other, deep inner worlds. Papini continued to explore this concept with a lively vivid curiosity until his death.