Work: Tonda
Design object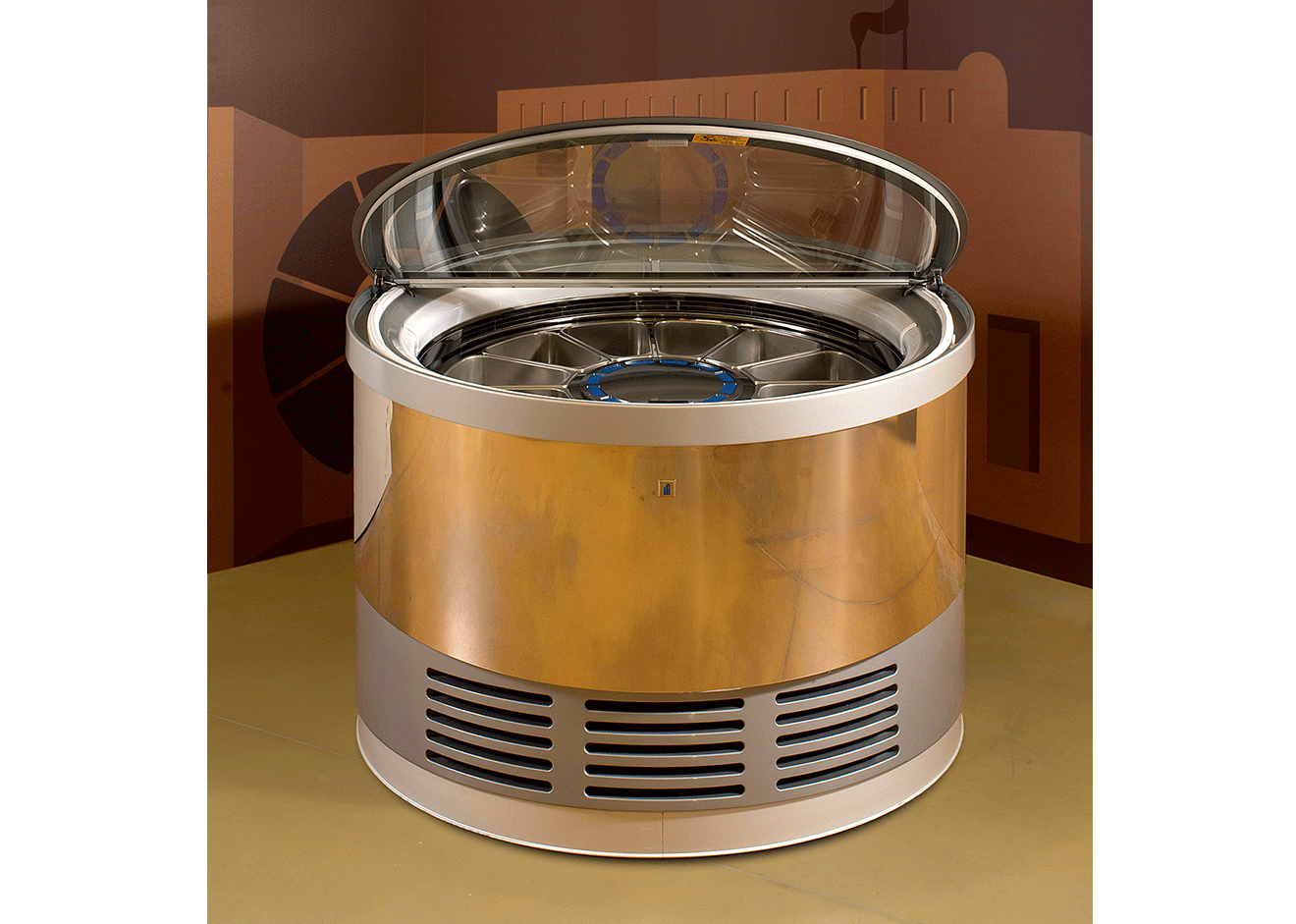 Original
Space

Designer

Company

Ifi

Date

2005

Period

Production

currently in production

Dimensions

100 cm high, 140 cm diameter

Material

Mirror-finish steel, glass, electrical components, cooling system

Section

cooking

Awards

Mention at the Compasso d'Oro Award - 24th Edition - 2008
Photo: Maurizio Bolognini. Museo Tattile Statale Omero Archive.
Description
"Just as there are many Italian designers who allude to Japanese minimalism, we can confidently assert that Makio Hasuike is by far the most 'Italian' Japanese designer there is. And this is not so much because of his style, which remains faithful to the essential and rigorous character of the Land of the Rising Sun, but because he began his career as a designer in Milan." Chiara Alessi.
Icon of the IFI company, Tonda is the first-ever circular, rotating ice-cream display case. An ideal fusion of pleasing display of the flavours and perfect preservation of the ice cream in a chest-freezer counter.
Conceived by Makio Hasuike & Co and produced since 2005, Tonda, as the name suggests, is not a traditional linear refrigerated counter, but a circular display cabinet made of crystal, with mirrored-steel finishes. One metre high and 140cm in diameter, it houses the ice-cream trays which are arranged in a radial pattern and rotate, bringing the flavours towards the ice cream seller's hands. The vendor only has to raise half the lid then scoop the ice cream, without moving, maintaining a vertical posture.
Its circular shape and rotation ensure that each type of ice cream is kept at a constant temperature. It resembles an idealized, polychrome daisy and takes into account the well-being of the operator. The Tonda in our collection is always switched on, but without ice cream inside.
Chiara Alessi, speaking of Makio and his discovery of ice cream in Italy, observes: "But his being a designer and, therefore, educated in the observation of gestures, shapes, traditions and behaviours, the thing that interests him the most about ice cream is not the food itself, but its container".
Tonda – duration: 0:57
Sonic evocation of the object created by Paolo Ferrario
Further info: Tonda on IFI website