Work: The Taddei Tondo
Copy of sculpture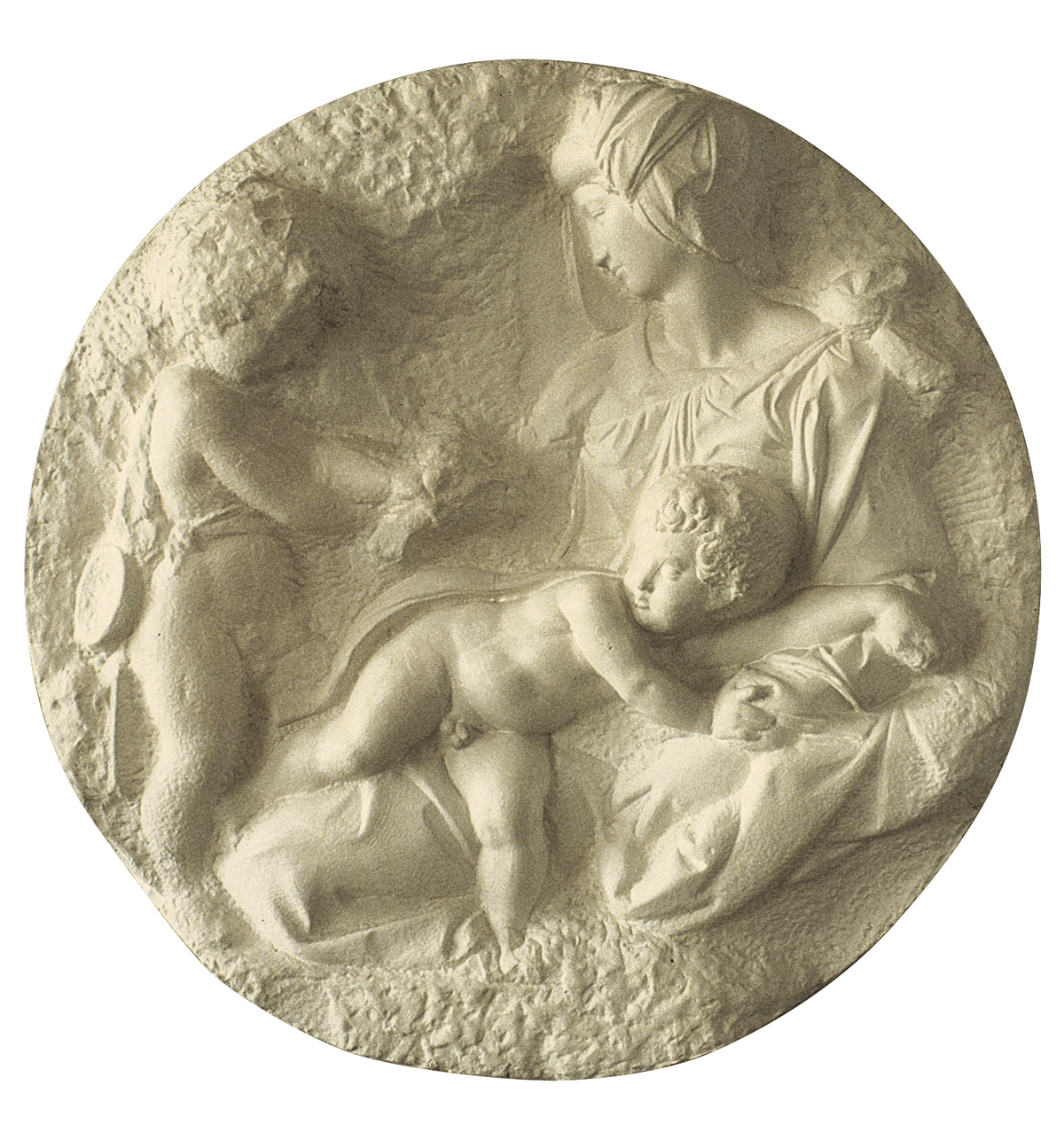 Copy
Dimensions

109 cm diameter

Technique

cast from the original

Material

alabaster plaster

Space
Original
Author

Date

1504 - 1506

Period

Dimensions

109 cm diameter

Material

marble

Location
Description
"Not even the best sculptor has ideas
that are not already contained within the marble
along with the superfluous material, and these ideas can only be freed
by the hand which obeys the mind." M. Buonarotti, Sonnet. 151, lines 1- 4
The Taddei Tondo, a work carved in high relief in Carrara marble by Michelangelo Buonarotti between 1505 and 1506 was commissioned by Taddeo Taddei for private devotion.
This is not the first time that Michelangelo sets the composition inside a circular form, to which he manages to confer dynamism.
The Madonna and infant Jesus are shown with the infant St John the Baptist who is offering Jesus a goldfinch. Jesus, in the foreground, is diffident; with a sudden twist to the right he finds refuge in the Virgin Mary's lap, occupying the space obliquely and presenting a smooth, perfectly finished surface. The Virgin who has been placed in the background has well-defined forms and appears to stare at the infant St John, as if reproaching him for an innocent gesture that is also full of dark omens: the goldfinch is a symbol of the Passion. The figure of St John is the most mysterious. The sculpted surface of his body is much less finished, and, although he is at the same background level as Mary, he seems to be farther away from the viewer, as if to create a blurred vision of this character.
The peculiarity of the "not-finished" surface is that the figures imprisoned in the material are only partially released. Bodies seem to gravitate in space while also being part in it. Some critics have noticed a parallelism between these unfinished contours and Leonardo Da Vinci's atmospheric painting, while others have denied this influence, stressing how Michelangelo's results are diametrically opposite to Leonardo's