Work: The Pitti Tondo
Copy of sculpture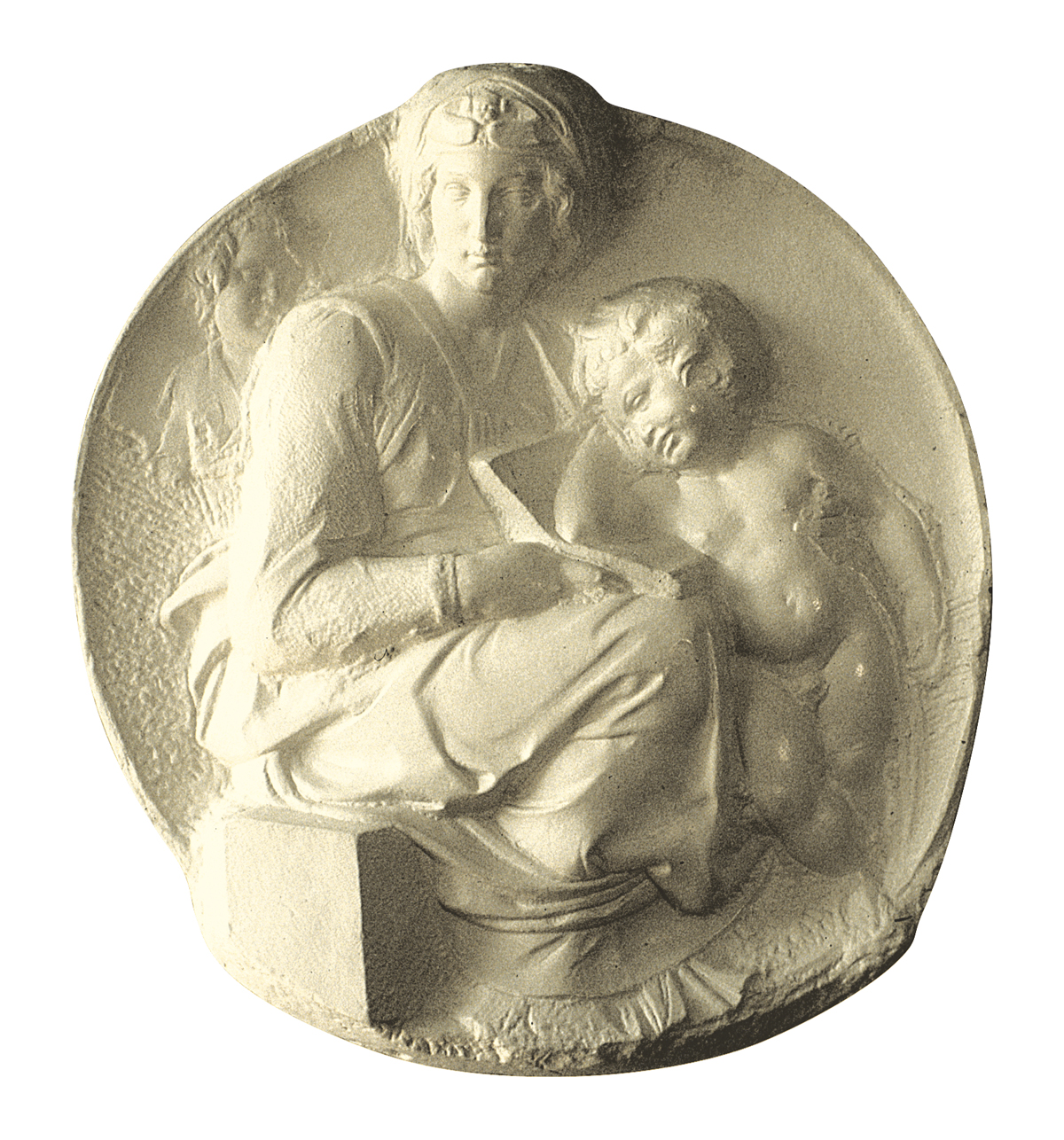 Copy
Dimensions

85 cm diameter

Technique

cast from the original

Material

alabaster plaster

Space
Original
Author

Date

1503-1505

Period

Dimensions

85 cm diameter

Material

marble

Location
Photo: Maurizio Bolognini. Museo Tattile Statale Omero Archive.
Description
"Michelangelo appears to us as the most lively evoker of what Berenson called tactile values; that is to say the faculty of arousing, by pictorial means, the perceptual pleasure that has been transmitted by the tactile experience of the physical world", Matteo Marangoni.
Michelangelo carved this marble Tondo between 1503 and 1505 for Bartolomeo Pitti, as a private commission. A plaster copy of a true cast is on show at the Museo Omero, while the original is at the Bargello Museum.
The sculptor has fitted the scene into a circular shape with a diameter of 85 cm. The Virgin Mary is seated on a rectangular step on the left, with her face turned towards the viewer and a book (possibly the Bible) open on her knees. Her figure seems to fit into the circle with difficulty, indeed the top of her head actually breaks out of the perimeter, as does the end of the step.
The Baby Jesus stands at the right of the Tondo, leaning against his mother's legs. His bent arm, resting on the book, supports the weight of his head. Mary's hand emerges from under his left arm and enfolds her son with her cloak, as if to protect him. However, we know that the image of Jesus in a cloak alludes to the Passion and to the body of Christ wrapped in a shroud, a symbolism reinforced by the presence, on Mary's forehead, of the winged head of a Cherub, symbol of her "knowledge of the prophecies".
The principal parts of the work, such as the face of the Virgin and the body of the Child, are finished and have a perfectly smooth surface, while others are rawer and feel rough to the touch, still showing the marks of the tooth chisels (tools used in the early stages of sculpting). This "unfinishedness" can be appreciated in Saint John the Baptist, a roughly sketched-in child who can be seen behind Mary's shoulder. The Baptist seems to be looking at Jesus, who is gazing at his mother's womb. Mary, in turn, looks towards the viewer, thus generating a chain of glances.
This masterpiece is an example of a highly appreciated type of private devotional image, where the artist accentuated the intimate character of the scene.